Jairzinho Rozenstruik brutalises Junior Dos Santos at UFC 252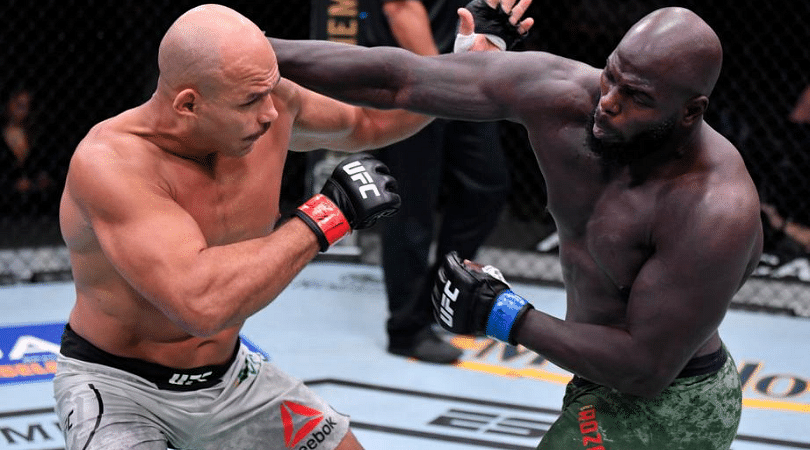 Jairzinho Rozenstruik brutalises Junior Dos Santos at UFC 252. The Surinamese bounced back from his first loss with a vicious knockout victory.
Most sports are played continuously in regular series or tournaments. This allows a player to overcome the grief of losing a game by simply focussing on the next match. In MMA however, a loss results in a fighter sitting on it for weeks and sometimes months.
Also read: Daniel Pineda batters Herbert Burns to script upset win at UFC 252
Jairzinho Rozenstruik suffered his first professional loss to Francis Ngannou in May. However, he went back to winning ways with a resounding win over Junior Dos Santos at 3:47 in round two to earn his fifth knockout in the UFC.
"It feels great," a relieved Rozenstruik said after the match. "I wanted to fight as soon as possible, as soon as I lost. I went back to the gym. We just got back at it. This is the result we were looking for. We need to set it straight."
Jairzinho Rozenstruik brutalises Junior Dos Santos at UFC 252
Like the matches before Rozenstruik (9th) was ranked below his opponent (5th) among in the MMA rankings. That barely mattered on the night as he went on to savagely assault Junior Dos Santos inside the octagon.
For a large portion of the first round, both the fighters remained patient with their approach. The first effective shot came from Dos Santos who landed a big left hand.  Rozenstruik broke free near the tail end of the round to rush him against the fence and land a few shots.
The round belonged to the former UFC Champion. However, Rozenstruik was not in the mood to add to his loss column.
Like the first round, there wasn't too much to talk about in the opening minutes of the second round. Feints and lots of movement in search of an opening dominated the start until Dos Santos struck the first major blow with a clean right hand.
Rozenstruik however, absorbed the punch well and got him back with a right hook of his own. Dos Santos was struck in the chin and went down. Rozenstruik swarmed the former Champion and thrashed him until the referee jumped in, handing him the victory.
Great win for BIGI BOY tonight 👏 .
I'll like to see him against Blades next or against any other wrestler#UFC252

— Francis Ngannou (@francis_ngannou) August 16, 2020
Who else is nervous during every punch? 😅 #UFC252 pic.twitter.com/qKHRI25rf2

— UFC (@ufc) August 16, 2020

Official results: Jairzinho Rozenstruik wins by TKO at 3m47s of the second round.
Click here for more UFC news
---
Share this article