UFC Results Last Night: Daniel Cormier, Sean O'Malley, & Other Pros React as 'Crazy Good' Merab Dvalishvili Earns Dominant Win Over Petr Yan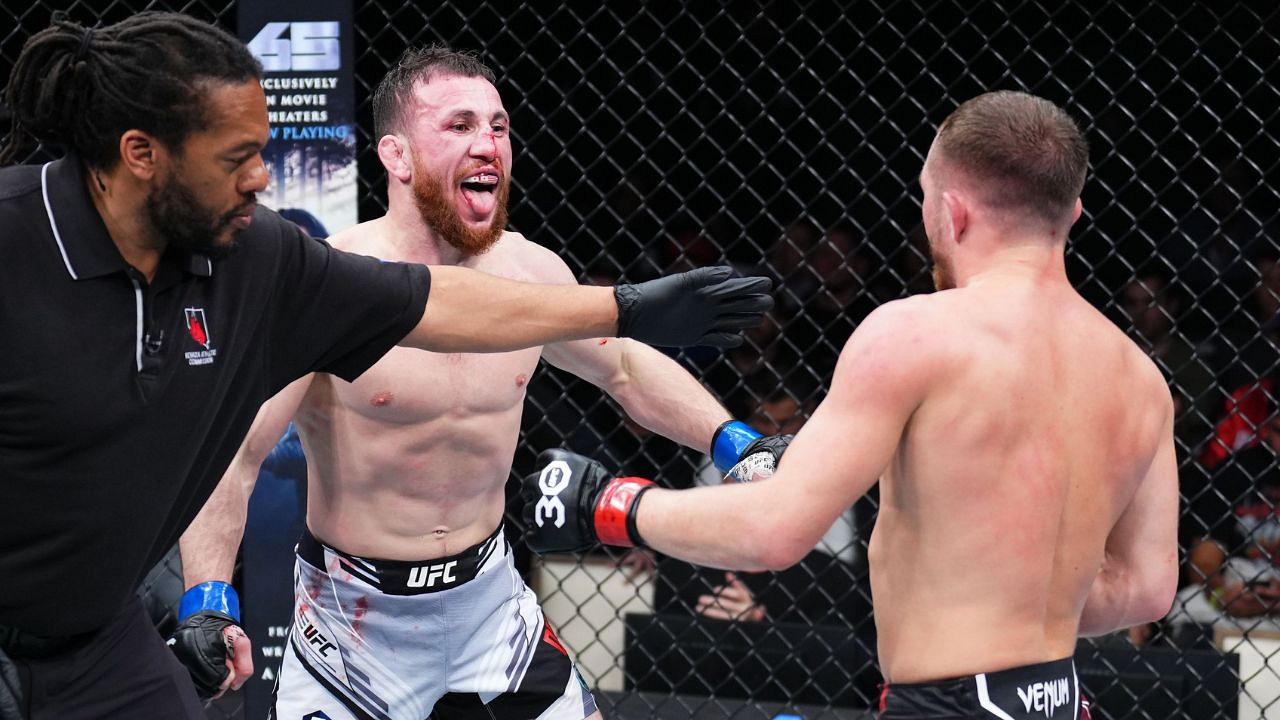 Merab Dvalishvili, the Georgian UFC bantamweight fighter, came as an underdog against former UFC champion Petr Yan. However, he turned the tables around inside the Theater at Virgin Hotels Las Vegas, Las Vegas United States, last night. Since the beginning of the bell, 'The Machine' looked sharp against the seasoned striker Petr Yan.
No Mercy' clearly showed his gap in the ground game during his fight with Aljamain Sterling. Hence, the Georgian fighter capitalized on the same inside the cage. Moreover, he has been training with the bantamweight champion Aljamain Sterling for this fight, which surely helped him last night.
9️⃣ straight wins for The Machine as he takes out #2 in the bantamweight division @MerabDvalishvil! #UFCLasVegas pic.twitter.com/FJqtcVK6fT

— UFC (@ufc) March 12, 2023
The Russian former champion, despite displaying a heart of a warrior, was no match for Dvalishvili's wrestling. Although Yan, who is known for his explosive strikes, has his moments, 'The Machine' took less damage.
ALSO READ: Did Conor McGregor Train Merab Dvalishvili for His Fight With Petr Yan in Las Vegas?
The bantamweight combatants took the fight to a distance, and in that course, Dvalishvili set a record for attempted takedowns. He had continuous pressure on the former champion and showed impressive cardio during the bout. Finally, after a five-round war, the underdog fighter Dvalishvili got a nod from the judges.
Final Result: Merab Dvalishvili defeated Petr Yan via a unanimous decision. 
UFC results last night: Merab Dvalishvili defeated Petr Yan
The Georgian bantamweight came into the fight on the back of eight straight UFC wins, including one against one of the best Jose Aldo. Meanwhile, 'No Mercy' was already on a two-fight skid. Unfortunately, he faced the same faith last night. Here's how the fans and MMA pros reacted to the outcome of the fight.
Merab was crazy good tonight !!!!!! @MerabDvalishvil

— Daniel Cormier (@dc_mma) March 12, 2023
Georgian POWER!!! #Machine!! #UFCLasVegas

— Aljamain Sterling (@funkmasterMMA) March 12, 2023
Merab's pace is impossible to keep up with

— Jake Shields (@jakeshieldsajj) March 12, 2023
Merab Dvalishvili literally looks like he could fight 20 rounds tonight. I mean, I don't know if it's humanely possible to be in better fight shape than this man is tonight.

— Brett Okamoto (@bokamotoESPN) March 12, 2023
@MerabDvalishvil my brother is a LEGEND 🇬🇪❤️ SO PROUD OF YOU ! #UFCLasVegas

— Ilia Topuria (@Topuriailia) March 12, 2023
Peter is one of my favorite fighters

— Sean O'Malley (@SugaSeanMMA) March 12, 2023
The #machine ! There is only one ! Wow! @MerabDvalishvil #UFCFightNightLive

— Chris Weidman (@chrisweidman) March 12, 2023
These guys are unbelievable!! What a pace!! #ufcfightnight #yanvsdvalishvili

— Miesha Tate (@MieshaTate) March 12, 2023
Yan is one of the top ten best fighters in the world imo but merab is just the definition of overfuckingwhelming

— Matt Brown (@IamTheImmortal) March 12, 2023
There's no way merab doesn't get tired

— Belal Muhammad (@bullyb170) March 12, 2023
Crazy pace, great start for the machine 🦾 #UFCLasVegas

— Billy Quarantillo (@BillyQMMA) March 12, 2023
'No Mercy' now will get back to his drawing board in order to map his way back to the win column. It is necessary for him to win his future fights to stay relevant in the bantamweight title race.
On the other hand, the Georgian bantamweight fighter will rise to the ranks in the division after this win. But in the octagon interview, 'The Machine' has stated that he doesn't want to fight for the title until his teammate Aljamain Sterling is the champion.
ALSO READ: WATCH: Hasbulla 'Known for Hitting People' Refuses to Slap Mark Wahlberg in Front of Dana White
However, if the latter moves up a division, then Dvalishvili will be up for the challenge. He has not given a name yet, but after such an eye-catching performance, the UFC will surely bring out more of the Georgian fighter next.
Who do you guys think can be next for Dvalishvili? What is your reaction to the outcome of the fight?
---
Share this article