WATCH: Chrsitian Horner hits Sky Sports reporter in the balls after the interview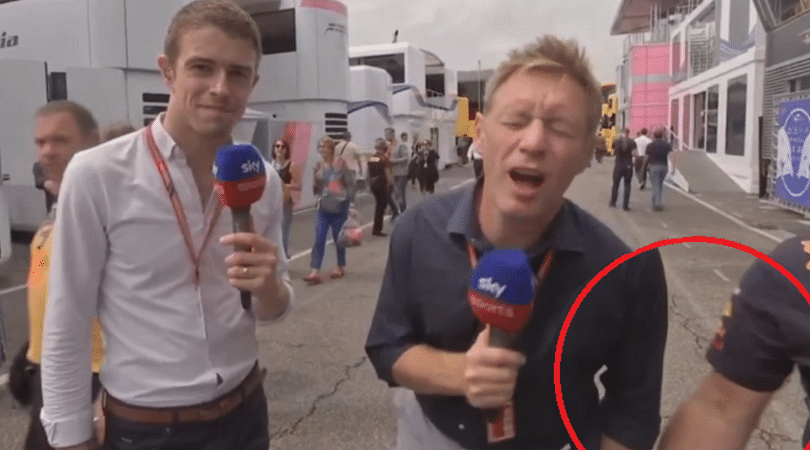 Red Bull had a mixed bag Saturday at Hockenheim, as Verstappen managed P4, whereas Ricciardo didn't really get onto the track during qualifying, because of his 20 place grid penalty for raceday.
Ricciardo is set to use 3 new engine parts for Sunday's race and has exceeded his 'allowable limit' of changes.
Verstappen would have ideally had a good chance of coming in 5th during qualifying, but a Lewis Hamilton car breakdown during Q1 meant that the Dutch driver could jump up to P4 in qualifying, thereby salvaging a large part of the weekend for Red Bull.
Christian Horner was in a jovial mood pre qualifying yesterday, as he hit a Sky Sports reporter in the balls after an interview and sent Twitter into a frenzy.
Check out the video:
WATCH: Ouch! That was a bit of a low blow Christian! Poor @simon__lazenby 😂😂😂
LIVE NOW on Sky Sports F1
📺 Sky Go: https://t.co/fxH1316WnM
🗒 Blog: https://t.co/SzGssX5IJr
#SkyF1 #F1 #GermanGP pic.twitter.com/2GQNi417bz

— Sky Sports F1 🏎 (@SkySportsF1) July 21, 2018
Twitter wasted no time in laughing hard about the incident and eccentricity of Horner.
Christian Horner. The most entertaining, informative, personable & presentable 'boss' in any sport.

— David Blakey (@david_dmblakey) July 22, 2018
Favourite part of the pre #F1 qualifying show was #ChristianHorner punching #SimonLazenby in the balls! #SkyF1 pic.twitter.com/i1TzqlVGtX

— Kieron George Yeoman (@kieronyeoman) July 21, 2018
The only good service Christian Horner is providing to the F1 audience, is the "Punching Simon Lazenby in the bollocks" service.

— Adrian Michael Rees (@PlanetOfTheApex) July 21, 2018
Even the reporter tweeted about it.
Every bloody time. Going to start wearing a box ! @SkySportsF1

— Simon Lazenby (@simon__lazenby) July 21, 2018
Probably get a penalty for that, back of the grid I expect

— Colin Steer (@GingeCol17) July 21, 2018
An interesting race awaits us, with Hamilton and Ricciardo starting from the back of the grid and Vettel leading from the front. Bottas will be splitting the two Ferraris, and it will be interesting to see if there is any contact between Ferrari and Mercedes this time round.
---