WATCH: Jason Roy argues with umpire Kumar Dharmasena after latter rules him Out during Australia vs England semi final match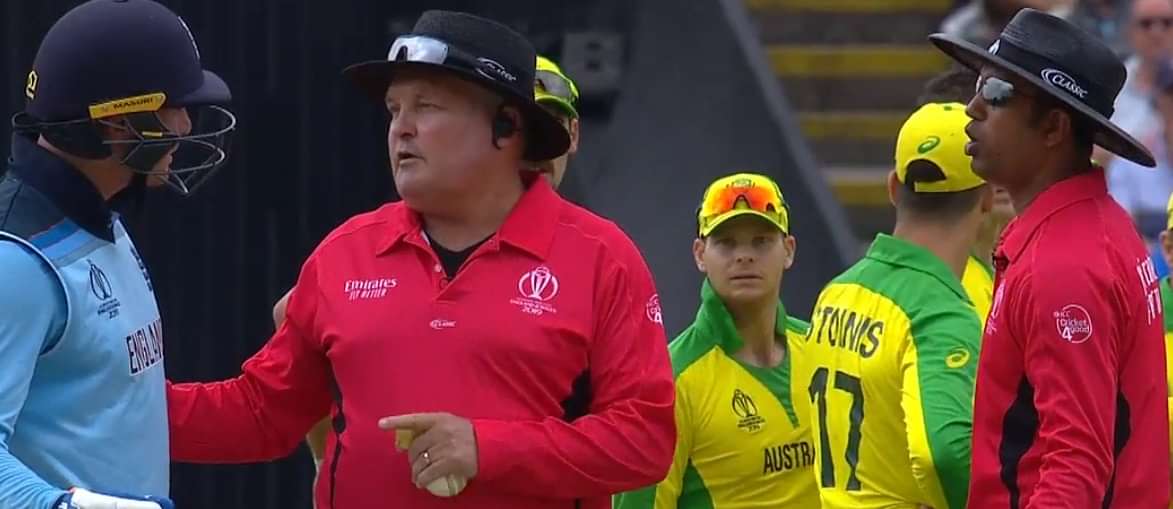 Jason Roy argues with umpire Kumar Dharmasena after the latter rules him Out during Australia vs England World Cup semi final at Edgbaston
During the second semi-final of the ongoing ICC Cricket World Cup 2019 between Australia and England at Edgbaston, English opening batsman Jason Roy got involved in a heated argument with the on-field umpire Kumar Dharmasena after he ruled him Out caught behind off the Aussie pacer Pat Cummins.
ALSO WATCH: Steve Smith hilarious run-out vs England in semi-final vs England
It all happened on the fourth delivery of the 20th over. Cummins bowled a pacy short delivery outside the leg-stump, to which Roy tried to pull towards the square-keg region. But, the delivery being too wide meant that the ball went past Roy's bat through to the wicket-keeper Alex Carey.
All the Australian fielders including Cummins and Carey, went up in unison for the appeal. Umpire Kumar Dharmasena, was in quite some doubt but reluctantly, and after taking ample time ruled the batsman Out. Dharmasena, perhaps gave in to the louder than ever and convincing appeal by the Aussies.
With no review left, Roy goes livid
Roy was absolutely livid with the umpire's decision and went in for the review impromptu, only to realize that England had already lost their lone DRS used by his fellow opener Jonny Bairstow a couple of overs ago.
Roy, in an adamant manner refused to leave the field as he was clearly led down by the umpire. The Ultra Edge too, showed no deflection as the ball went past the bat. Joy, eventually left the field after expressing his displeasure with the square-leg umpire Marais Erasmus.
What added on to further confusion, was the fact that Dharmasena too went with his TV symbol as though gesturing Roy had reviewed it. But there was no review left and that started the confusion. Both, the umpire and the batsman were at fault there.
The match, however, is turning out to be a one-sided affair with England comfortably placed at the driver's seat. A brilliant 124- run opening stand between Jason Roy (85 off 65) and Jonny Bairstow (34 off 43) meant that England (at the time of writing) needed just another 37 runs from 23 overs chasing 223/10 posted by Australia.
WATCH: Jason Roy argues with umpire Kumar Dharmasena after he rules him Out
Loading embed tweet https://twitter.com/UtkarshBhatla/status/1149347758152617986?ref_src=twsrc%5Etfw
---