WATCH: Los Angeles' Ante Rozov Punches Club America's Herrera Squarely In The Face During Confrontation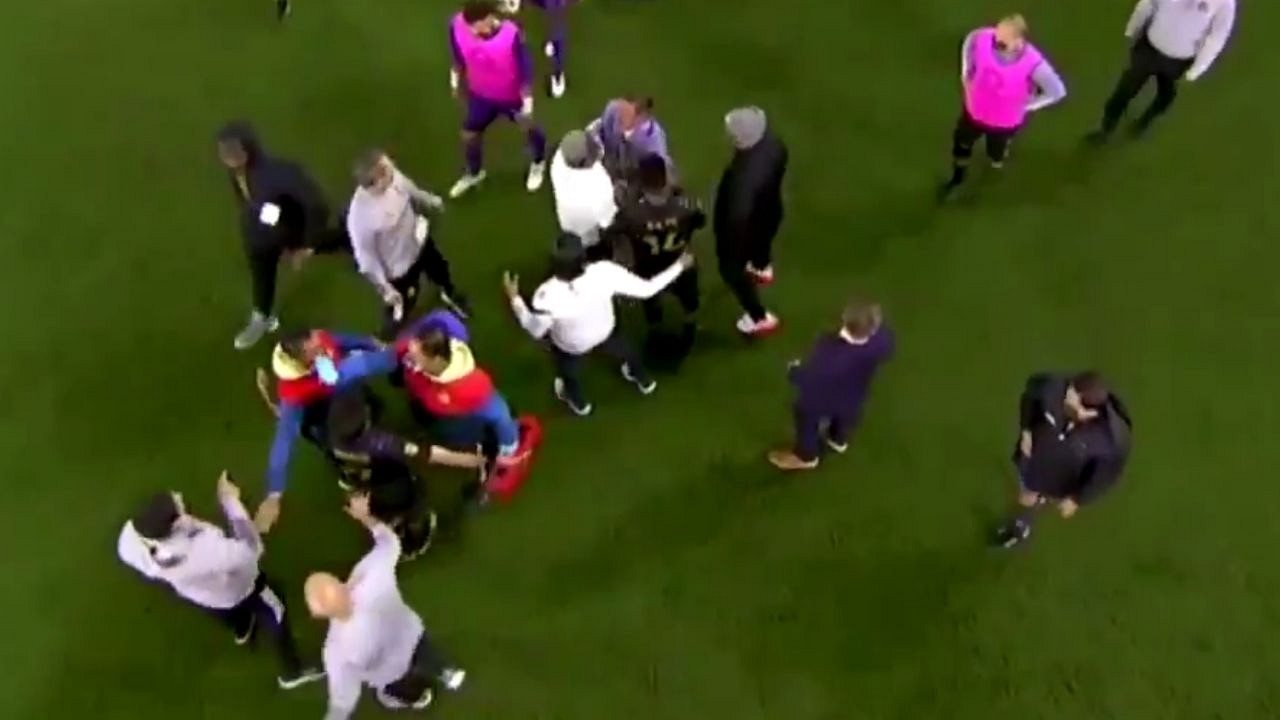 WATCH: Los Angeles' Ante Rozov Punches Club America's Herrera Squarely In The Face During Confrontation: The two were embroiled in a heated discussion ensuing which things got nasty
The ramifications from today's CONCACAF semi-final were gargantuan and that clearly showed on the pitch. The showdown between Los Angeles and Club America was a testament of this narrative with tempers flaring during the encounter.
The match saw things take an ugly turn after Los Angeles' Eduardo Atuesta was shown a red card. However, Los Angeles' players and bench clearly didn't take the decision too kindly with replays showing that the club was clearly hard done by the decision.
WATCH: Los Angeles' Ante Rozov Punches Club America's Herrera Squarely In The Face
Ensuing which, Los Angeles' assistant manager, Ante Rozov and Club America's Miguel Herrera were seen engaging in a feisty and heated discussion about the set of events which had just unravelled. The two were clearly miffed at each other with the squabble turning a turn for the worse after both were pictured pulling each other's hair.
Here's Miguel Herrera getting way too handsy w/ LAFC assistant Ante Razov & caught a jab for his trouble. Ante Razov is NOT the one. Herrera got off light.

Herrera was ejected, then tried watching in the stands, then got kicked out of there.

C🤡NCACAF

— Ives Galarcep (@SoccerByIves) December 20, 2020

Not taking nicely to Herrera responding in kind to his hair pulling, Los Angeles' Herrera decided to take matter into his own hands. He ended up lashing out at Miguel Herrera to see his punch connect directly with Herrera's face.
Funnily, Miguel Herrera was ejected ensuing the tiff. The Club America manager tried sneaking into the stands to watch his side before being asked to depart from there as well to leave the ground altogether.
A Club America player was always caught sticking his finger into Ante Rozov's face along with shoving the manager. Rozov who is known for not having the most calm of heads was clearly in no mood to take things lying down on the day.
Club America's Ochoa's Flip Flops To Earn Atuesta Red Card
Many came to defend Atuesta though after the match as they lambasted the referee's decision to give the Los Angeles player his marching orders. In what was seen as a needless move, Atuesta was seen been forced up by Club America's goal-keeper Ochoa before Ochoa himself decided to feign innocence as he flopped to the ground citing an act by Atuesta.
Professional level shithousery from Ochoa. Pathetic pic.twitter.com/lQYoIAaR28

— Stu Holden (@stuholden) December 20, 2020

Despite their shenanigans on the day, Club America failed to make their antics count for anything. Despite taking a 1-0 lead, the side's advantage was wiped out by Carlos Vela, a goal which laid the foundation of Los Angeles' 3-1 triumph on the day.
The pulsating win despite being reduced to 10 men saw Los Angeles set up a summit clash with Mexico's Tigres in the CONCACAF.
---