WWE Money In The Bank 2019: Matches and Predictions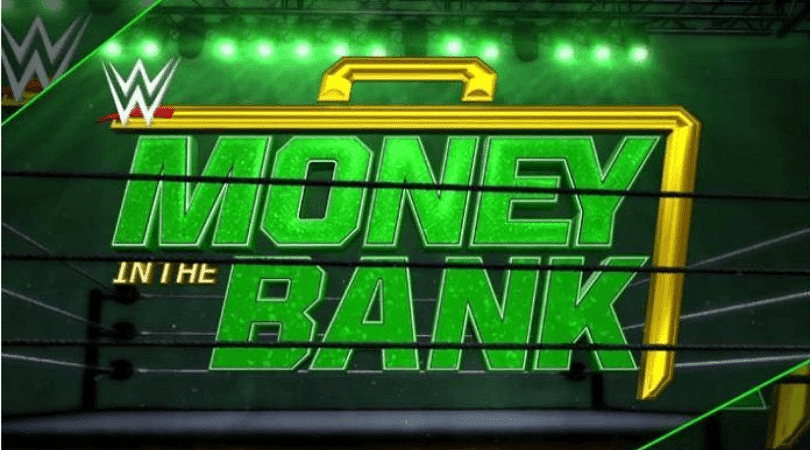 WWE Money In The Bank 2019: Matches and Predictions. The SportsRush presents to you the matches, results and storylines for the upcoming WWE Money in The Bank Pay Per View. 
The next WWE Pay per view in sight is The Money in the bank. Originally a match type introduced at Wrestlemania 2005, the novel concept has since become its own pay per view starting from 2010. It features the Money in the Bank Ladder matches. The winner gets a contract for a World Title Match at a time and place of their choosing, If the contract is not used within that year, it is voided, but this has yet to happen.
Also Read: WWE Superstar could be in trouble following old comments on Rape, Racism and Sexism!
The Upcoming Money in the Bank Pay per view will be the 10th event as a Pay Per View. Like last year, we will have two Money in the Bank ladder matches. One for the Men and the other for the Women. The show will feature matches that have resulted from storylines they produce on their weekly television and network shows:  Raw, SmackDown and 205 live.
#Becky2Belts will risk it all at #MITB. @BeckyLynchWWE pic.twitter.com/BBoXv4ewjC

— WWE (@WWE) May 4, 2019
At Present WWE have announced 10 matches for the event. Here are the matches and our predictions:
Seth Rollins (C) vs AJ Styles (Universal Championship Match)
AJ won the opportunity to face Rollins on his second night on Raw. He beat Samoa Joe and Rey Mysterio in a triple threat match. He followed this by beating Baron Corbin, who also won a triple threat match, to became the no.1 contender. Both of them are easily one of the best wrestlers, not just in WWE but in the world! This match could very likely end up stealing the show.
Prediction- Seth will win.
It seems a little early to get the title off the Architect. AJ may complete his heel turn after his loss. This feud will probably carry over to Stomping Grounds or even possibly Extreme Rules.
Kofi Kingston (C) Vs Kevin Owens (WWE Championship Match)
Kevin Owens became an honorary member of 'The New Day' following Big E's injury. The alliance didn't last long though as Owens super kicked Kofi and made his intentions clear. The Prize-fighter wanted the WWE Championship. Kofi has since had amazing title defences against Daniel Bryan on Raw and AJ Styles and Sami Zayn on SmackDown. Will the WWE Champ be able to pull a successful title defence against Owens too or will the former Universal Champ prise the WWE title off of Kofi's waist?
Prediction- Kofi will retain.
Kofi has proven in the last week that if booked right, he can certainly be the top guy. He has the ability to put a good match every time he turns up. With clean wins over Bryan and the Triple threat against AJ and Zayn, he also has credibility now. He will likely hold the belt till SummerSlam.
Samoa Joe (C) Vs Rey Mysterio (United States Championship Match)
Many believed that their feud was over following the squash match at Wrestlemania where Joe retained his title. Much to most people's disappointment, it hasn't. Don't get me wrong, both of them are amazing wrestlers, but this has been a badly booked feud. Joe keeps losing to a roll up. Both of them are in extreme need of new and better written feuds.
Prediction- Joe may win.
The fact that Mysterio pulled out of a comic con event to be on this Pay per view is indication that this was a last-minute addition. It was probably done just to feature Joe and the U.S title on the Show and therefore is indication that Joe will retain. Unless Dominic (Rey's son) has something to do with the match. Probably not but I wouldn't put anything past them.
Men's Money in the Bank Ladder Match
Braun Stroman, Finn Balor, Drew McIntyre, Andrade, Baron Corbin, Randy Orton, Ricochet and Mustafa Ali will participate in the Money in the Bank Ladder match this year. The previous two winners failed to cash in their contracts. WWE may not want a repeat of that for a third year in a row. So, this year we may finally see a successful cash-in!
Prediction- Drew McIntyre.
The briefcase just works better with heels. Baron lost it a couple of years back, it's unlikely they'll give it to him again any time soon. It's too early for Andrade and Randy doesn't need it. Of the faces, Ricochet and Ali are in the same boat as Andrade. Braun just won it last year and Finn doesn't need it. It is also unlikely that the winner will cash in on the same night.
Women's Money in the Bank Ladder Match
Alexa Bliss, Bayley, Naomi, Carmella, Natalya, Ember Moon, Dana Brooke and Mandy Rose will fight it out for the Money in the Bank contract. The previous two holders have had successful cash-ins. Both SmackDown and Raw have one winner each. However, the first Women's Money in the Bank match was SmackDown exclusive.
Prediction- Mandy Rose.
Like I mentioned before, the briefcase simply works better with heels. Dana is not champion material, at least not right now and Bliss won it last time. There is a chance that a face might win but Natalya, Naomi, Carmella and Bayley have seen their stocks fall in the last year or two. Ember is the only face in this match who looks like she could walk away with the briefcase, but given Vince's obsession with blondes,the safe bet would be Mandy Rose.
Becky Lynch (C) vs Lacey Evans (Raw Women's Championship Match)
Lacey Evens brawled with Becky immediately after Wrestlemania. She then made it known to everyone that she plans to dethrone 'The Man'. She defeated Natalya for her opportunity at the Raw Women's Championship and has since become a throne in the side of Becky.
Prediction- Becky Wins.
There is a huge chance that Becky will lose at least one of her titles. Considering that there are backstage rumours that she will join Raw, she may probably lose her SmackDown Title. It'll be interesting to see if this match happens before either the SmackDown defense or even the Money in the Bank Match. Their respective results could affect the outcome of this match.
Becky Lynch (C) vs Charlotte Flair (SmackDown Women's Championship Match)
Charlotte Flair claimed that Becky never pinned her and she therefore deserved a rematch. Bailey walked out and challenged her to no.1 contenders match. Flair beat Bailey and earned her title match at Money in the Bank.
Prediction- Charlotte Flair.
The Goddess might just beat lynch and bring the belt back home. The fact that Becky has two matches is an indication that WWE probably wants her to drop at least one. This could be the one. There may be a cash-in  but considering Alexa cashed in hers last year on the same night after winning it, it seems very unlikely.
The Miz Vs Shane McMahon (Steel Cage Match)
The Miz and Shane have continued their rivalry post Wrestlemania despite being on different brands. Shane interfered in The Miz's match against Bobby Lashley and cost him a win. After the Match, The A-Lister announced that he would take on Shane at Money in the Bank in a Steel Cage Match.
Prediction- The Miz wins.
All of their encounters post Wrestlemania, barring the Raw when Miz was drafted to Raw, has seen The A-Lister staring at the lights. This is likely an indication that The Miz will win because WWE likes to give their Pay per View losers the upper hand before the payoff.
Roman Reigns Vs Elias
Roman punched Vince McMahon on his first night at SmackDown. He was ambushed the following week by Shane and Reigns. Following which the match between Reigns and Elias was set.
Predictions – Roman will win.
Expect some shenanigans from Shane, The B-Team or all of them. Do not however expect Roman to lose.
Daniel Bryan and Erick Rowan Vs The Uso's (SmackDown Tag Team Championship Match)
After the Hardy Boys relinquished the SmackDown tag titles, Shane McMahon intended to hand the belts over to Daniel Bryan and Erick Rowan. The Uso's then walked out. They mentioned that every other team to wear those belts had earned them and Daniel Bryan and Rowan would also have to earn them. A match was then arranged between them for the belts and Bryan's team came on top after Rowan hit Jey with an Iron Claw. A match between the two teams was announced on WWE's website and is set to take place at the Kick-Off show.
Prediction– Daniel Bryan and Erick Rowan will retain. It's hard to see Bryan get knocked off his new perch this soon. Even more so to a Raw Tag Team. If Bryan comes out healthy and 100% on Sunday then this could easily be an excellent match and a perfect way to kick off the night. However, Bryan should retain and he will hopefully revive the dead tag division of SmackDown.
Tony Nese (C) Vs Ariya Daivary (Cruiserweight Championship Match)
On 205 Live, General manager Drake Maverick announced that Tony Nese would defend his cruiserweight championship against Ariya Daivari.
Prediction – Tony Nese will remain champion.
This will probably be a very good match but will most likely feature in the pre-show.
---