Brock Lesnar: WWE Money in the Bank participants were unaware that the beast would win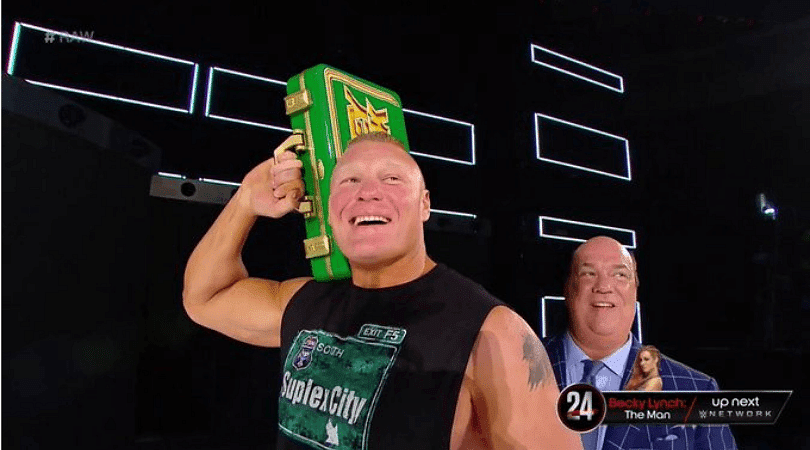 Brock Lesnar: WWE Money in the Bank participants were unaware that the beast would win. They were told that an 8th participant would win but were not informed who.
The WWE has often been blamed for being very predictable. There are no surprises anymore and every return is announced beforehand. To be fair on them, it is extremely hard to keep secrets in this day and age. However, the WWE found a way to keep their 8th participant of this year's money in the bank unknown right until the last minute. According to PWInsider, WWE managed this feat by not revealing this to anyone!
Also Read: Real reason why wrestlers have pulled out of WWE Super Showdown
The people backstage were informed that Ali would end up winning. This was a change from earlier in the week when Drew McIntyre was slated to win. They did maintain a little bit of honesty with their wrestlers by informing them that Ali was not winning. They were told that an 8th wrestler would arrive and tipp Ali over to become the winner. However, they were not told who the wrestler would be. It was reported that the idea was to let them believe that the 8th man would be Strowman.
The other Men's #MITB Ladder Match participants were reportedly kept in the dark about Brock Lesnar showing up.https://t.co/mfqk0AbsF8 pic.twitter.com/52ejYb7mwz

— WrestlingINC.com (@WrestlingInc) May 20, 2019
Only Ali Knew…
According to the Wrestling Observer Newsletter, right before the match started, Ali was told it was Brock Lesnar, but was told to keep it quiet. A lot of people hate the decision of Lesnar walking in at the last minute to take the case for himself. However, no one can deny that watching the Beast run in wasn't a moment that surprised them off their feet.
Ali later took a dig at Lesnar's Victory in a hilarious tweet. Randy Orton, an open critic of Lesnar and one of the participant in the match, shared the tweet and agreed with the post.
Look at the bright side, @brocklesnar climbing a ladder is the most wrestling he's done all year.

— ALI / Adeel Alam (@AliWWE) May 20, 2019
Wow what a smartass #iapprove https://t.co/0GpvkeMqMg

— Randy Orton (@RandyOrton) May 21, 2019
For More WWE articles click here.
---