Bobby Lashley Wants to Team Up With Brock Lesnar and "Dismantle" Everyone Like "Modern Day Road Warriors"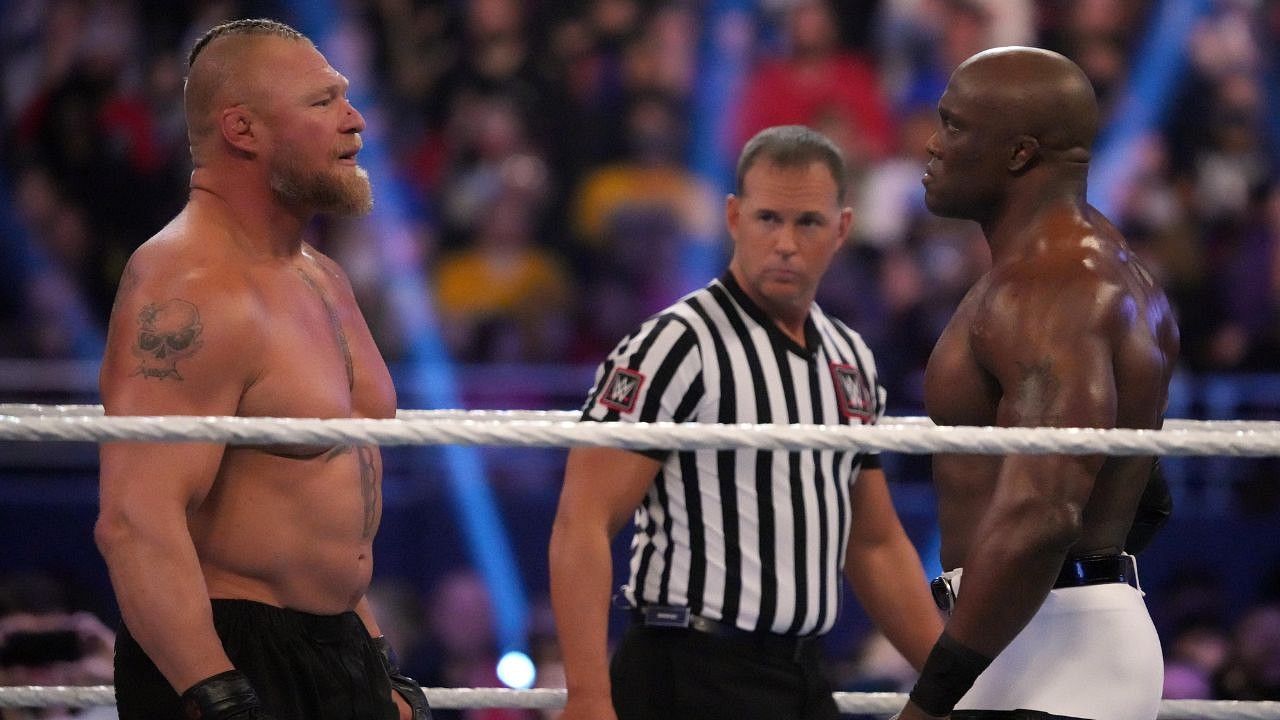 A match between WWE's two powerhouses, Brock Lesnar and Bobby Lashley was once considered a dream match. The two Goliaths have slugged it out on three occasions in single's capacity. The duo first locked horns in 2022, Royal Rumble. The Almighty was able to dethrone the Beast Incarnate and claim the WWE Champion but, with a little assist from Roman Reigns. Their second date was at Crown Jewel the same year. Brock Lesnar emerged victorious by outsmarting Lashley and pinning his shoulders to the mat while the Hurt Lock was synched in. 
Their most recent match was at the Elimination Chamber, during which Brock Lesnar was DQ'd for hitting Lashley with a low blow. There's no doubt that watching the duo on opposite sides of the ring was a dream match. But can you imagine what it would be like to watch them form a dream team? Bobby Lashley once conjured up the "far-fetched" idea of teaming up with his arch-rival, Brock Lesnar. 
Bobby Lashley wants to team up with Brock Lesnar
Speaking on Sony Sports Network, Bobby Lashley stated that joining forces with Brock Lesnar would make them seem invincible. Lashley also stated that the dream team would be like the "modern-day Road Warriors".
According to him, fans will go gaga watching the tag team duo "dismantling" their competition and to his credit, indeed, it would be a sight to see. 
 

View this post on Instagram

 
"This is completely farfetched. I thought me and Brock, we fight a lot against each other, what if we were on the same team? We'll be like the modern-day Road Warriors. The crowd will probably get off on watching us go through dismantling people together. That would be pretty interesting."
Considering that Brock Lesnar has never won a tag team gold in his entire career, it would have been interesting to watch both athletes form a legendary tag team. Brock Lesnar is currently involved in an angle with his rumored WrestleMania opponent Omos. On the other hand, Lashley is gearing up to face Bray Wyatt at the Grandest Stage. 
Brock Lesnar's contract with WWE will reportedly expire in mid-April
The Wrestling Blog reported that Brock Lesnar's contract with the promotion will lapse after WrestleMania in mid-April. According to the report, WWE has pitched in a new contract to the Beast, but it is unknown if Brock has expressed his willingness to accept the contract. 
I received information regarding Brock Lesnar contract, WWE has pitch in a new contract to Brock a couple days ago. Brock hasn't answer if he will take the new contract, or if he doesn't want to sign a new contract, Brock contract is still set to expire Mid April.

— The Wrestling Blog (@WrestlingBlog_) March 3, 2023
With the impending sale of WWE, the 45-year-old star is less likely to further his career. It's also no secret that Brock loves working with Vince. It's safe to bet that No Vince means No Brock. At this point, we will have to wait with bated breath to see if the former WWE Champion chooses to continue his career in WWE.
Click here for more wrestling news.
---
Share this article