Brock Lesnar Reportedly Facing Backstage Heat For Going Off-Script At Royal Rumble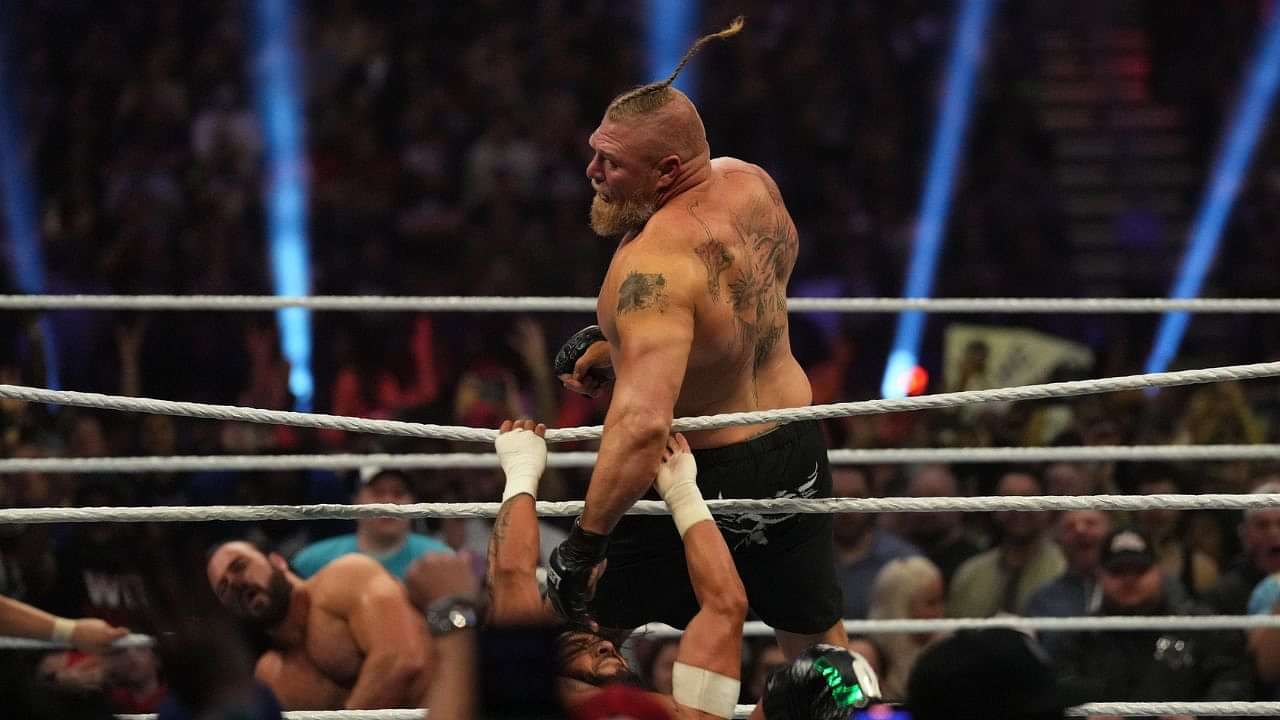 "The Beast Incarnate" Brock Lesnar made his in-ring return during the recent Royal Rumble pay-per-view. Entering the Rumble at #12, the 10-time world champion went on to eliminate three WWE Superstars. However, he didn't last more than three minutes and was thrown over the ropes by Bobby Lashley. Furious over his elimination, The Beast Incarnate expressed his rage by obliterating the ringside area.
According to a report, the "freak out" Brock Lesnar showcased during the Royal Rumble, has faced some backstage heat. In its recent report, Fightful Select shed light on how the whole segment was perceived by WWE backstage.
Brock Lesnar facing backstage heat for doing some off-script spots at Royal Rumble
After getting eliminated, Brock Lesnar went on to destroy everything that came his way. He delivered an F5 on Barin Corbin, destroyed the announcer's table, and even attacked a referee.
Loading embed tweet https://twitter.com/WWE/status/1619511338312634370?ref_src=twsrc%5Etfw
As per Fightful Select, although the whole post-elimination stuff was planned, some of its elements weren't. The report claimed that the steel stairs spot, Brock Lesnar performed at Royal Rumble, was off-script. In fact, The Beast Incarnate throwing a section of the announce table in the ring was also not planned.
However, what didn't go well backstage was Brock roughing up referee Eddie Orengo during the segment. Fightful further noted that the referee missed an "integral spot" because of that. It is believed that Eddie was supposed to raise Cody Rhodes' hand after the win. However, while Brock Lesnar was going off-script, plans had to be changed.
Is the 10-time WWE world champion going to face the consequences of his actions?
WWE superstars, who try to go off-script on live TV, often end up facing punishment for their actions. In fact, under Vince McMahon, wrestlers were fined and, sometimes had their whole push canceled because of that. Now the question is whether Brock Lensar will suffer the same fate.
Well, according to the source that spoke to Fightful Select, The Beast Incarnate is going to get into any kind of trouble. As a matter of fact, he won't even be fined. Fightful noted that they're not sure how much, but some people backstage were certainly unhappy with Brock's actions.
Since it was Lashley who eliminated him, it seems both men will be continuing their feud. So far, they have wrestled two one-on-one matches, with both men having one win each. The last encounter between the two came at last year's Crown Jewel Pay-per-view.
Nevertheless, it will be interesting to see when the third match will happen, and most importantly, who will get the last laugh. As per recent reports, Brock and Bobby will be squaring off against each other at this year's Showcase of Immortals this April. Though nothing has been made official by WWE as of now.
For More Wrestling News, Click Here.
---