2023 Men's Royal Rumble: A Glance at the Statistics, Records Created and Broken During the Match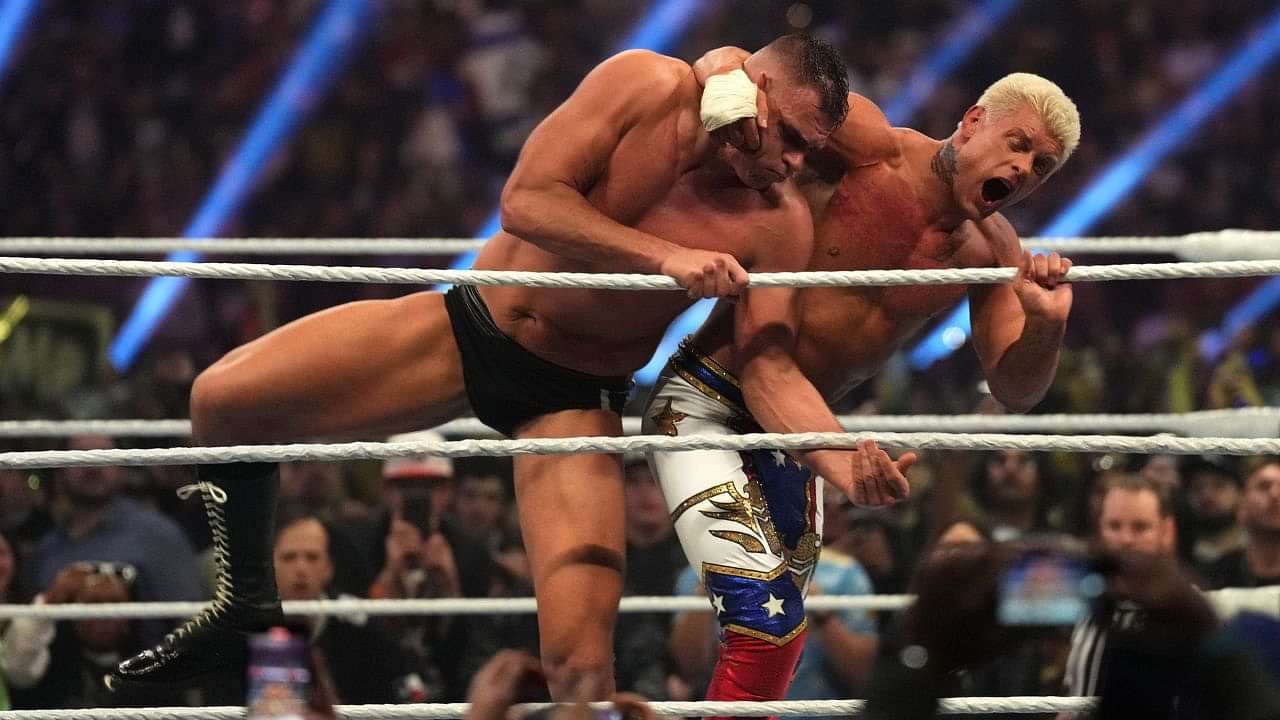 The wait is over, and as many pundits predicted, Cody Rhodes has won the 2023 men's Royal Rumble match. Entering at no. 30, The American Nightmare eliminated Gunther in the end to ensure his spot at Wrestlemania 39. The match itself didn't have many surprises, but there were a bunch of previous WWE records that were rewritten today. Here's a look at the records created and broken by the 2023 men's Royal Rumble match.
Loading embed tweet https://twitter.com/WONF4W/status/1619529412114001920?ref_src=twsrc%5Etfw
Cody Rhodes, Gunther, and The Miz enter the WWE history books by altering past records
With Cody Rhodes, the no. 30 entrants, winning the match, no. 30 now has the greatest number of winners in Royal Rumble history. Since 1993, no. 27 was on the top and was recently tied with no. 30 with 4 winners each.
Gunther, who entered at no. 1 and was also the last to get eliminated. Participating in the first Royal Rumble of his career, the IC Champion also created a new record today.
Gunther lasted for 1 hour 11 minutes and 25 seconds, which is now the longest in Royal Rumble history. The record was previously held by Rey Mysterio who entered the 2006 Royal Rumble at no. 2 and last for 1 hour 2 minutes and 12 seconds.
Loading embed tweet https://twitter.com/btsportwwe/status/1619522974373056512?ref_src=twsrc%5Etfw
As to Royal Rumble records, The Master of the 619 entered the books for one more reason. For the first time since 2004, a superstar who was a part of the rumble match didn't participate. Mysterio, who was supposed to enter at no. 17, didn't appear and was replaced by his son Dominik.
The 2023 men's Royal Rumble also saw The Miz joining Santino Marella as the only wrestlers to be eliminated once, that too twice. And since 2008, it was also the first rumble that didn't feature Dolph Ziggler.
Here are some individual records created by the 2023 men's Royal Rumble match
During the match, Baron Corbin lasted the shortest and was eliminated within ten seconds. Though the shortest in history is still held by Santino Marella who lasted for 1.9 seconds in 2009.
As to no. 1 (Gunther) and no. 30 (Cody Rhodes), both men eliminated 5 superstars each, the most of the match. Though, it was no. 30 who eventually had the last laugh over the no. 1.
Brock Lesnar, who could last more than three minutes this year, eliminated three contestants. The Beast Incarnate now holds 32 all-time eliminations in Royal Rumble. Though, Kane still leads the list with a total of 46 eliminations in his decades-long career.
For More Wrestling News, Click Here.
---