Dwayne "The Rock" Johnson Comments on Hasbulla Calling Himself the People's Champion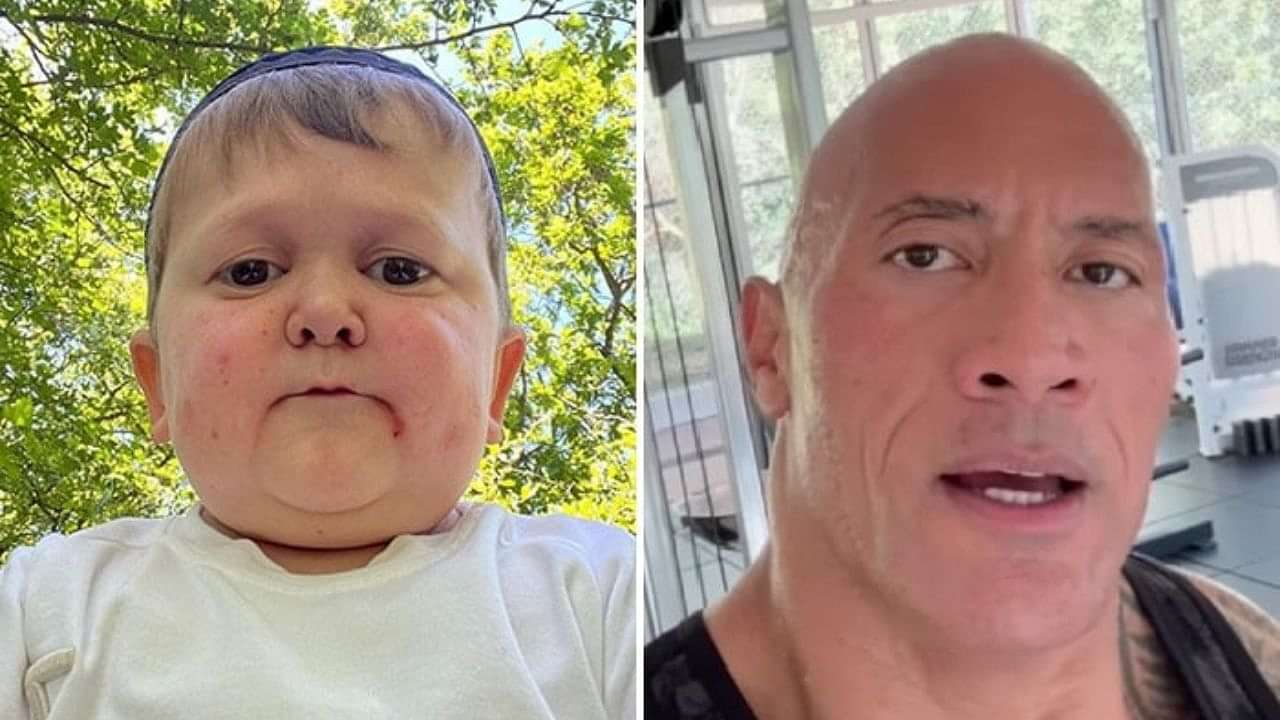 Before he became the highest paid actor in Hollywood, Dwayne "The Rock" Johnson was a WWE Superstar. He went by the moniker The People's Champion and if you saw the crowd reaction during his days as an active wrestler you would completely agree with it. So, what does he think of Hasbulla calling himself the People's Champion?
Also read: Dwayne Johnson Breaks Silence on Shocking DCEU Exit of Henry Cavil and Black Adam During Recent Oscars Appearance
For context, the WWE currently has an ongoing story with the Golden WWE Championship title. The first holder of the title was Snoop Dogg, who claimed that he lost the title. The championship belt has since changed hands several times with multiple celebrities holding it and the current holder is popular social media personality Hasbulla.
Dwayne "The Rock" Johnson comments on Hasbulla calling himself the People's Champion
Hasbulla took to Twitter calling out The Rock. He claimed that he was now the people's champion.
"Sorry @TheRock but I'm the people's champ now," Hasbulla wrote.
The Brahma Bull was quick to respond, stating that Hasbulla was always the people's champion, and asked him to drop the people's elbow on some fools.
"You always have been and always will be the People's Champ. Let me see drop People's Elbows on some fools!" The Rock replied.
Loading embed tweet https://twitter.com/TheRock/status/1635525219346694145?ref_src=twsrc%5Etfw
Will The Rock appear at WrestleMania 39?
The Rock was long rumored to be Roman Reigns' WrestleMania 39 opponent. Considering that the two come from the same family and with Reigns going around calling himself the Tribal Chief, it only made sense for the two to face each other.
With WrestleMania 39 taking place in Hollywood, it appeared to be all but confirmed that Reigns would face his real-life cousin inside the squared circle.
However, right before the Royal Rumble, reports emerged that the Brahma Bull would not be able to be in ring shape by this year's WrestleMania.
Reigns addressed the reports during his appearance on the Tonight Show with Jimmy Fallon, confirming that the Rock would definitely not be his opponent on the Grandest stage.
That has become more obvious in the days since.
Cody Rhodes earned his right to face Roman Reigns in the main event of WrestleMania 39 by winning the Royal Rumble.
The story has since revolved around Cody fulfilling his family destiny.
The Rock may still appear in some capacity at WrestleMania 39. However, it would be foolhardy to expect any kind of encounter with Reigns. Although, Roman Reigns vs Cody Rhodes is not too bad of a replacement.
Click here for more Wrestling News
---