Ex-WWE Writer Denies Reports That The Rock Turned Down Roman Reigns Match Because He Didn't "Have Time to Get Into Ring Shape" by WrestleMania 39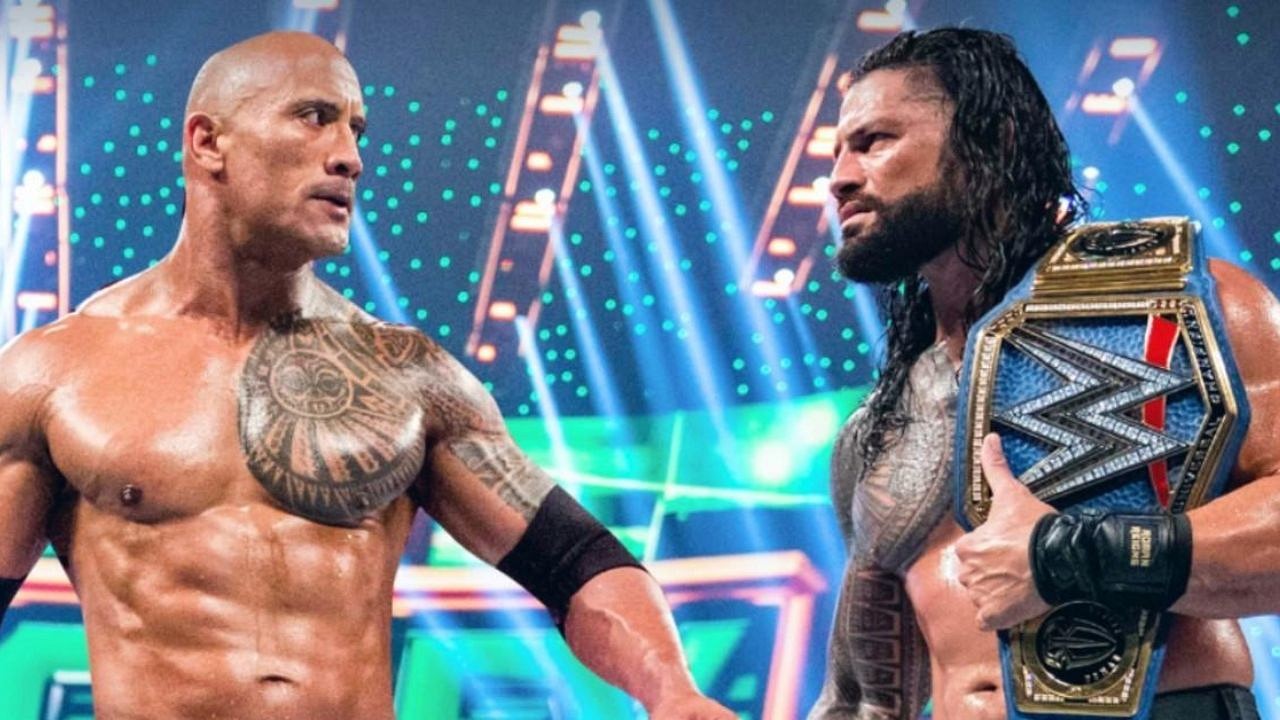 A day before Royal Rumble 2023, Roman Reigns was a special guest on Jimmy Fallon's "The Tonight Show". On the show, The Tribal Chief discussed the rumors of his match against The Rock at WrestleMania 39. He noted that The Great One has stated he doesn't have time to get into shape for the Show of Shows. However, according to a member of The Rock's team, the whole thing is untrue.
For the last few years, multiple dirt sheets have reported that The Great One might come back to WWE and face Roman Reigns. In fact, the chances of his return were the most at this year's Royal Rumble. Though, there were a few who claimed the Hollywood Megastar feels he won't be fit to perform at the Showcase of Immortals.
The Rock apparently didn't skip working WrestleMania 39 because he couldn't get into shape
Ex-WWE writer and the Executive Producer of The Rock's "Young Rock" Brian Gewirtz recently opened up about the matter. During his appearance on The Bill Simmons Podcast, Brian claimed that wasn't the case. He added that getting into shape is not the reason, no matter whether The Rock appears at WrestleMania 39 or not.
According to Gewirtz, what Roman said on Jimmy Fallon's show, everyone watching it took it as a fact. He then clarified that The Great One had made no such statement with anyone.
Brian Gewirtz denied on The Bill Simmons podcast that The Rock skipped working #WrestleMania because Rock couldn't get into ring shape.

"That is not the case! That is not the reason," Gewirtz said. "Whether it happens or doesn't happen!

"Then it just took a life of its own… https://t.co/ExsA7DpGY9 pic.twitter.com/ESI9fU2LBY

— Raj Giri (@TheRajGiri) March 16, 2023
Speaking to Wrestling Inc last month, Brian also claimed The Rock's team will be ready to return to WWE if he wants to. Though he didn't guarantee if that will happen.
As to the reports, it wasn't just Roman Reigns, many dirt sheets reported the same thing. Moreover, if getting into ring shape isn't, then what was or is the reason? Guess, fans will never know until The Rock himself opens up about the matter.
There are chances that WWE fans might see The Great One at this year's Grandest Stage of Them All
Now that Roman Reigns vs. Cody Rhodes is official, fans know The Rock will not be in the headliner of WrestleMania 39. As tough as it might be for fans to digest, the main event is set. However, according to Dave Meltzer, The Great One might still make an appearance.
Reacting to a fan query, he stated that fans might see the Hollywood Megastar doing a cameo at this year's megaevent. Though he did add that he won't be involved in any kind of in-ring action.
He may show up. But he turned down wrestling. https://t.co/ZOmwdwNMpE

— . (@davemeltzerWON) January 31, 2023
Nevertheless, WrestleMania 39 is almost at the door, and so far, WWE hasn't mentioned The Rock directly or indirectly. And even if he appears, it will obviously not be for a match.
For More Wrestling News, Click Here.
---
Share this article