Dave Batista calls out WWE over treatment of Asuka. The former WWE Superstar was far from pleased with the booking of the Empress of Tomorrow.
Asuka's life in the WWE was solid. Unbeaten all through her time in NXT, Champion for almost 510 days and another seven month long undefeated run on the main roster for a combined streak of 914 days, or roughly two and a half years.
Also read: Bayley discusses rumors of a possible match vs Becky Lynch at Wrestlemania 37
She has won everything there is to win on the main roster. Apart from being a Grand Slam Champion, the second woman to achieve the feat, she has also won the Money in the Bank and Royal Rumble, as well as being the sole survivor in her very first Survivor Series Tag Team match.
Despite all her achievements however, it still somehow feels like she hasn't booked as well as she deserves to be. Former WWE Superstar Dave Batista shares the same sentiment. The former World Heavyweight Champion has publically supported the Empress of Tomorrow in the past and he has done so once again.
Dave Batista calls out WWE over treatment of Asuka
The WWE uploaded a clip of Asuka losing the non-title match to RAW Women's Champion Rhea Ripley on this week's RAW.
View this post on Instagram

The Animal did not take kindly to it and let the WWE know exactly what he thought of it in the comments section. He wrote:
"Seriously? Jobbing out Asuka?! [rolling eyes emoji] WTF?"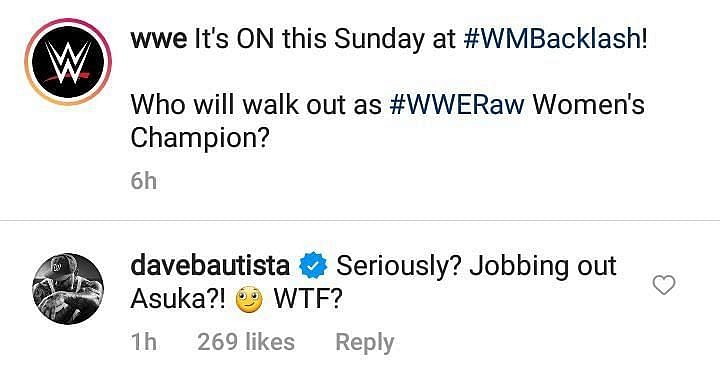 Batista is a huge fan of Asuka. Last year when Becky Lynch relinquished the RAW Women's Championship, the title was awarded to Asuka in lieu of her winning the Money in the Bank contract. Batista expressed his happiness then, posting:
"@WWEAsuka is my f*cking hero!"
@WWEAsuka is my fucking hero! https://t.co/fkEIS2DMfa

— The Artist Formerly Known as Super Duper Dave (@DaveBautista) May 12, 2020

Click here for more Wrestling News