Marty Jannetty claims Mia Khalifa is a fan and wants to shoot adult movies with him
---
Marty Jannetty claims Mia Khalifa is a fan and wants to shoot adult movies with him in yet another outlandish social media post.
Marty Jannetty is no stranger to making tall claims on social media. This time however, the former WWE star seems to have outdone even himself. He has now declared that former Adult film actress Mia Khalifa wants to work in multiple movies with him.
Also read: Brodie Lee Jr. declared TNT Champion for life on AEW Dynamite by Tony Khan
Khalifa has not worked in the adult industry since retiring all the way back in 2015! She revealed that she suffered mental distress after performing and has since opened up against the numerous immoral business practices prevalent in the industry.
Marty Jannetty claims Mia Khalifa wants to shoot adult movies with him
"THIS IS CRAY..PO*N!! They just called me again. From what they said(and I won't say Erotica) Mia Khalifa is a big fan so has already said yes..2 movie deal..$200 thaw.. What would u do?' he wrote.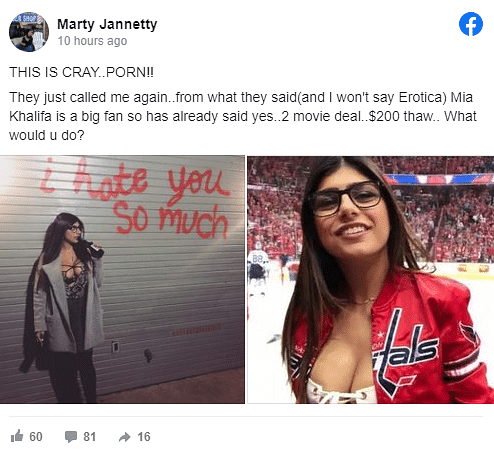 Given all that we know, it is highly unlikely that she will come out of her retirement for Marty Jannetty.
Jannetty was earlier in the news for claiming that he once killed a man during his teens. He has since claimed that it was part of a wrestling angle. He later took to Facebook claiming to have been jumped in a case of mistaken identity but didn't get the attention because he was not black.
Janetty rose to fame in the 80's as one half of 'The Rockers' alongside Shawn Michaels. He was a well known face well until the mid 90's and competed for the World Championship several times.  He even became a one time Intercontinental Champion. However, personal issues cut his career short.
Click here for more WWE News
---