100 Thieves Valorant Roster: 100T sign Asuna and Dicey from Immortals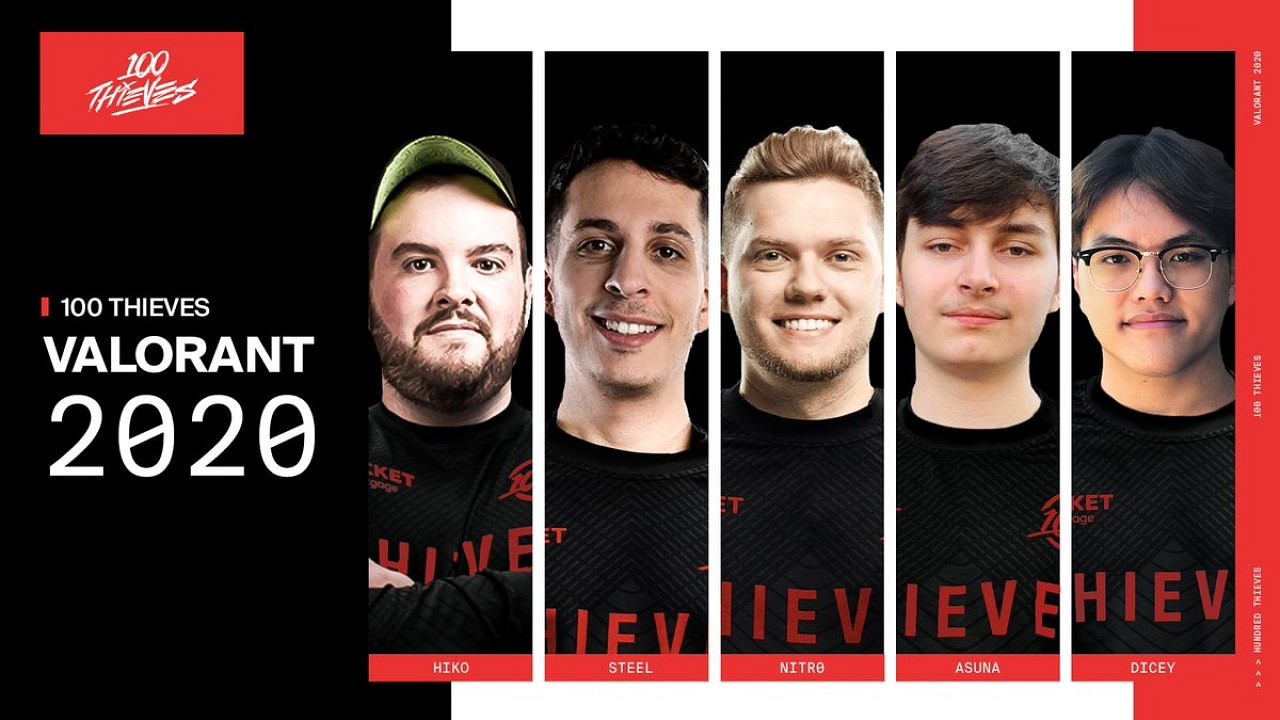 100 Thieves have announced the signing of Asuna and Dicey from Immortals to complete their roster.
100 Thieves entered Valorant back in June with the signing of Hiko.
They completed their roster with signing of the HighGround Pubg Roster at the end of the same month.
The core of Valliate, YaBoiDre, Venerated and Pride were released after string of poor performances.
https://twitter.com/100Thieves/status/1312105149758726145
In the process former CS:GO pro Nitr0 was announced subsequently.
At the start of September, Steel also retired from CS:GO and joined the team.
After nearly a month of rumor's and possible transfers Asuna and Dicey have joined the team.
Who is Asuna?
Asuna also one of the CS:GO players who made the switch to Valorant and was announced the final member of the Immortal's squad.
He was one of the best performers within the team 244 ACS and 0.76 K/D throughout his time at Immortals.
Happy to be apart of such a great org with amazing players who can teach me how to play the game. Can't wait to see where this will take me. https://t.co/hZSy9CjVOv

— 100T Asuna (@Asunaa) October 2, 2020
Asuna mainly played as an entry fragger for the team and mained Raze.
His time at Immortals was up and down hill as their best achievement was at FaZe Clan Invitational where they place 3rd.
Who is Dicey?
Dicey joined Immortals just before the FaZe Invitational.
He replaced Bjor from the team and mainly played as their operator player.
He currently mains Jett and success came at FaZe Invitaional when they finished 3rd.
Red and Black just hits https://t.co/ZDDcL9gtUC

— 100T Dicey (@diceyzx) October 2, 2020
His aggressive style of play and fragging ability gained a lot of notoriety.
The ace which he pulled off at POP Flash tournaments is considered one of the best plays.
Asuna and Dicey will gain a lot of experience from their teammates with stalwarts like Hiko ,nitr0 and Steel in the team.
With the First Strike Tournament announced 100 Thieves will be one of the teams to watch out for.
100 Thieves Roster:
Spencer "Hiko" Martin
Nicholas "nitr0" Cannella
Joshua "steel" Nissan
Peter "Asuna" Mazuryk
Quan "Dicey" Tran
Immortals Roster:
Noah "jcStani" Smith
Yannick "KOLER" Blanchette
Amgalan "genghsta" Nemekhbayar
---
Share this article