There could be more to why South Africa chokes at big tournaments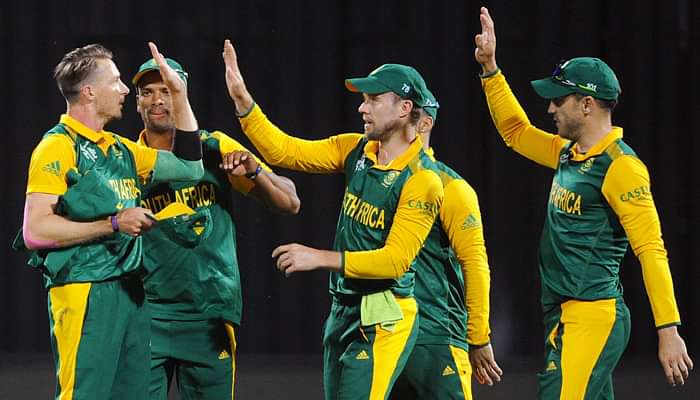 Background:
South Africa has traditionally been a semi-finalists team. Despite possessing teams brimming with talents over the last two decades, the Proteas have never managed to win any ICC tournament. This has always raised a set of question from spectators and fans: Why are they unable to win big tournaments? Could it just be that they lack the determination to win? Or is there something more to this? While we may never get to know the exact reason to point our fingers at, we get hints to these questions from A B De Villiers in his autobiography.
A B De Villiers opens up in his autobiography:
In World Cup 2015, South Africa under ABD's captaincy managed to beat Sri Lanka in quarters, their first ever victory in a knock out game in ICC tournaments. The Proteas' next game was against the Black Caps in semis and ABD was planning to retain the same team, as he didn't want to change the winning eleven.
However, on the day before the semifinal, ABD received a text (he hasn't revealed the identity of sender) asking him to include Vernon Philander in place of Kyle Abbot in the playing eleven. Philander had been injured for the previous games and hence was unavailable until the quarterfinals. The text further claimed that Philander had cleared the fitness test. Whether the incumbent should fit into the team directly or the winning combination should be retained is a decision that's best left to the captain and coach. This text had given ABD sleepless nights until now.
ABD has revealed in his autobiography that he has had doubts regarding the intention of this text. Was this text sent purely based on cricketing reasons or was there something else beyond?
Coloured players in team
South Africa had been playing 3 to 5 players of colour in the world cup until this game. In the quarters, only Duminy, Tahir and Amla played. However, Cricket South Africa (CSA) had apparently felt that one more player of colour should be added, in the form of Philander instead of Abbot. While this intention isn't very evident, ABD has felt that it could be a possible explanation for the text. The Proteas eventually lost the semis. While Philander's performance wasn't the reason for the loss in any way, a mentally disturbed captain can never be a good thing to have in an important knockout game.
This racism problem has existed in South Africa team for a long time. On the issue of number of coloured players per game, ABD has revealed that "We had been assured that Cricket South Africa was the only national governing body in the country that had declined to set a target for the number of players of colour to be included in the national team but there was a delicate balance to be struck and it was generally understood that, as they chose the side, the national selectors would be conscious of providing opportunities for at least four players of colour."
ABD's desire to win World Cup:
In his autobiography ABD has clearly stated that winning a World Cup is his life dream. Hence, we can infer that he'll at least play on till 2019 World Cup. Let's hope that these sort of racism problems, if true, are solved and South African captains become free to decide on the team combination at such big stages. In spite of being an Indian fan, the heart inside me wishes for South Africa to do justice to the deluge of talents that it has had over the years.
---