Ajax star Hakim Ziyech scores a screamer vs Valencia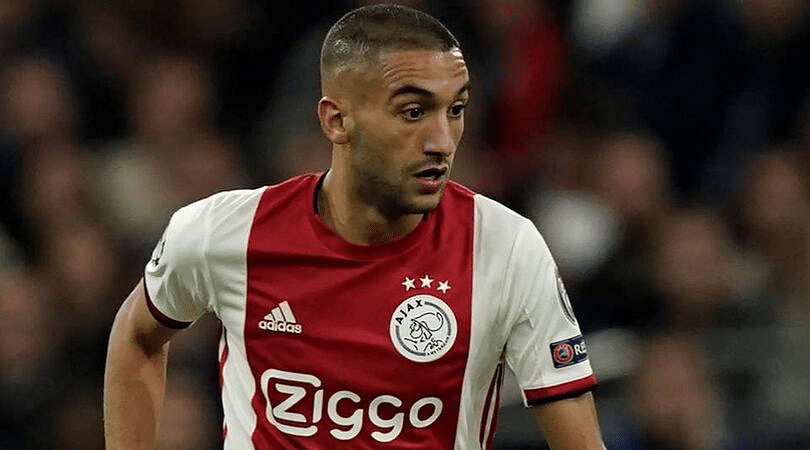 Ajax star Hakim Ziyech scores a screamer vs Valencia during their champions league encounter at the Mestalla Stadium.
Ajax was the fairy tale club in the Champions league last season. A team of mostly nobody's took on Europe's elite and ran all the way into the semi's before Lucas Moura's hat-trick ended their campaign. In doing so, they eliminated Real Madrid and Juventus.
Also read: Sadio Mane goal Vs Salzburg
The team would then be picked apart with Frenkie De Jong leaving for Barcelona and Mathijs de Ligt joining Juventus. However, another star performer, widely rumored to be on the move as well, was left behind instead.
Hakim Ziyech, who scored 21 goals last season, was a sensation for Ajax and with a value of £35m, was a relatively a bargain in the increasing exaggerated transfer market. The Moroccan was linked with Arsenal and Bayern in the summer but both clubs chose to go ahead with other targets.
Arsenal chose to sign Nicolas Pepe while Bayern went ahead with Philippe Coutinho instead. Ajax expressed surprise over Ziyech being overlooked. However, they did not mind the snub. Instead, they used it to their advantage to hand him a contract extension with the club.
Although Ziyech has said that a transfer was never a must, being ignored must've slightly left him in the blue. He is now on a mission to paint his opponents the same color and show the other European heavyweights what they missed out on by not signing him with an explosive goal against Valencia tonight.
Ajax star Hakim Ziyech scores a screamer vs Valencia
Ziyech carried the ball near Valencia's box. He picked the ball from the right and decided to take a shot from distance. Much like he did last season, Ziyech scored yet another beauty to give his side the lead in just 8 minutes after the ball rocketed past Jasper Cillessen.
https://twitter.com/Sachk0/status/1179474245853663232
https://twitter.com/SegersGilles/status/1179477639121244161
At the moment of writing, Ajax hold a 2-0 lead. The Durch champions doubled their score in the 34th minute courtesy of Quincy Anton Promes. Having beaten Lille 3-0 in their opening match, Ajax look set for another amazing showing in the Champions League this season.
Click here for football news.
---