Arsenal News: Shkodran Mustafi hilariously nutmegged by new boy Kieran Tierney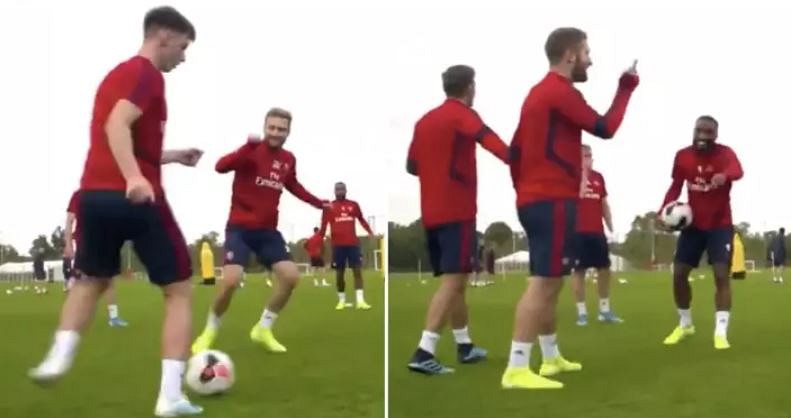 Shkodran Mustafi was hilariously nutmegged by Kieran Tierney in the training session. 
Arsenal's new signing Kieran Tierney started training with his teammates after recovering from a hamstring injury. The Scottish International was bought from Celtic for a fee of £25 million in the summer transfer window.
The 22-year-old, in his first day at the club, has nutmegged the German Shkodran Mustafi. During the 'rondo' session, the former Valencia defender was told to stay in the middle and intervene the ball. But, the defender only managed to leave his leg wide open and get nutmegged in a hilarious fashion.
Alexandre Lacazette was not able to control from taking a dig at his teammate upon this incident. The duo had a fair share of a laugh, but the Scot remained silent.
KIERAN TIERNEY NUTMEGGING SHKODRAN MUSTAFI: 
Watch the video of Kieran Tierney nutmegging Shkodran Mustafi.
Tierney arrives at the club to put the nail in the coffin before Mustafi's departure, Pepe cheers him on: "End this man". pic.twitter.com/MGkzNgzqZ7

— Arsenalian (@Arsenalian6) September 12, 2019
He was one of Unai Emery's six summer signings and the Spanish manager says he wants quicker adaptation from his new stars.
"First we need to improve the adaptation of the different players who have come here in the last moments," he said.
"Also we need to improve in our way. For example, I think we can continue being very offensive with a lot of important offensive players.
"Maybe we need to continue working to create a balance defensively in some moments and also tactically when making some decisions.
"But really the most important thing is how we can show our support and our energy, our spirit.
"We want to win each match but also to show them our speed, our energy playing with intensity.
"I think we are working to do that in our way, in our target of giving them a big characteristic for us. We want to play with energy."
---