Champions Trophy Fantasy Tips: Fantasy Guide for India vs South Africa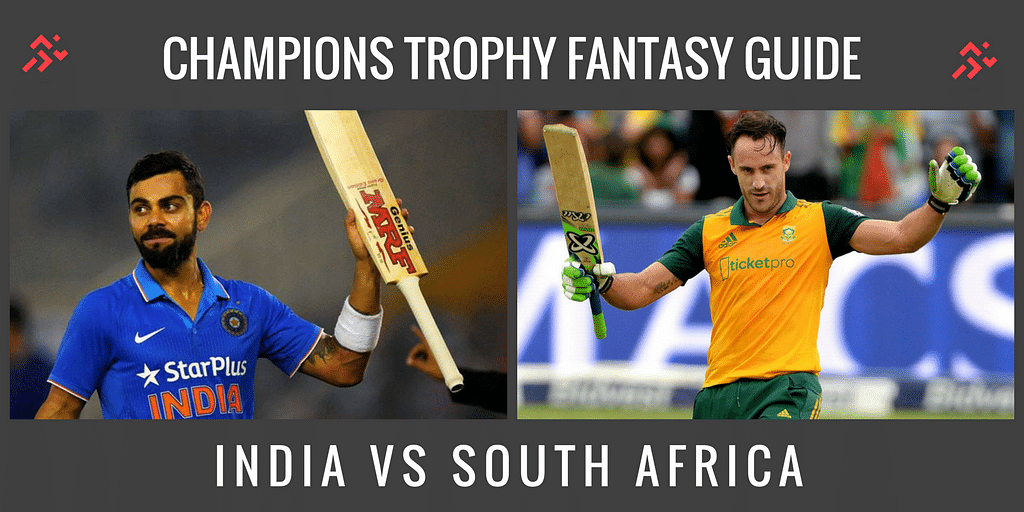 Sport is all about romance, the romance of the last minute, the romance of a last ball win, the romance of a nation rejoicing to it sporting team's glory. But there is no greater romance than seeing an underdog reach the semi final of a global event, especially when they have never done that before, despite knocking on the door a zillion times.
Bangladesh have finally made their way through to an ICC World semi final, being aided by rain for sure, but just this time, let's look at the result and not the process. They have been wanting this for long, they have been working for this for long and they have probably deserved this for longer than you would imagine.
Also Read: Do's and Don'ts for the Champions Trophy Fantasy League
Australia have every right to feel unlucky about this campaign, as rain took over their surge left, right and centre, and made it extremely difficult for them to pave their way through. But Champion sides find a way even when the odds are stacked against them, they take that one bit of opportunity that crops up and make merry, something that this Australian side was not able to do. With England tottering at 35/3 you would have expected Australia to power their way through to the semi finals, but Stokes and Morgan were adamant to not let their fiercest rivals taste the knockout fever.
England have Bangladesh have qualified from the 'supposed' group of death and we are in for two mouth watering 'quarter finals' in the next two days, with the biggest of them unfolding today.
India take on South Africa in what is probably the most high profile game of this Champions Trophy. featuring some of the biggest and the best stars in world cricket.
Let's get to business now!
Fandromeda Fantasy League Tips on the next page:
Fandromeda Fantasy League
Transfer out: Steve Smith, Joe Root
Transfer in: ABD, Hashim Amla
Now, I already have Virat Kohli, Shikhar Dhawan, Yuvraj Singh, QDK, Bhuvi, Imran Tahir and Kagiso Rabada in my side for this game.
With 6 transfers left(4+2 free) I'll be looking to make a maximum of two transfers for today's game.
ABD has 3 centuries in the last 5 games against India and on a big day, you could expect the big players to step up. Do not let your emotions get the better of you and get him in!
Now, with one last transfer to go for this game, I am a little torn between Amla and Rohit. Both these players have looked in sublime form this tournament and the Oval pitch should assist them in going big today, but with the paucity of transfers I can go in with only one of them.
I am a little tilted towards Hashim Amla, as Rohit is a little susceptible to quality pace bowling, something that South Africans possess in abundance. Also, ever since time immemorial, India have found it tough to get past the defence of Amla. He could be in for a big one today.
I won't be getting in any other players for this game.
Batting Powerplayer: Virat Kohli
Bowling Powerplayer: Bhuvi/Rabada(whoever bowls first)
Champions Trophy Fantasy League Tips on the next page:
Champions Trophy Fantasy League
Transfer out: Joe Root, Steve Smith
Transfer in: ABD, Hashim Amla
Now, I already have Virat Kohli, Shikhar Dhawan, Kagiso Rabada and Bhuvaneshwar Kumar in my side for this game.
Again with 5 transfers in the kitty, I'll be making a maximum of two transfers for this game.
ABD would be my first pick, because of his excellent form against the Indians in the last few games. Get him in, he could go berserk today.
Now, for the final transfer it is a straight toss up between Amla and QDK. Normally I would have gone in with QDK because of his wicketkeeping skills, but I am a little tempted to go with Amla this time, because of his superior record against the Indians. Also, QDK might find it a  little tough to negate the Bhuvi threat early on.
I won't be making any more transfers for this game
Captain: Virat Kohli
---