Ball hits roof rule in cricket BBL: What happens when ball hits roof at Marvel Stadium?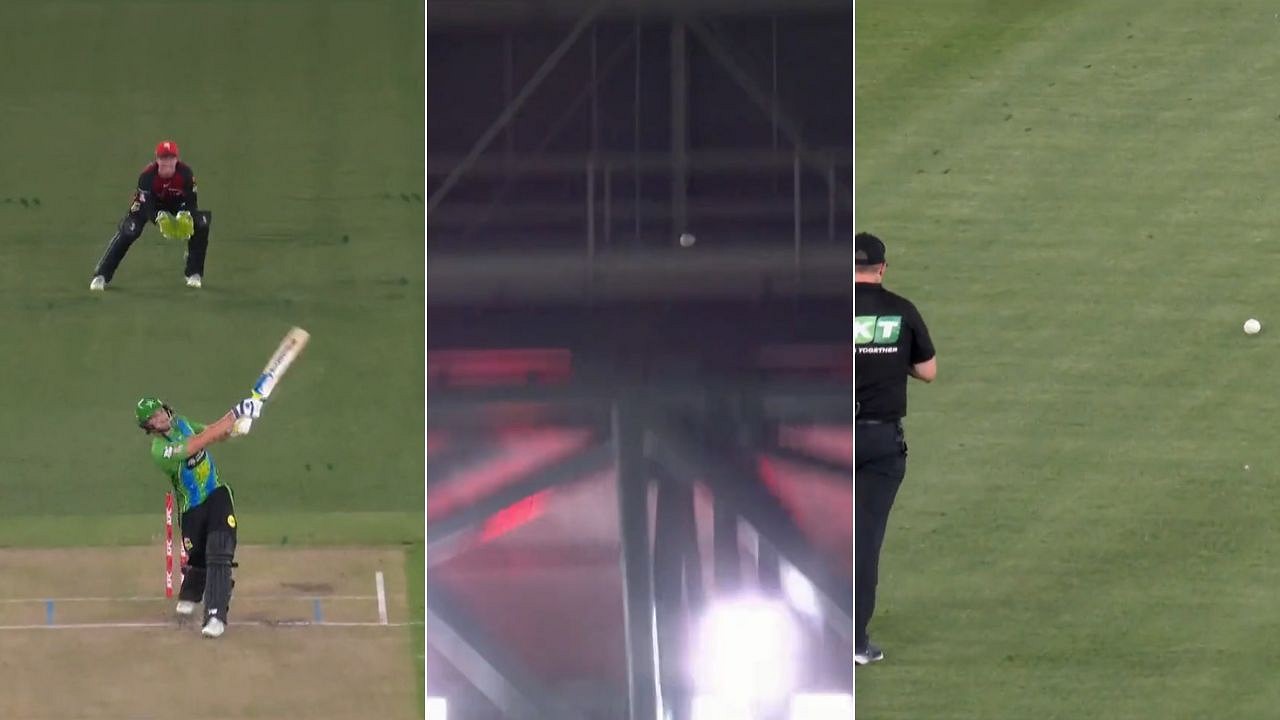 Melbourne Stars batters lived a charmed life in the recently concluded Big Bash League 2022-23 Match 40 against Melbourne Renegades at the Docklands Stadium tonight. Although they still couldn't prevent a 6-run loss, a couple of Renegades' batters were given six runs each when they could've easily been dismissed with the exact same shot on any other cricketing venue.
The drama first unfolded on the last delivery of the third over when Joe Clarke mis-timed a Will Sutherland delivery only to see the ball hitting the retractable roof at the Marvel Stadium. With fielders stationing themselves under the ball in anticipation of a proper high catch, it wasn't to be as the ball hit the roof to save Clarke.
Clarke, who pulled Renegades pacer Tom Rogers right after the powerplay, hit the third of his five sixes only to barely miss hitting the ball towards the roof for the second time.
Having said that, a few overs later, Beau Webster was successful in registering the second instance of making the ball touch the roof. Needing 37 runs in five overs, Webster was at the receiving end of a reprieve with a shot bereft of timing earning him six runs.
Ball hits roof in cricket BBL
IT'S HIT THE ROOF!!!

Lucky or not, it's 6️⃣ in the book! #BBL12 | @BKTtires | #GoldenMoment pic.twitter.com/Y7AJJDxmNf

— cricket.com.au (@cricketcomau) January 14, 2023
What happens when ball hits roof at Marvel Stadium?
An incident which rarely happens in cricket happened a couple of times on a Saturday night to bring into question a bizarre rule around a batter getting six runs for a ball hitting the roof.
Although one has vivid memories of former Australia batter Michael Hussey hitting a shot straight to the roof in an international match at the same venue in 2005, that unintentional effort had resulted in a dead ball.
While the same had happened with Renegades captain Aaron Finch in a BBL match against Hobart Hurricanes here just over a decade ago, the rule has been changed since then. According to BBL's revised playing conditions, any ball which hits the roof will hand six runs to the batter instead of being called a dead ball irrespective of whether it would have been a six or not.
ALSO READ: What is the new Over Rate rule in Big Bash League?
It is worth a mention that Finch was the first beneficiary of the new rule when an attempted six off his bat against Hurricanes' James Faulkner had earned him six runs in the subsequent season. Four seasons later, current Perth Scorchers captain Ashton Turner had also benefited from the same when he hit a similar six off the then Renegades all-rounder Daniel Christian.
"I think it's a pretty bad rule. It saved me tonight. I think it's not fair. It should be a dead ball – you can't predict whether they're going to catch it, so there's no fairer outcome than a dead ball," Turner had told cricket.com.au back in the day.
---
Share this article