Charles Leclerc Admits That 'Difficult to Beat' Carlos Sainz Pushes Him to Improve His Driving Style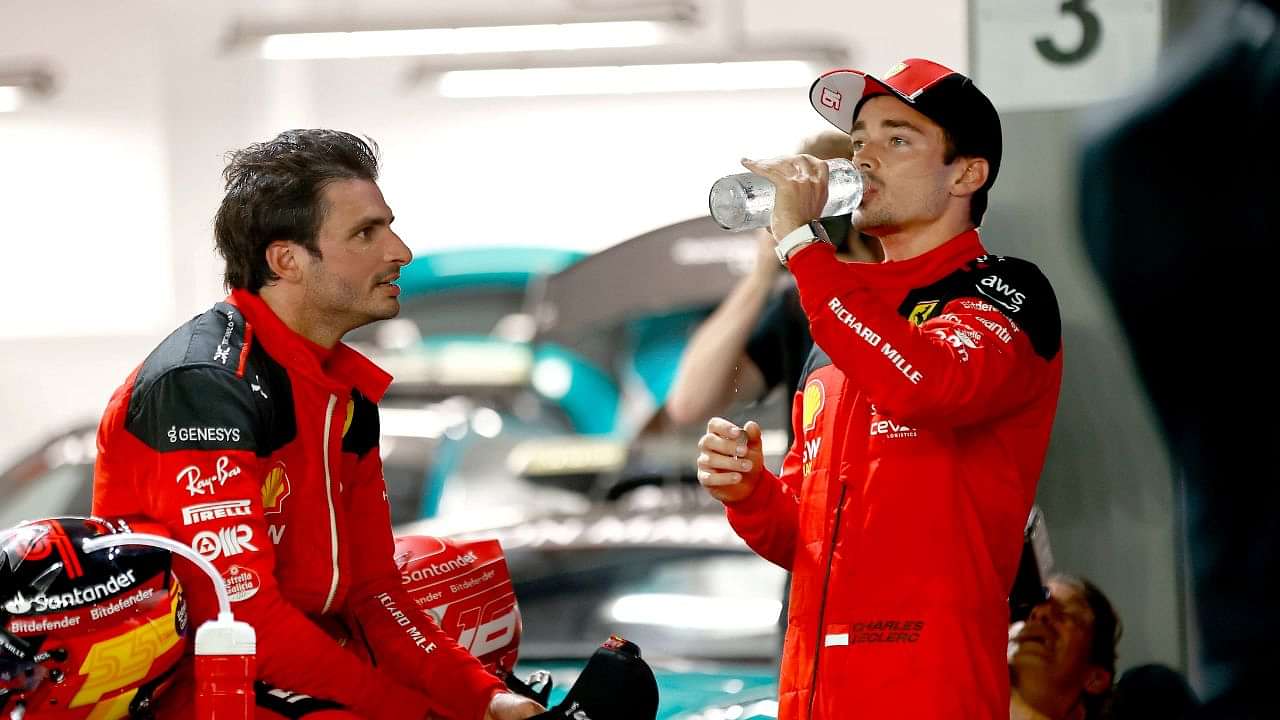 Carlos Sainz is having the time of his life at Ferrari at the moment. After the Spanish driver claimed two back-to-back pole positions and a stunning win in Singapore, he is the driver who has been spearheading the Scuderia's attack of late. Now, Charles Leclerc, who holds Sainz as a driver who is 'difficult to beat', said that his teammate has motivated him to improve his own driving style, as reported by Junaid Samodien on X, from James of Pit Debrief.
Sainz has been in supreme form in recent times. He picked up a stunning pole at Monza amid incredible home support and followed it up with another pole in Singapore. Even though he failed to keep his place in Italy, he made sure he converted it into a win a the Marina Bay Circuit.
Loading embed tweet https://twitter.com/ScuderiaFerrari/status/1703672826794999971?ref_src=twsrc%5Etfw
After this mega comeback by Sainz, he seems to be brimming with confidence. Admittedly, the last two races have been a much-needed impetus for the Ferrari driver amid talks about his departure from the Scuderia.
Charles Leclerc on his problem and coping with Carlos Sainz
After Sainz and Ferrari picked their much-anticipated win at the Marina Bay Circuit, Leclerc opened up on his recent performances. He also talked about how Sainz has been a complete beast lately after predicting a mega performance ahead of Saturday's qualification. Talking about this, the Monegasque driver said as per James of Pit Debrief: "Carlos in Monza and here has been completely on it."
"He's been very strong. It's great to have him on such a form because it pushes me also to understand a bit more [of] my driving style and try to fit my driving style to this car," Leclerc added. Admittedly, with this, Leclerc also mentioned why he is failing to keep up with his teammate.
Loading embed tweet https://twitter.com/ScuderiaFerrari/status/1703707235874947546?ref_src=twsrc%5Etfw
The Monegasque driver stated that the handling of his car has been unpredictable this season. Since there is a lack of grip in his SF-23, there is nothing he can do to make an immediate recovery. He also revealed that he is struggling with understeer in his car.
Ferrari's issue in recent times and how they have made a decent recovery
Scuderia Ferrari have not been at their best for the majority of the season, but they have made a fairly good recovery. For the most part, they struggled behind Red Bull, and even McLaren, Aston Martin and Mercedes at times. However, in Monza and Singapore, they rose up to the challenge.
Despite having great straight-line speed and top speed, the SF-23 still needs to have better tire wear so that it can compete with the RB-19 in terms of race pace. With Red Bull out of reach in the championship, they have Mercedes to compete against for P2 in the standings.
The Maranello-based outfit is currently in P3 with 265 points, 24 points behind the Silver Arrows. Drivers Carlos Sainz and Charles Leclerc occupy P5 and P6 with 142 and 123 points, respectively.
---