Charles Leclerc's Ferrari Teammate Carlos Sainz Finally Spills the Beans of the Monegasque's Beauty Secret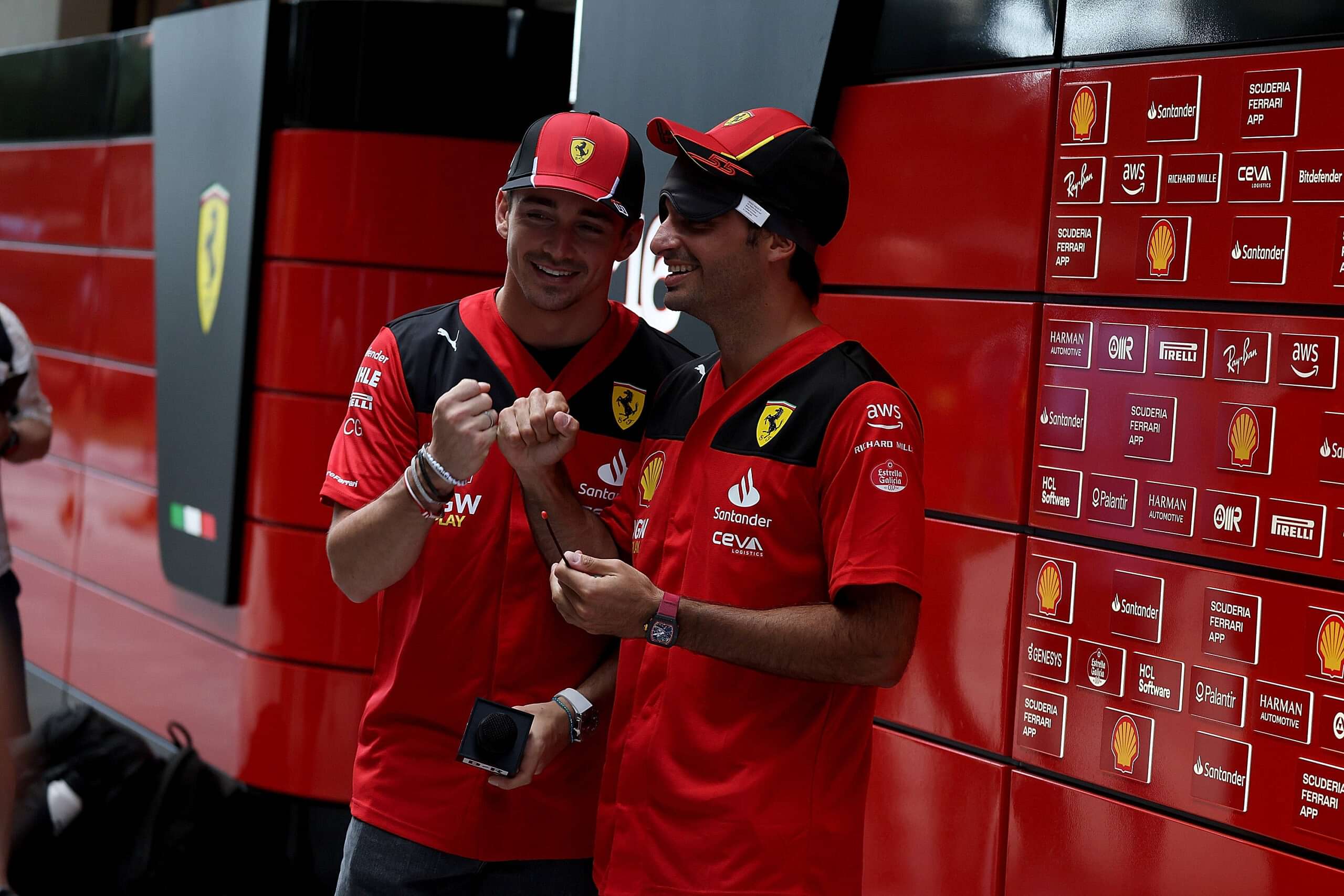 Carlos Sainz has finally revealed the beauty secret of his Ferrari teammate Charles Leclerc. The Spanish driver, during a fan interaction last year, unraveled why the Monegasque is so "beautiful."
Leclerc has absolutely been top of his fame game ever since he joined Ferrari back in 2019. Apart from the talent behind the wheel of an F1 car, the 25-year-old is also a fan favorite because of his good looks.
Boasting millions of followers on all his social media sites, the Ferrari star is also seen as a heartthrob by his fans. Good looks mixed with rapid speed in a red car, Leclerc is a figure that very few fans can look away from.
During an open session with fans back in 2022, Leclerc was asked a question about his good looks that deeply puzzled him. However, Sainz being the good teammate he is, decided to take over.
Carlos Sainz revealed beauty secret of Charles Leclerc
In a fan interaction session during the 2022 F1 season, a fan asked the Monegasque driver about the secret to his beauty. He asked, as seen in an Instagram video, "How are you so beautiful? What is the secret to your beauty, Charles?"
Answering this, the 25-year-old laughed a bit at first and then he said, "Thanks to my parents, I guess. You can ask my mum what is the secret." Following this, he continued, "I don't know, I don't do anything special."
Loading embed instagram https://www.instagram.com/reel/Cr1IkdHLOd3/?utm_source=ig_embed&utm_campaign=loading
This was when Sainz decided to intervene and unravel the secret. Speaking up, Sainz revealed an unknown insight into Leclerc beauty. He joked, "He does! He spends some extra hours in the bathroom in the morning… With hairs… He likes this." As soon as the Spaniard finished with his reply, laughter soared in.
Sebastian Vettel once joked about Leclerc's good looks
Sebastian Vettel once joked about Leclerc and his looks during their time together for the Italian team. Vettel and Leclerc raced together for two years after the 25-year-old arrived on the team back in 2019.
The duo was very popular among fans until they were separated with Vettel's move to Aston Martin in 2021. However, in their times together, the duo often cracked jokes on one another and there was one time when Vettel went after his teammate's looks.
Speaking about this, Vettel joked that he never got fans coming to meet him at the hotel in Italy because he doesn't look as good as Leclerc. He said as per Formula1News UK, "I never had the problem of going out of my hotel, probably Charles is more good-looking than me."
Leclerc has always been under the spotlight of fans for a lot of factors- his good looks included. The upcoming weekend, however, he will be focusing on one thing and one thing only- getting rid of the Monaco Curse ahead of his home race.
---