Christian Horner's Verdict on Fernando Alonso Shoots Warning at Ferrari and Mercedes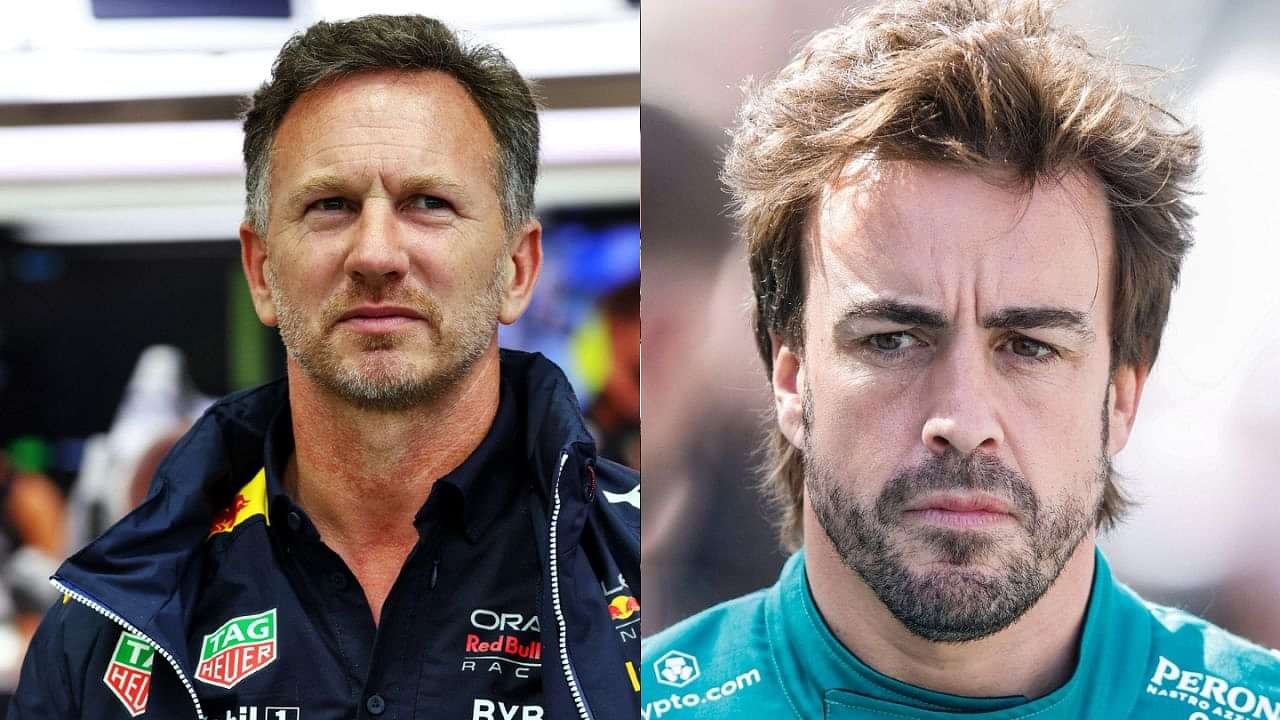 Red Bull was always going to be considered a strong favorite heading into the 2023 season, but according to Christian Horner, there may be a new team in the mix. After an impressive performance from Fernando Alonso and Aston Martin, Horner makes a bold prediction for the upcoming season.
Ferrari and Mercedes were expected to be Red Bull's main challengers for the 2023 campaign. The former was close to challenging them for the title in the initial stages of 2022, whereas the majority of the community expects the Silver Arrows to have a bounce-back season this time.
Loading embed tweet https://twitter.com/startonpole/status/1628782159304568832?ref_src=twsrc%5Etfw
However, days before pre-season testing began, Red Bull's chief technical officer Adrian Newey labeled Aston Martin as a potential threat. After day one of pre-season testing in Sakhir, team principal Horner has joined in on what Newey predicted.
Also read: "Can You Shut the **** Up?" – Max Verstappen's Hilarious Reaction When Interrupted During Interview With Daniel Ricciardo
2023 will be Fernando Alonso and Aston Martin's year
Aston Martin is a team that has never been short of ambition. In 2021, when Lawrence Stroll brought back this prestigious name to F1, he declared that his aim was to win the world championship and nothing short of that would be satisfying.
So far, their two seasons in the sport have been underwhelming, but they head into the 2023 campaign with extra motivation. Two-time World Champion Alonso signed a multi-year deal with them and insists that he wants to compete for wins and titles once more retiring.
Loading embed tweet https://twitter.com/startonpole/status/1628773354961350656?ref_src=twsrc%5Etfw
After their impressive run during the afternoon session, Horner gassed up Alonso and Aston Martin's chances of achieving that this very year. The 41-year-old put up blistering laps around the Bahrain International Circuit and was right up there with leader Verstappen in terms of lap times.
"So this year we will see what Red Bull is capable to do and what Aston Martin is," said Horner during the pre-season test.
Also read: "Michael Schumacher's Son Should've Joined Red Bull": Former F1 Boss Claims Mick Missed Out on 7-Time World Champion's Mentorship
Aston Martin recover from slow start to pre-season
Aston Martin had a horror start to the 2023 F1 pre-season test. Their main driver Lance Stroll will miss the entirety of the test because of his 'minor injury' after a bike accident. Reserve driver Felipe Drugovich got a chance to take the AMR23 out for a spin in the morning session but his run ended in a matter of minutes.
Drugovich had to pull up on the side of turn 4, because of electrical issues in his car. The Brazilian driver's start to life in F1 wasn't promising and concerns related to the car's reliability began to surface among fans of the team and Alonso.
However, they recovered strongly from the slow start as Drugovich finished seventh overall in the morning session. Alonso and the entire Silverstone-based outfit will be hoping to carry forward this strong pace into the opening rounds to make some big strides in the 2023 season.
---