Get the Popcorn because it's Pep Guardiola vs Jose Mourinho Again!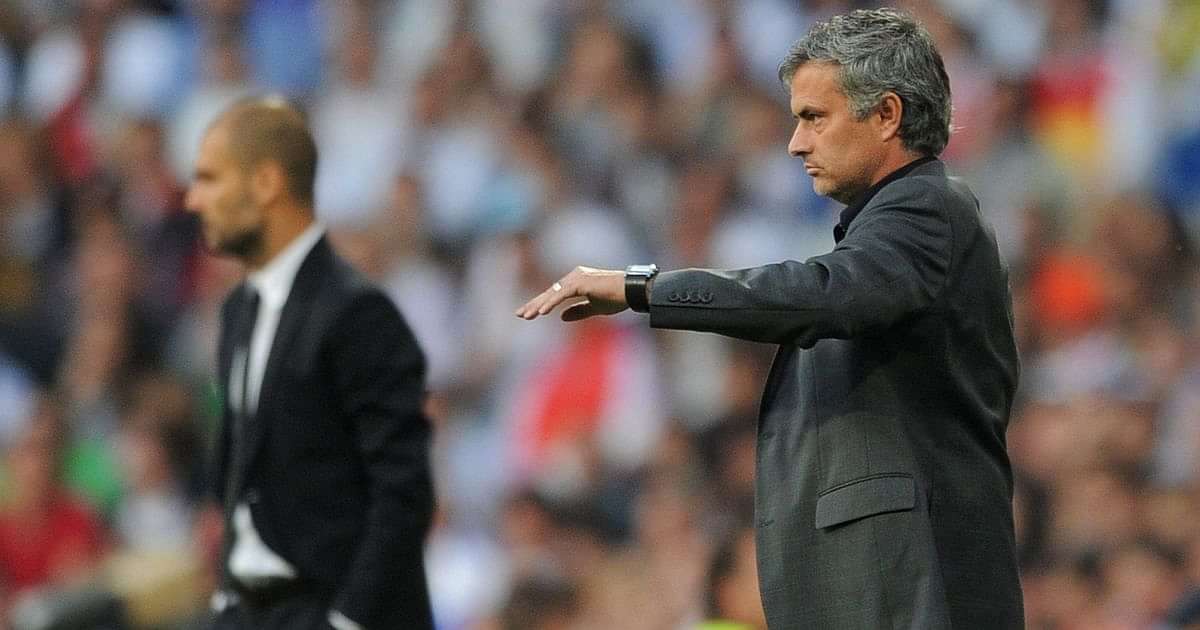 It is Pep Guardiola vs Jose Mourinho Again!
In all the hysteria over the transfer window we seemed to have forgotten what is coming this weekend. The Manchester derby will now witness one of the greatest managerial rivalries of all time, when Pep and Jose lock horns in the most anticipated derby match in recent history!
Anticipation !
At the start of a new season, football fans all over the world make note of certain matches that cannot be missed. El CLassico, Bayern-Dortmund, Inter-AC Milan, Man Utd-Liverpool and in more recent years the Manchester Derby has captured the imagination of the footballing world.
The inflow of money into Manchester City has led them to believe that they can now match United on the football field, making their matches all the more compelling. However, that's nothing compared to what is coming this year. (Pep Guardiola vs Jose Mourinho)
History !
Like all great rivalries, Jose and Pep have a great story behind them. When Van Gaal was the manager of Barcelona, Jose was his assistant or more specifically, the translator in his staff while Pep was still playing in the team. It's fair to say they were on better terms then than they are right now.
Their story took an unexpected turn in the summer of 2008. Barcelona were looking for a new coach and they had a choice between the then former Chelsea manager Jose Mourinho or the then current youth coach of Barcelona Pep Guardiola. While Jose had the backing from most of the board members, Johan Cryuff was not impressed. He did not think that Jose's confrontational and provocative style would be a good fit at a club such as Barcelona and thus recommended Pep to take over instead.
Barca vs Inter !
A couple of years later, while the world was gushing over the genius of Messi and Guardiola's Barcelona team, Jose was quietly plotting his most successful season till date with Inter Milan. No team had retained their Champions League trophy something that Pep was desperate to do.
See Also : 5 Things to look out for in Arsenal vs Southampton 
Only two other managers in history had won the Champions League with two different clubs, something Jose was equally desperate to accomplish. So there was a sense of inevitability when Barcelona faced Inter in the semi-final. As the history books would tell you, Jose won that particular battle. (Pep Guardiola vs Jose Mourinho)
The most notable chapter in the Jose and Pep story is their time as Real and Barca managers respectively. Jose's team was completely opposite to Pep's. He played on the counter attack while Pep wanted the ball. Jose relied on star players making the difference while Pep believed on a more team based approach. But nothing came close to the aggressive approach that Jose and Real Madrid took while facing Barcelona.
The Spanish War !
Their tactics were rough borderline harmful to the game and this did not sit well with Guardiola. In their first ever Classico, Pep got his revenge when Barcelona trounced Madrid by 5-0, the most humiliating defeat in Jose's career. Mourinho got one back later that year when a Cristiano Ronaldo header was enough for Real Madrid to beat Barcelona to win the Copa Del Ray final.
The first leg of their semifinal clash served up one of the more memorable EL Classicos in recent memory. A little bit of Messi magic coupled with a Mourinho meltdown led the way for Barcelona's triumph along their way to Wembley glory. While many people believed that this would lead to a more cautious approach by Jose, the events that transpired only seemed to spur him on to even greater glory.
Who won then ?
Real Madrid were the champions of Spain in the following season. Arguably the greatest club side in history were beaten by a record breaking Real Madrid side led by Cristiano Ronaldo. Jose had done the seemingly unthinkable, and his stock rose even higher. Pep Guardiola also left Barcelona at the end of that season. (Pep Guardiola vs Jose Mourinho)
That was four years ago. Now they are back, and this time they will both be in Manchester and with a point to prove. Pep needs to succeed at City to be really considered as an all-time great manager. Jose needs to prove that he deserves to be the rightful heir to Sir Alex. Sir Alex versus Arsene Wenger was the standard bearer for managerial rivalries for a long time in English football. That looks set to be blown away by the Pep and Jose show which should provide for some enthralling action for the next few years.
And it begins this Saturday !
---