GTA Online Podium Vehicle for January 5-12: HVY Insurgent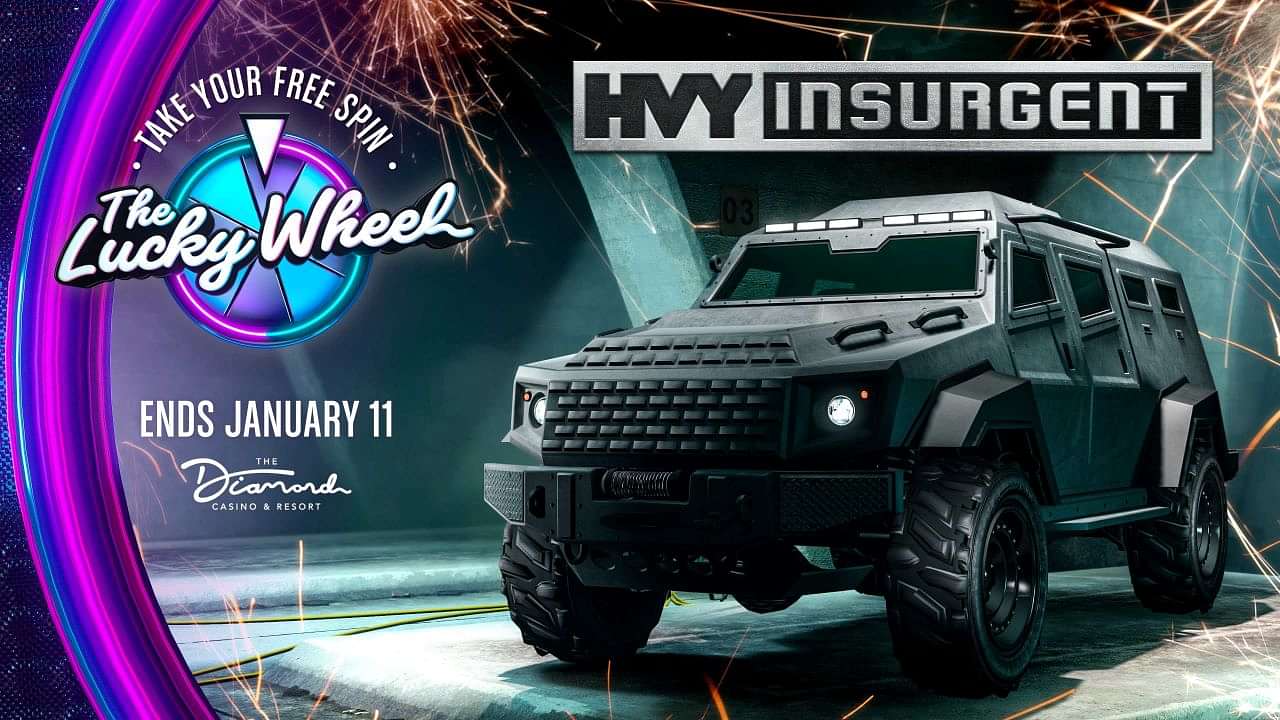 The first GTA Online weekly update for the year is here and brings a new podium vehicle. While the new update's content gets boosted payouts, players can grab some freebies too. The HVY Insurgent takes the Podium Vehicle spot while the Pfister Growler is the new Prize Ride. Here's a look at both vehicles to see if they're worth pursuing.
Also read: GTA Online weekly update for January 5, 2022: 2x cash on First Dose missions
Is this week's GTA Online Prize Ride and Podium Vehicle any good?
"Ironically named light armored personnel vehicle. Perfect for crushing small rebellions in a dictatorship or wiping out peaceful protests in an alleged democracy."
— Warstock Cache & Carry description.
The HVY Insurgent is one of the oldest cars in GTA Online released as part of the Heists update. The Insurgent is a six-seater armored APC that is available to players in freemode and missions. While the Insurgent has a low top speed of just 98.25 mph (158.12 km/h), it makes up for it in damage resistance. The Insurgent can take up to 27 jet missiles, 9 RPG missiles/grenades, and 23 explosive sniper rounds before exploding.
If players manage to win this car at the Casino Wheel, they will save themselves $897,750 or $675,000 if they completed the Humane Labs Raid. While not the most expensive Podium Vehicle yet, the Insurgent is a safe car to roam Los Santos with. Additionally, it has enough space to carry an entire crew in it.
The Pfister Growler is this week's Prize Ride
Loading embed tweet https://twitter.com/TezFunz2/status/1610946822649806849?ref_src=twsrc%5Etfw
"You prefer the book to the movie. You drink spirits neat. You describe your sense of humor as 'subtle' and your lovemaking as 'imperceptible.' You're The Thinking Person. And you choose handling over speed, control over power, and principle over pleasure. You choose wisely. You choose the Pfister Growler."
— Legendary Motorsport description.
The Pfister Growler is a $1,627,000 ($1,220,250 at trade price) car that can be obtained for free this week. Players who manage to finish first in a Street Race for four days in a row will win the car. This unlock condition is a lot easier than previous Prize Rides' and only requires one win per day. While a free car never hurts, the Growler isn't the fastest car out there. In fact, its subpar handling model makes it quite difficult to reign in.
However, its great visual appeal and multiple customization options may entice players into going for it. In other news, snow and the Festive Surprise will remain in Online for another week before disappearing until December 2023.
Also read: Overwatch 2 Update 3.43 patch notes: New event begins January 5
---