Italy vs Sweden – Late Eder Strike seals last 16 spot for Italy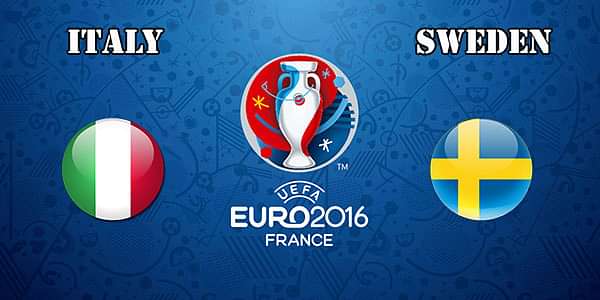 Italian striker Eder popped in with a fierce strike from 20 yards 2 minutes from time to make it 2 consecutive wins for the Italians , confirming their place in last 16.
Antonio Conte's men underlined their credentials as tournament favorites with a 2-0 win against Belgium but struggled against a rigid Swedish defense which suddenly went to sleep in the 88th minute allowing Eder to score.
The first half was very quiet as none of the teams created any chances and Eder and Pelle were merely spectators and although Antonio Candreva sent in some good crosses , they were devoid of finishes.
Sweden dominated possession but rarely threatened and even Zlatan Ibrahimovic who is aiming to become the first man to score in 4 different European Championships could not break down the Italian back 3 of Barzagli, Bonucci and Chiellini.
Martin Olsson was probably Sweden's brightest performer and created numerous runs down the left hand side,  his second half delivery was missed by Sebastian Larsson and Ibrahimovic pounced only to blast the ball over the bar.
But there was still time from one piece of genius which arrived from Eder, the inter striker dribbled through the Swedish defence before hitting a curling strike to beat Andreas Isaksson to win the game for Italy who were unconvincing throughout the game.
The defeat leaves sweden win 0 points from 2 games and the fact that they no shots on target from these games suggest they barely deserve to go through , they now need a big win against Belgium if they are to have any chance of qualifying.
As far as Italy are concerned, 2 games , 2 clean sheets for Buffon , and Antonio Conte's men are now one of the favorites to lift the trophy looking at their defending abilities.
---