Lingard goal vs Arsenal: Lukaku hilariously left alone as Lingard does his dance moves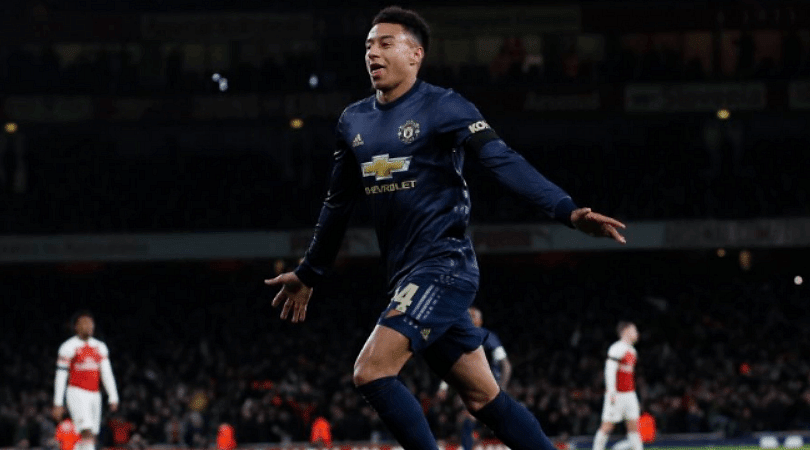 Lingard goal vs Arsenal: Jesse Lingard was on song against Arsenal as the player scored against the Gunners in the fourth round of the FA Cup.
Manchester United secured a place in the fifth round of the FA Cup after a 3-1 victory over Arsenal.
With this win, Solskjaer extended his winning run since his arrival at the club to eight points across all competitions.
Alexis Sanchez opened the goalscoring for Manchester United, and Jesse Lingard doubled the lead for the side merely two minutes later.
However, the goal followed a funny incident on the pitch when Romelu Lukaku opened his arms, seemingly to hug Lingard. But the goalscorer goes past him to perform his traditional dance moves.
Lingard goal vs Arsenal:
Romelu Lukaku was key to both the goals in the first half as he assisted Sanchez and Lingard.
In the second goal, as Lingard scored off his assist, Lukaku stood on his ground and opened his arms to hug the Englishman.
Lingard, however, looks at him and cheekily dodges past Lukaku to perform his moonwalk. While Lukaku was left alone, he quickly made it up for a hilariously embarrassing incident by cupping both his years.
The players, however, came back to Lukaku as the celebration continued.
Loading embed tweet https://twitter.com/GabrielShamu/status/1088917759780667392?ref_src=twsrc%5Etfw
Jesse Lingard later took to his Instagram where he posted a picture of him dancing at the Emirates Stadium. However, he put the location as 'Dancefloor', which has infuriated Arsenal fans.
However, Lingard was praised for his performance on Twitter:
Loading embed tweet https://twitter.com/Nigerianscamsss/status/1088933145955786753?ref_src=twsrc%5Etfw
Loading embed tweet https://twitter.com/RobDawsonESPN/status/1088919204085010432?ref_src=twsrc%5Etfw
Loading embed tweet https://twitter.com/TelegraphDucker/status/1088921442027216896?ref_src=twsrc%5Etfw
Loading embed tweet https://twitter.com/ani_nomso/status/1088918679524466688?ref_src=twsrc%5Etfw
Loading embed tweet https://twitter.com/aptr1311/status/1088916761267732480?ref_src=twsrc%5Etfw
---