Aaron Ramsey is the match winner again, as Arsenal win a record 13th FA Cup against Chelsea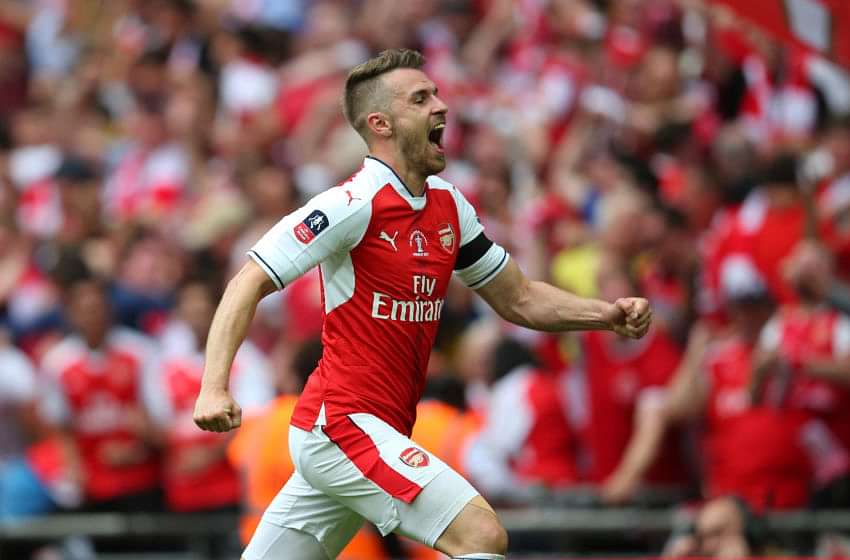 Aaron Ramsey is the match winner again, as Arsenal win a record 13th FA Cup against Chelsea at Wembley Stadium.
No one gave Arsenal a chance. They were low on confidence heading into the match, while their newly shaped defense had to somehow contain the awesome firepower of their opposition. But despite all the naysayers, Arsenal showed grit and character to eek out a massive 2-1 win at Wembley.
This was the tale of Arsenal's semi-final match against the much fancied Manchester City team.
Fast forward a couple of weeks, and Arsenal are in similar predicament ahead of the FA Cup final. They had lost their captain and best defender, Laurent Koscielny due to suspension, while Gabriel and Mustafi were major injury worries. Such a crisis meant that Per Mertesacker was handed his first start of the season, which might also end up being his last match in an Arsenal shirt.
But against all odds, the Gunners deservedly beat the newly crowned Premier League champions, Chelsea in a FA Cup classic. Alexis Sanchez gave Arsenal a controversial lead, after he scored a goal that was initially ruled off-side but was later over turned.
Chelsea were livid and quite frankly rattled, as Gary Cahill made a couple of crucial goal line clearances to keep Chelsea in the game. Conte's side started off the second half much better, but things started to go against them after Victor Moses got himself sent off after a second yellow card for simulation.
Just when it seemed that it was not Chelsea's day, Diego Costa pooped up with an equalizer for the English champions. Sixty seconds later, Aaron Ramsey restored Arsenal's lead, after he made a late run into the penalty box to head the ball into the goal.
After a nail-biting final ten minutes, Arsene Wenger pumped his fists in celebration, as he became the most successful manager in the history of the FA Cup.
In what might be his last match for Arsenal, Alexis Sanchez was adjudged man of the match, as he continued his love affair with Wembley stadium. Aaron Ramsey had a great game as well, as he turned out to be the match winner again for his club. And after being criticized for not turning up in the big games, Mesut Ozil provided quality and moments of magic through out the 90 minutes.
It has been a disappointing season for Arsenal, but they saved one of their best performances on their last day as they secured a record breaking 13th FA Cup triumph. This makes Arsenal the most successful club in the history of the FA Cup. It also gives Arsene Wenger a 7th FA Cup, making him the most successful manager in the competition's illustrious history.
Arsenal will require major surgery in the summer, as they try to rebuild this squad for the next season. Huge question marks remain over the futures of Alexis Sanchez and Mesut Ozil, as the star duo will need to sort out their futures pretty soon.
But the question remains, was this the last time that we have seen Arsene Wenger as the manager of Arsenal football club?
Here are the player ratings from the match :
David Ospina – 7
People forget how lucky Arsenal are to have a keeper like Ospina as the second choice to Petr Cech. The Colombian, once again showed his class as he made a couple of world class saves to keep his team in the game. He atoned for his mistake in Chelsea's goal with a brilliant save from Costa in the final minutes.
Per Mertasacker – 8.5
For a player who has not started a match this season, the German world cup winner showed just how good a player he really is, with a faultless performance. In what might be his last game for the Gunners, Per put in one of his best performances in an Arsenal shirt.
Rob Holding – 8
This young English defender may turn out to be the bargain of the century. Bought in for 1.5 million pounds, Holding has been a revelation as his performances have won him fans all over the country. A bright future awaits this young boy.
Nacho Monreal – 8
Mr Reliable, Nacho Monreal has been consistently one of Arsenal's best players over the past few seasons. Slotted in at left center back, Monreal kept a check on the likes of Costa and Hazard in one of his best displays of the season.
Hector Bellerin – 7
The young Spaniard has well and truly bounced back from his horrendous form earlier in the season. His pace and attacking threat was a constant worry for the Chelsea backline as he tore Alonso to shreds in the second half.
Alex Oxalde Chamberlein – 7.5
Another brilliant game from Chambo, as his stock just continues to rise. One of the biggest benefactors from this new formation, Chambo has been a powerhouse in the wing back position, finally showing his talent on a consistent basis.
Granit Xhaka – 7
His doubters were once again silenced, as Granit Xhaka put in a top quality performance in the middle of the park against a very good Chelsea side. Xhaka did not allow Kante to play his game, while his passing and interceptions were crucial to Arsenal's game today.
Aaron Ramsey – 8
Aaron Ramsey proved to be the match winner again, as the Welshman continued his love affair with Wembley. His action packed performance merited a goal, and his crucial header proved to be the winner for his side.
Alexis Sanchex – 8.5
A MotM performance from the brilliant Chilean. Alexis opened the scoring, as the Chelsea defense fell asleep. His constant attacking verve was a nuisance to the Chelsea backline all through out the match.
Mesut Ozil – 7.5
A display filled with quality and sprinkled with a few magical touches. Ozil produced one of his best displays this season, as he jinxed his way through the Chelsea midfield on numerous occasions. Should have scored a goal at the end, after he did all the hard work.
Danny Welbeck – 7
He could not score a goal, but Danny Welbeck did pretty much everything you wanted from a striker. He constantly ran the channels, and provided an outlet to the Arsenal midfield. Surely the first choice striker for next season.
---