McGregor KO's Alvarez; claims second title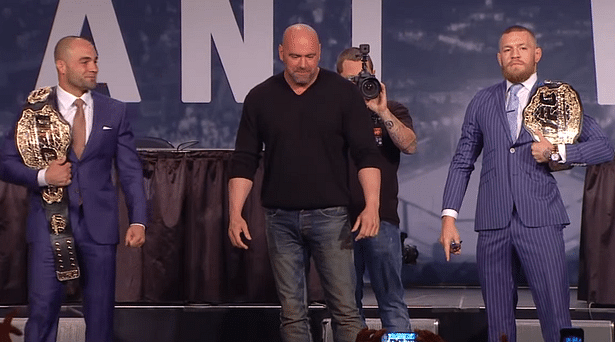 McGregor crushes Alvarez
The Irish do love to fight! On Saturday night's historic encounter at UFC 205, the brash and cocky Conor McGregor knocked out lightweight champion Eddie Alvarez. Also, the Irishman now holds two championships(lightweight and featherweight), becoming the first ever UFC fighter to achieve this remarkable feat.
There was huge excitement preceding the much awaited bout Conor McGregor and Eddie Alvarez. A champion vs champion bout in the main-event! Things could not get bigger than this historic contest at the iconic Madison Square Garden.
During the ceremonial weigh-in on Friday before the official fight, one could cut through the tension with a knife. There was a intense stare-down between the two and UFC President Dana White with security men had to intervene and separate them.
Dominant since the beginning
However, when the bell rung on Saturday night, we saw the intensity transform to extreme domination inside the octagon. McGregor had his opponent pinned down three times in the opening round, Alvarez managing to wriggle free each time. It was clear that the Irishman meant serious business!
In the second round, McGregor began his infamous showboarding. Cupping his hands behind his back, he incited his opponent to attack. Following that, the 28-year old began an one-way assault and with three consecutive punches, knocked out the American creating unprecedented history.
Cocky as usual following the fight
McGregor remarked about the bout in the post-match interview, " Not one bit was surprising, they are not at my level." He proceeded to run down on his opponent. "Eddie is a solid competitor, Eddie is a warrior, but he shouldn't have been in here with me and that's just the truth of it."
Much recently, the Irishman irked the wrestling diaspora by passing snide remarks on the UFC/WWE roster. However, he was unstoppable today. "If you come in any way equal to me I am going to rip your head off, it happens every time." he quipped
Even today after his crushing victory, he remained unapologetic."I have ridiculed the entire roster and I just want to say from the bottom, I want to take this opportunity to apologise…to absolutely nobody!" The Sportsrush congratulates the double champion Conor McGregor on his amazing achievement!
---