Michael Carrick: The Eternal Bridesmaid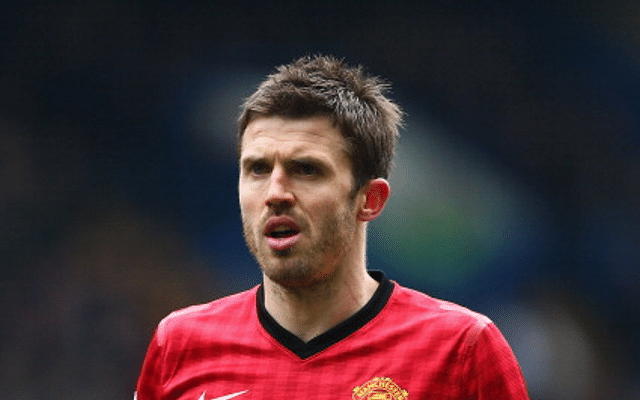 During the period 2007-09, Manchester United played breath taking football. They battered their opposition from pillar to post and dominated most matches. Behind the glitz of Rooney, Ronaldo and Tevez stood an unassuming figure. Without this person, all of United's attacking verve would have been for nought. That person was Michael Carrick.
On a football field, one could be forgiven for failing to notice Carrick. He is not one of the flashier stars. He won't score wonder goals and he certainly will not indulge in over the top celebrations.
Yet his importance to Manchester United over the years can be understood from the fact that that United tend to win a large percentage of matches (80-90%) Carrick starts for them.
Early years
Carrick began his career at West Ham United, joining the youth team in 1997 and winning the FA Youth Cup two years later. He was voted into the PFA First Division Team of the Year in 2001-02. He move to Tottenham Hotspur in 2004 for a fee around 3.5 million pounds.
A couple of seasons and 18 million pounds later, he transferred to Manchester United and thus began a golden run of major title wins. Carrick would win 3 consecutive Barclays Premier League titles and the UEFA Champions League in 2008.
Peak
He made 52 appearances for United in the 2006-07 season and scored a total of 6 goals. This included his first goals in the FA Cup and Champions League. The season ended in success with United clinching the Premier League.
Carrick participated in his first-ever Champions League final on 21 May, 2008 in Moscow, playing the full 120 minutes in a 6–5 penalty shootout win over Chelsea in the 2008 final. The scoreline had ended 1–1 after extra time. He successfully converted United's second penalty of the subsequent shootout.
Although United secured a third successive League title in 2008-09, they would lose the Champions League Final to Barcelona. Carrick described the defeat as the worst day of his career. He was roundly criticized in the press and was blamed for not being able to match their opponents' midfield.
He had further success with the club winning league titles in 2011 and 2013 and consecutive League Cups in 2009 and 2010. He also saw United concede the league to rivals, Manchester City, in 2011-12.
Style of Play
Despite playing as a deep-lying midfielder, Carrick does not rely on pace, physical attributes and tackling like a typical ball-winning midfielder. Instead, his reading of the game helps him anticipate any attacking threats from the opposition team, most of the time by covering space and making interceptions.
His distribution of the ball, creativity, and range of passing, which are among the best in comparison to other midfielders in Europe, add to his importance in dictating the tempo of the game, as well as initiating team attacks.
His unassuming style, however, has also led to a lack of attention from successive England national football team managers in favour of all-action midfielders such as Frank Lampard and Steven Gerrard, a fact noted by Carrick's club and national team captain Wayne Rooney.
Legacy
Carrick is often criticized for letting the game run him by. In more recent years, Carrick has visibly struggled to exert himself against fast moving opponents. On the other hand, Carrick is adept at slowing the game down and wearing down his opponents.
In spite of all the negativism attributed to his game, United tend to eke out positive results more often than not, when Carrick starts for them. This fact was never more apparent than in 2014-15.
Carrick had missed the start of the season under new manager Louis Van Gaal. Subsequently, injuries to certain players meant Carrick reclaimed his starting position. United immediately went on a run of 6 consecutive wins.
There have been several similar incidents throughout his career. Ever professional, Carrick has also been used as an emergency centre back, but has never seemed comfortable against big hulking strikers.
Carrick's perseverance was rewarded in 2015-16 when he finally lifted the FA Cup, which had been the only major trophy missing from his cabinet. He lifted the trophy along with captain, Rooney. Carrick is currently the second longest serving player in the current United team behind Rooney and has been vice captain for the last 2 seasons.
In spite of his enviable success, Michael Carrick may go down in history as the most underappreciated footballer of his times. He truly is the eternal bridesmaid- ever content to do his job, while those around him reap glory and honours.
On his 35th birthday, thesportsrush would like to wish him well and hope he achieves further success.
---