Minecraft Championship (MCC) 29: All of the Competing Teams in The Competition and The Names!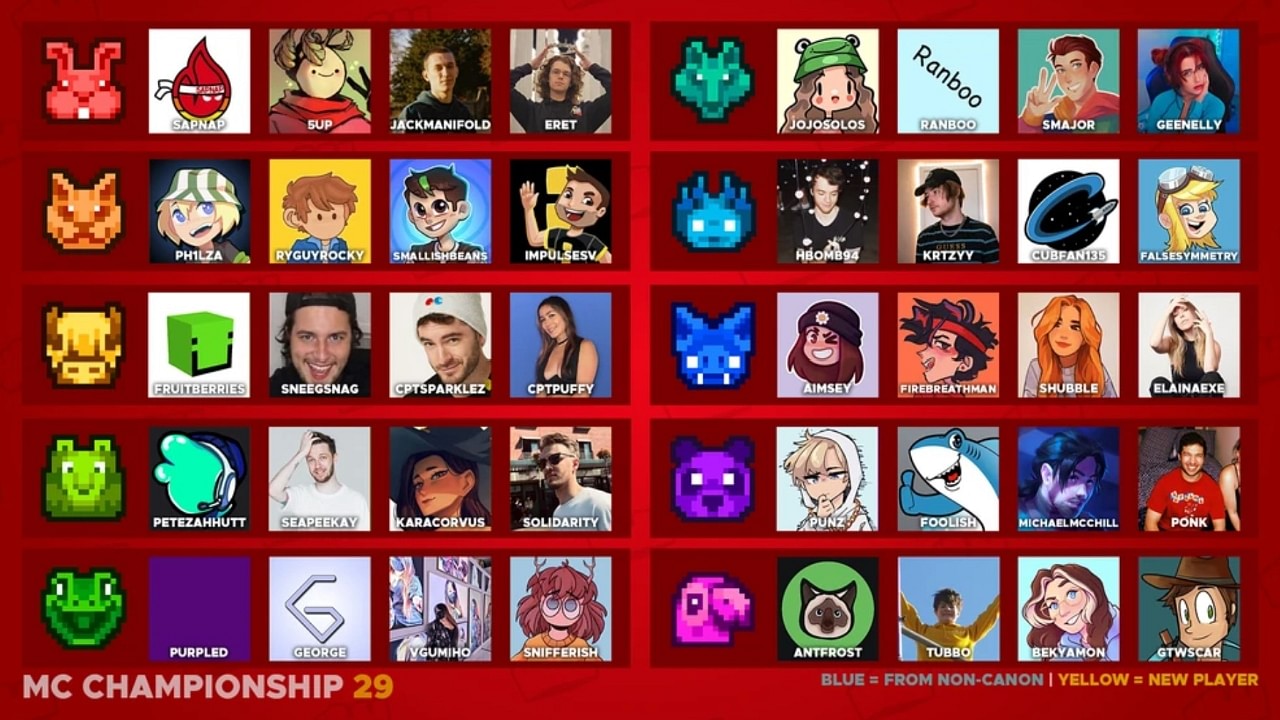 Minecraft Championship 29 is one of the most well-known events in the community. A lot of popular YouTubers and streamers are going to take part in it. That is why we are going to be taking a look at all of the teams and their participating members in this article below.
Also Read: Is The Finals Coming to Console? Find out Everything You Need to Know
Minecraft Championship 29 Set to Begin from March 18, 2023: Here are the Participating Teams
Green Geckos
Purpled
GeorgeNotFound
vGumiho
Snifferish
Lime Llamas
PeteZahHutt
KaraCorvus
Seapeekay
Solidarity
Yellow Yaks
CaptainSparklez
CaptainPuffy
Sneegsnag
Fruitberries
Orange Ocelots
Ryguyrocky
Smallishbeans
impulseSV
Ph1LzA
Red Rabbits
5up
Jack Manifold
Eret
Sapnap
Cyan Coyotes
jojosolos
Ranboo
Smajor
Gee Nelly
Aqua Axolotls
Krtzyy
FalseSymmetry
Cubfan
HBomb94
Blue Bats
Aimsey
FireBreathMan
Elaina_Exe
Shubble
Purple Pandas
Ponk
Michaelmcchill
Foolish Gamers
Punz
Pink Parrots
GoodTimesWithScar
Bekyamon
Tubbo
Antfrost
What is the MCC? Why is it So Important?
These teams have four members in each and are characterized by the colors of each one. The players of each team will compete in a series of mini-games to rack up points. There are many mini-games present at this event like Hole in the Wall, Parkour Tag, Whack a Fan and more. The type of games will be decided by vote before the teams play each other.
There will be a total of eight total games to determine the two best teams out of this horde of teams. These two teams will compete in the final and one of them will be crowned the champion. There is no prize pool but the popularity of each streamer increases by the rank they get.
In addition, all of the people participating in this event will stream their perspectives on their Twitch channels so make sure you are tuned into your favorite creator's channel! NoxCrew will also be streaming the event, so you can check it out from their perspective here. 
 Remember, the event begins on 18th March 2023, at 8:00 GMT. Make sure to tune into the Twitch channels of the content creators you are rooting for!
Also Read: Camel Mob in Minecraft 1.20: Everything You Need to Know about the Mob!
---
Share this article