"An Impulsive Person": Denny Hamlin on Kevin Harvick Mellowing Down After Fiery Start to NASCAR Career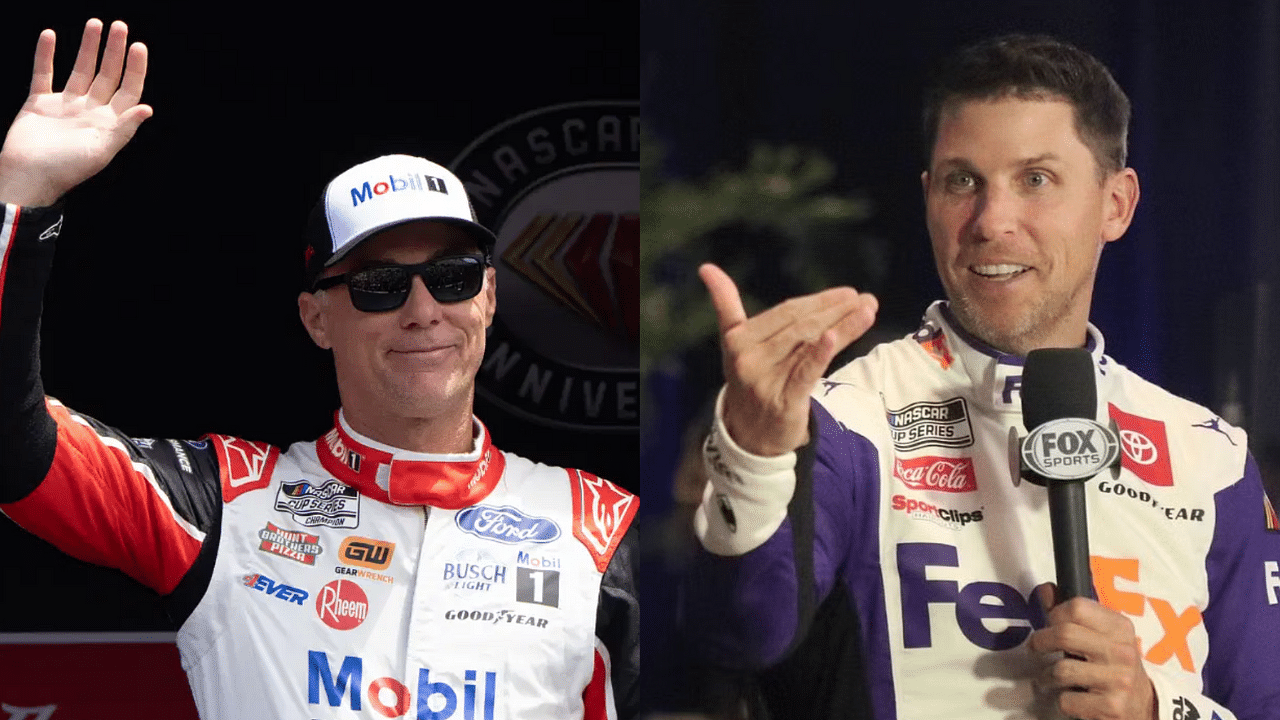 Anyone who has been watching NASCAR for long enough would know what kind of a personality Kevin Harvick was, especially during his prime. In 2001, Harvick was thrust into the limelight when he was called to fill Dale Earnhardt's seat, just a week after his tragic death. Aside from being under immense pressure since he joined the top flight of American motorsports, Harvick was also known for his fiery temper.
Now after all of these years, with Harvick set to head off into the sunset at the end of the season, his current team Stewart-Haas Racing posted a tribute video with several drivers who spoke about their interactions with the 2014 Cup Series champion. One of them was Denny Hamlin, who explained how Harvick had mellowed down over the years.
Denny Hamlin talks about Kevin Harvick mellowing down over the years
Explaining how Harvick had changed over the years, Hamlin stated, "I personally think Kevin's mellowed out a bit. I think he still has the fire on the inside. I just think he regulates it different now than what he did back in the day."
"I think he was just kind of an impulsive person back then and just would react to the situation, I think he's way more calculated now. And, you know, that just comes with growing."
Looking back at the past there had been several moments where Harvick had reacted in the moment, without much thought regarding the outcome. One of his most infamous brawls happened when Jeff Gordan and Brad Keselowski had an altercation on pit road.
Harvick casually popped up behind Keselowski and pushed him toward Gordon, allowing the latter to grab Keselowski by the collar. Thereafter, began one of the most chaotic explosive brawls in modern NASCAR history.
Hamlin explains how he leans on Harvick for advice
Speaking further in the video, the Joe Gibbs Racing driver mentioned, "I got to spend more time with Kevin off the racetrack and talk to him about some different things. I've even gone to him when I had conflicts with other drivers, asking, 'What does he think I should do?'"
"He's been a great ear to listen to those situations and give his advice. So I still lean on Kevin quite a bit for a lot of advice. Because I think he's a person that I value his opinion. And I think he handles himself well."
Over the years, Harvick has certainly matured and mellowed down from how he used to be in the past. These things often come as a person grows with experience on and off the race track. Now that the SHR driver is headed into retirement at the end of the season, he will truly be missed by all of his former rivals, friends, and fans.
---