"After Q1 the score is Pelicans 22 – Luka Doncic 21": NBA Reddit Is Blown Away By Mavericks' MVP Candidate's Flagrancy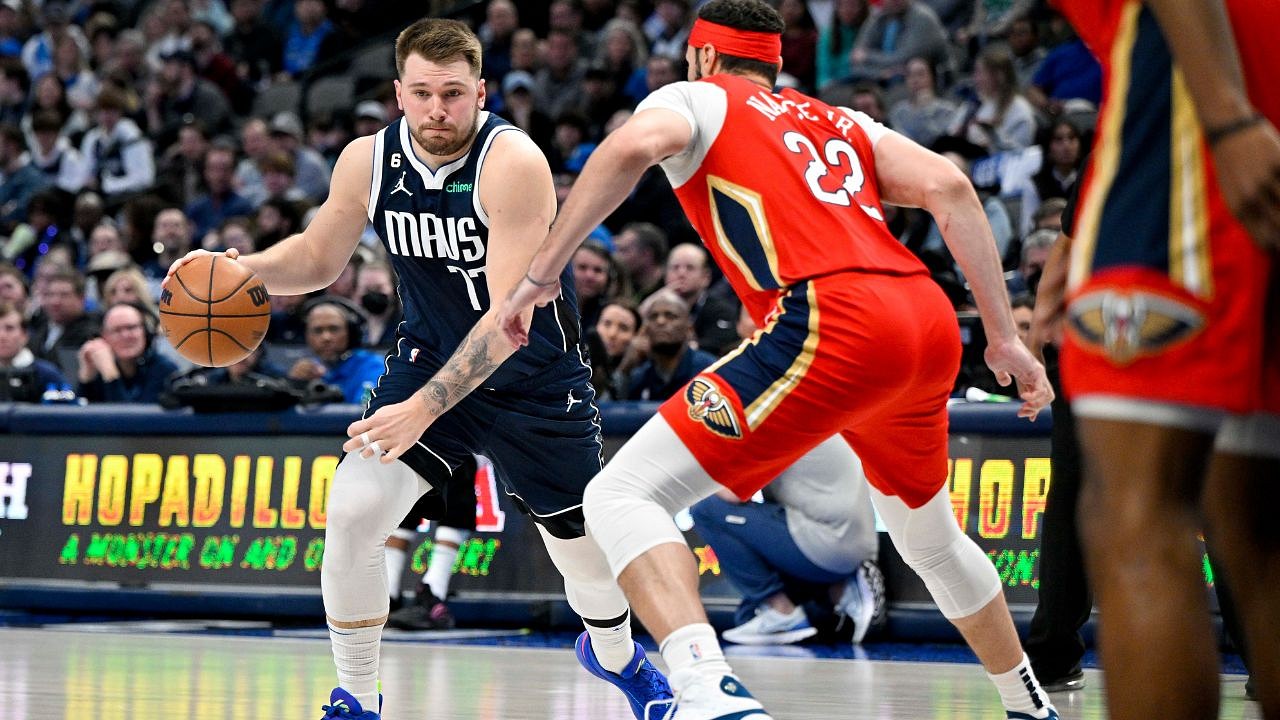 Luka Doncic redefines "incredible" every time he takes the floor on the greatest stage for basketball. The 6ft 7" point guard of the Dallas Mavericks is crafty, hungry, and can do all that your typical All-Star can do.
It's just his fifth year in the league. The Slovenian sensation has already made himself a first-ballot Hall-of-Fame candidate at 23 years of age.
The 4x All-Star was leading the league in scoring with 33.4 points per game before they took on the New Orleans Pelicans on Thursday. One would think he would take his foot off the gas after scoring 53 points against the Detroit Pistons, but that didn't happen.
Also read: "Why do we not give James Harden his love!?": Jamal Crawford Calls Out the Hypocrisy of NBA Community Appreciating Luka Doncic but Not the Sixers Star
Luka Doncic blows the NBA community off once again
As they welcomed the New Orleans team, who were on their worst form (0-9) but had CJ McCollum and Brandon Ingram back into the line-up, a game before this one, the Mavericks should have been cautious about the pesky Pelicans.
Instead, Luka Magic went all out from the get-go and put up a 21-point show in the first quarter, just a point less than the whole of his opposition. The Mavericks were at 40 with just 1/4th of the game played, making the internet go berserk.
Loading...
But we jinxed it too hard.
Also read: "Luka Doncic has figured out the NBA": Kevin Garnett Is In Awe of Mavericks Star, Backs Him as MVP
Is this the year for Doncic?
The Mavericks will be 28-25, good for the 5th spot in the West, by the time you'd be reading this article. But speaking frankly, they are not even as good as last season this year even after acquiring Christian Wood to help them in the front court.
However, Doncic will have the chance to win both—the scoring title and the MVP by the end of the 2022-23 season if he keeps up what he is doing.
Mark Cuban might and should help his superstar guard by signing a couple of good players while he is because they are just a star short of becoming the best in the West.
Also read: "Michael Jordan for 7 games, LeBron James for the season": Patrick Mahomes Has the Smartest Answer to the NBA GOAT Debate
---