Who Is Andrew Wiggins' Best Friend? Twitter Demands Answers As Cheating Rumors Emerge About Warriors' Star's Wife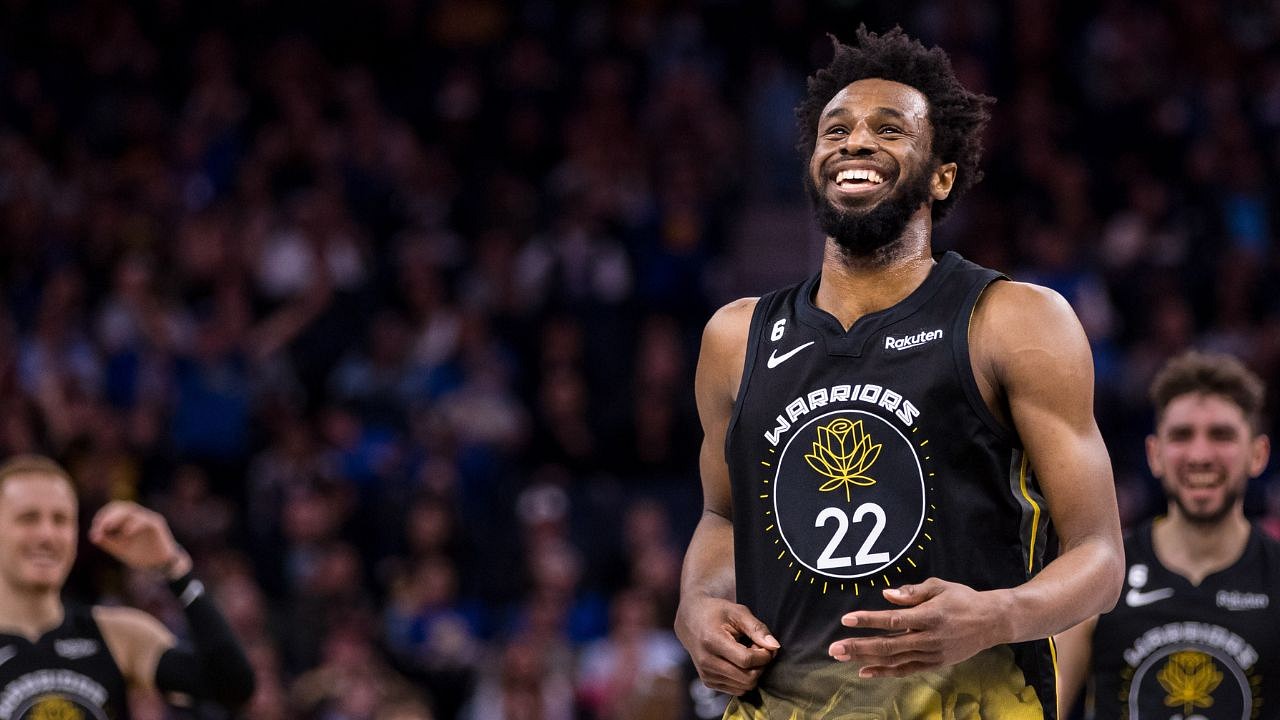 The Golden State Warriors are in trouble right now. They only have 12 games left in their regular season schedule and are sixth in the West. The Warriors have seven of their last 12 games on the road, which is concerning, as they've lost their last nine road games. In times like these, Warriors fans wonder about Andrew Wiggins even more.
The Warriors star, primarily considered the 2nd best player on the 2022 Championship team, was a huge part of their success, both on the offense and the defense. This year, he had improved his efficiency and was shooting a career-best 39.6% from the deep.
Unfortunately, due to a serious family matter, Wiggins has been away from the Warriors for over a month. He last played a game on February 13th and has missed 13 straight games. Now, there is no update on his return, but there are nasty rumors circling about his long-time girlfriend and his best friend.
Also Read: Andrew Wiggins Wife Cheating: Ugly Rumors Emerge About Best Friend and Mychal Johnson
Who is Andrew Wiggins' best friend?
The whole question about Wiggins' best friend came into existence because of this rumor spread by people on the internet. Apparently, there is a rumor that Wiggins' wife(long-time girlfriend, Mychal Johnson) cheated on him with his best friend.
#nba Rumors: the reason Andrew Wiggins has taken the last month or so off from #DubNation is because he found out his wife has been having an affair with his best friend, and all this time Wiggins has been raising their kid.

— Divine (@Divine2Ra) March 16, 2023
Now, these are all just rumors spread by random accounts on Twitter. There is no proof of the same on their social media, and nothing has been said by anyone close to the involved parties. However, this led people to wonder, who is this best friend?
Wiggins is a very private guy, and there is no information anywhere about a best friend. However, if we talk about the Warriors, there is a guy that Wiggins considers his close friend: Jordan Poole. Both joined the Warriors in the same season, and have developed in the system together. They both managed the pressure and expectations of playing with the Warriors and came out stronger.
Jordan Poole has a special relationship with Andrew Wiggins 💙 pic.twitter.com/nzDXMRfNYa

— Warriors on NBCS (@NBCSWarriors) October 16, 2022
Even when the Warriors won the championship, the two were seen celebrating together.
Over the offseason, both Poole and Wiggins secured huge extensions till the 2026-27 season. It gives them time together to build a new core for a championship team. During Wiggins' absence, this is what Poole had to say.
It's clear that the two are close, but there is nothing that suggests that Poole, or any friends of Wiggins' was involved with Mychal Johnson.
NBA Twitter talks about Wiggins rumors
NBA Twitter, as we all know, always takes time out to discuss all the 'important' issues. As expected, they showed up to discuss the Wiggins rumors.
Damn Andrew Wiggins ain't been playing cuz his bitch cheated on him with his best friend?! Tragic

— Brother Positivity (@OhThatsPolo) March 16, 2023
From what I have read @TheRealCoach_JB Andrew Wiggins wife has been having an affair on him with his "best friend" and there is speculation that his children are not actually his but instead a result of the affair with his best friend.

— Shane Appis (@ShaneAppis) March 17, 2023
ANDREW WIGGINS WIFE CHEATED ON HIM WITH HIS BEST FRIEND & HE BEEN RAISING THE KID THE WHOLE TIME THINKIN IT WAS HIS…OH HELL NAHHHH 💀

— Lash (@Lashh_) March 16, 2023
Wait wait Andrew Wiggins out because he found out his wife cheated on him with his "best friend" and the kids aren't his !!

— F.I.N.A.O. (@Tele_Faafetai) March 17, 2023
Hold on the rumor is Andrew Wiggins wife cheated on him with his best friend and possibly the kid ain't his shitttttt

— Ja Wick (@CousinSkeeter8) March 17, 2023
Well, they're running away with something that has no solid proof about being true. In times like this, when Wiggins is dealing with a serious family matter, rumors like these are really inconsiderate.
Also Read: "Stephen Curry Can't Carry the Warriors": Nick Wright Raises Doubts on Dubs Significance in 2023 Championship Race
---
Share this article