"Anything Kawhi Leonard Needs, I Have His Back!": Russell Westbrook Talks About Clippers' Teammate After Win Over Knicks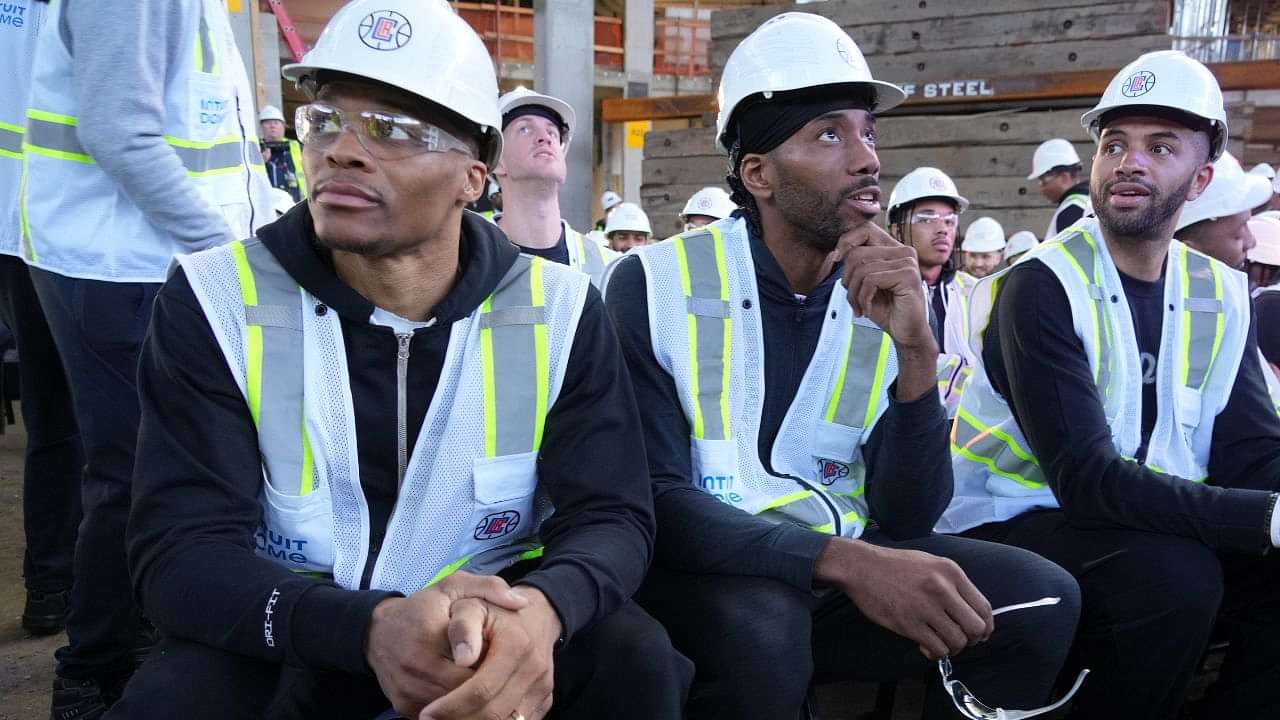 The Los Angeles Clippers are back to looking like a team people should be worried about facing in the playoffs. Ever since they signed Russell Westbrook, the Clippers hit a sudden rough patch. They went 0-5 in their first five games with Brodie. However, Kawhi Leonard and co changed the narrative over the last few games, registering three wins in a row.
Playing the New York Knicks today, it was a close game till the 4th quarter. Kawhi led the charge for the team, scoring 38 points on 14 of 22 from the field. The Clippers ended up securing a 106-95 win at home.
After the win, Russell Westbrook spoke to the media. While talking about various things, Kawhi popped up as a topic, and he was asked what it's like having Kawhi as a teammate. Here is what Brodie said:
Also Read: Kyrie Irving Claps Back at Dillon Brooks' Call-out For Him To Play Against Grizzlies, Then Misses the Game
Russell Westbrook appreciates Kawhi Leonard
Russell Westbrook's season can be split into two parts: the first part was with the Lakers prior to the trade deadline. He had a strong case for 6th man of the year, but it didn't look like he was happy playing basketball. The second part is with the team across the city, the Clippers. Russ is back in the starting lineup, his teammates appreciate him, and the joy is back in his game.
After recording the 3rd straight win, Russ was asked what it's like having Kawhi Leonard as a teammate. Here is what he said,
"Kawhi is great. I've known Kawhi from the outside just being from LA… He don't gotta talk. I can talk for him. I talk enough for everybody, so anything he needs from me he knows I have his back. And that's vice versa."
Loading embed tweet https://twitter.com/TomerAzarly/status/1634720459190341633?ref_src=twsrc%5Etfw
From having people on your roster who were unhappy to have you around, to actually being appreciated by his fellow mates, it's a great change for Russ, and we're happy to see him thrive.
Also Read: LeBron James Sends Subliminal Messages About His All-Time NBA Status With Cryptic Video of Huge "Mountain Animal"
Russ talks about getting along with the Clippers
The start to Westbrook's time with the Clippers wasn't easy. Just after signing him, the team lost five games in a row. When we look back at those games, it doesn't look like Russ was to blame, but he was the new element, so salty Lakers fans came up with that narrative.
The last three games have been big wins for the Clippers, who have climbed back up to the 5th seed in the West. Russ talked about his chemistry with the team, and said that his comfort wasnt the top priority for him right now.
Loading embed tweet https://twitter.com/TomerAzarly/status/1634716308477743104?ref_src=twsrc%5Etfw
Love to see the unselfishness by Brodie. He knows he has a real chance at the Championship with the Clippers, and he doesn't want to do anything to hamper the same.
Also Read: "Someday Ja Morant Will Have a Eureka Moment": Skip Bayless Hopes For Grizzlies Guard to Grow Up Soon
---