"Because of Isiah Thomas's Petty Decisions": Magic Johnson Ridiculed Pistons' Legend, Considered him Beneath Michael Jordan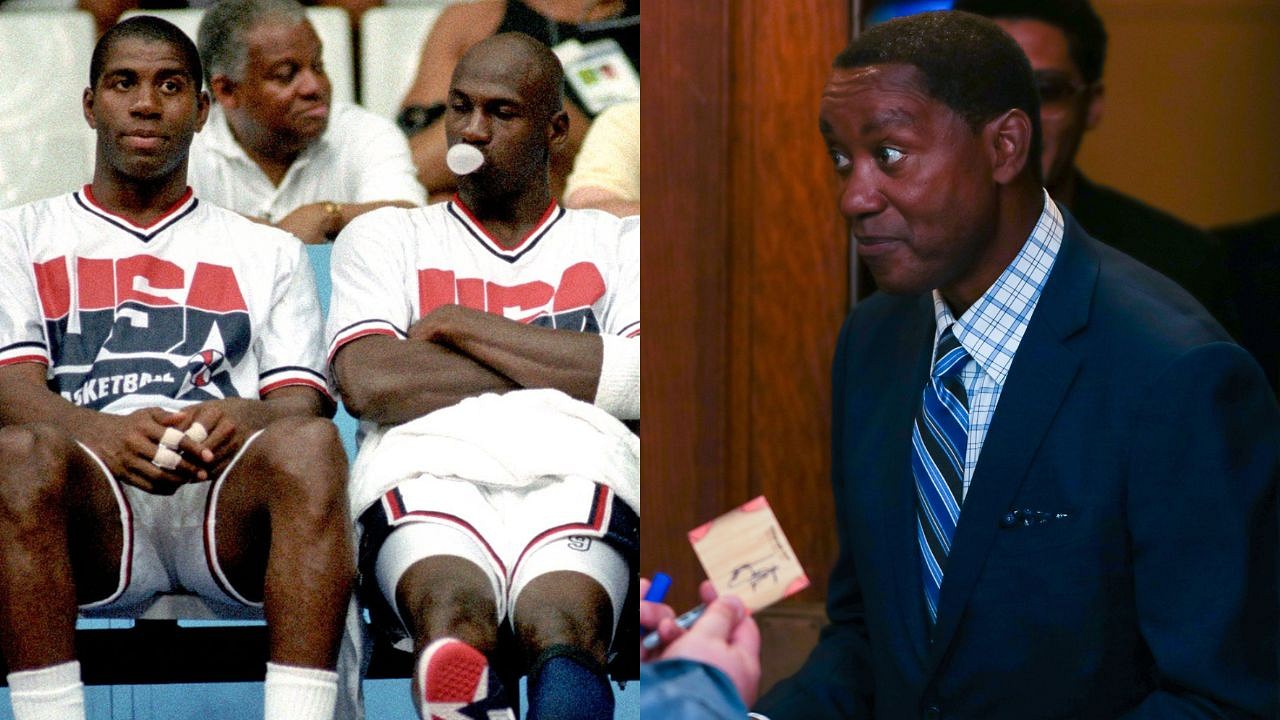 Magic Johnson and Isiah Thomas were once the closest buddies. Despite being on two competing teams, their bond was strong. But it all changed when Johnson was diagnosed with HIV in 1991. When Magic needed his friend the most, Isiah ended up hurting him even more.
The Pistons' legendary guard questioned Magic's sexuality. He reached out to many in the league and asked how he could catch HIV despite being straight. The ignorance and gossip finally severed their long-standing bond.
While Michael Jordan already hated IT, Johnson also joined his camp. They blocked his chances of playing on the Dram Team. Later, when asked about it, Johnson ridiculed Thomas and claimed he was never on the same level as Larry Bird, MJ, and him.
Also read: Despite Michael Jordan's Frequent Texts, Jayson Tatum Confessed the Bulls Legend 'Avoided' Him After his 51-Point Night Against Hornets
Magic Johnson blamed Isiah Thomas's pettiness for his absence from the Dream Team
In 1992, the Dream Team took the sports world by storm. However, a significant name was missing from Team USA's roster. Many were confused why Isiah Thomas was absent from the Super Team.
In his book When the Game Was Ours, Johnson detailed why Isiah couldn't play on the team and also elaborated on what kept him from being on the same level as MJ, Bird, and him.
Magic: "The comments about Larry being overrated [in the 1987 Conference Finals] were out of pure frustration. He was jealous. He felt Larry was getting too much attention and he wasn't getting his." Johnson continued: "He always wanted to be in that conversation when people talked bout the great players. Michael, Larry, and I were always in that discussion. He could have been if he had handled things differently. But because of the petty decisions he's made, no one gives him his due. I'm sad for Isiah. He has alienated so many people in his life, and he still doesn't get it. He doesn't understand why he wasn't chosen for that Olympic team, and that's really too bad. You should be aware when you have ticked off more than half of the NBA."
Magic and Isiah settled their need in 2017
After his diagnosis, Magic Johnson and Isiah Thomas remained estranged for 26 years. However, in 2017, the two reconciled during a one-on-one interview for NBA TV. This was considered one of the most touching moments in the league's history.
Seeing Isiah and Magic hug again, after all those years of animosity, elicited a wave of emotions from fans. But the ones who were most happy about it were undeniably Magic and Isiah.
Also read: After Dennis Rodman's Suicide Attempt in 1993, Pistons Management Wanted to Send The Worm to the 'Hospital'
---
Share this article