"Bronny James, It'll Be Tight if You Wore the LeBron 20s!": Kevin Durant Talks About LeBron James' Son Playing in McDonald's All-American Game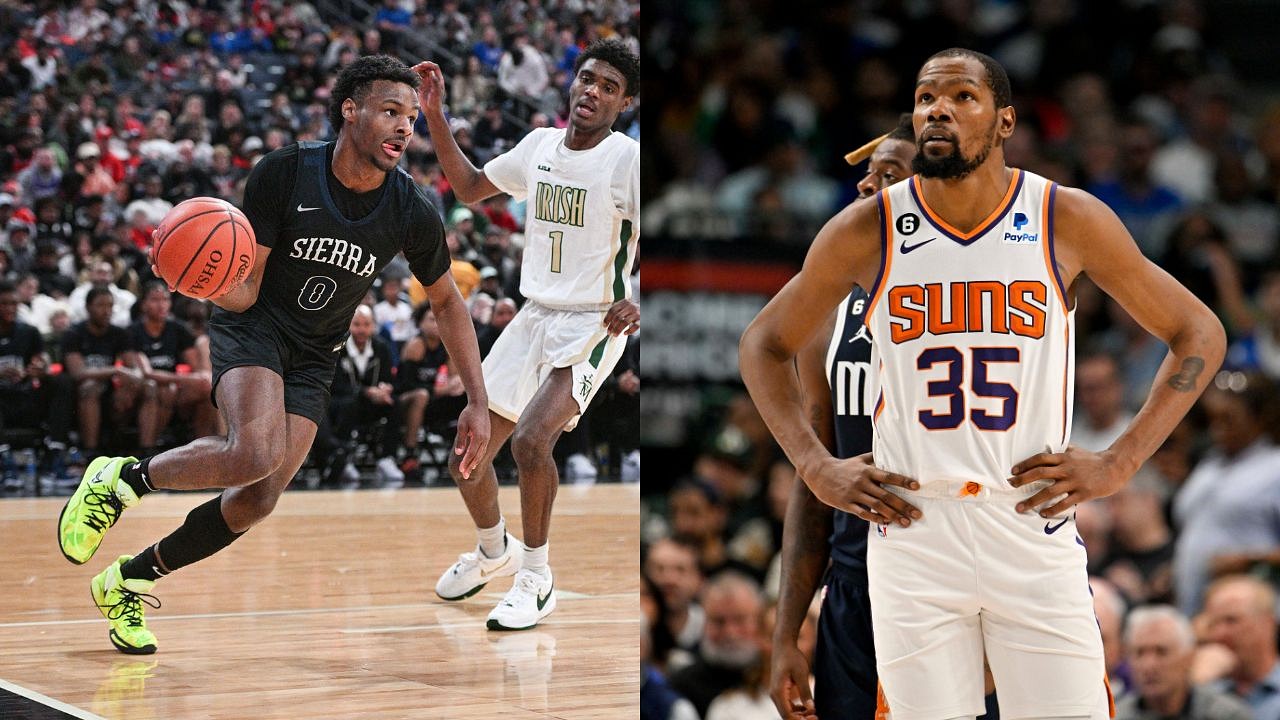 The NBA, just like the rest of the world, has changed a lot since the start of this millennium. Thanks to the rise of smartphones and social media, every NBA player is a celebrity. With Instagram, TikTok, and Twitter, the NBA superstars aren't the only ones at home with a big following. Their families are now a part of the same as well. There is no better example than LeBron James. Even before he was a nationally acclaimed high school player, Bronny James was a celebrity in his own right.
Bronny is about to graduate from high school this year, and everyone is interested to see what the future holds for him. However, before we dive into that, he's about to make his way to Houston soon for the McDonald's All-American Game. Kevin Durant spoke about the same recently on his podcast.
Also Read: "Damn! Michael Jordan Plugged Me?": Gilbert Arenas Talks MJ Making a Call to Arizona and Vouching For Him
Kevin Durant gives his two cents about Bronny James at the McDonald's All-American
McDonald's All-American is one of the most prestigious high school games. It's an All-Star Game of sorts for High School players. Every year, the best 24 players are selected from all over the country to represent their conferences(East or West).
This year, 20 years after LeBron James won the MVP honors at the game, his elder son, Bronny James, found his name on the roster to represent the West. Now, the event is sponsored by Adidas, and each player gets Adidas shoes to wear for the games. We all know about the relationship the James family has with Nike. This left Kevin Durant wondering what Bronny would do.
His co-host brought up how Bronny is in the game and how 'another brand' represents the event. He asked KD what his advice would be for Bronny. Durant said,
"What I'll tell him to do? That it'll be tight if he wore the 20s. But yeah, he part of the group. McDonald's is a prestigious accomplishment. So I'm sure he wouldn't want to separate himself like that." 
On the one hand, his dad is one of the biggest names associated with Nike. On the other, McDonald's is a huge honor, and to stand out like this might not sit well with everyone. We'll have to see what the young man decides.
Also Read: Magic Johnson Announces Earvin Johnson Scholarship For African-American Students at MSU
Kevin Durant wants Bronny to go to college
Bronny James, as we all know, has had his future planned out for quite some time. LeBron James wants to play with him in the NBA, and that means he will enlist for the 2024 NBA Draft. However, what he'll do for the year in the middle isn't decided yet.
Kevin Durant gave his two cents on the same and said that Bronny should go to college. It'll be great to watch him shine there and get a stage to display his talents. When asked where he sees Bronny going, his top guess was USC.
.@KDTrey5 on Bronny James:

"I would love to see Bronny in college instead of going the other route. … [USC] is what my guess was …"

Full episode available exclusively on https://t.co/WBnS8rvCMk tomorrow. 🍿 pic.twitter.com/3zNWC9efak

— Boardroom (@boardroom) March 14, 2023
Bronny does have an offer from USC and he has been constantly linked with the school. We'll have to wait and see where the 18-year-old decides to go.
Also Read: "Stephen Curry Can't Carry the Warriors": Nick Wright Raises Doubts on Dubs Significance in 2023 Championship Race
---
Share this article