Damian Lillard Still Can't Understand His Mentality While Making The Series Clinching 3-pointer at 23 y/o: "How I was Not Worried?"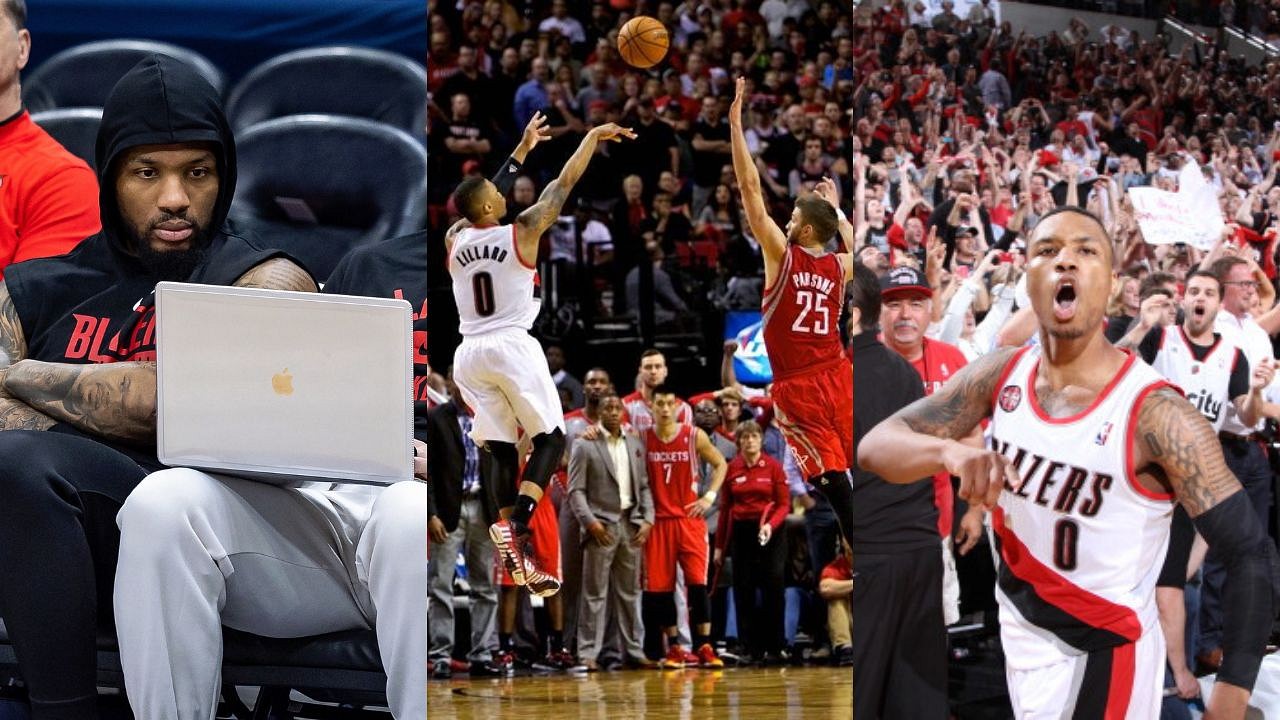 It was Game 6 of the first round of the 2014 NBA Playoffs, the Blazers were somehow up 3-2 in the series against the heavy favorites Rockets team starring prime Dwight Howard and James Harden. However, it would be the coming-out game of Portland's second-year guard, Damian Lillard.
Houston forward Chandler Parsons had just put them at 98-96 with 9/10th of a second remaining in the game clock, with a reverse jam. The game was all set to go to the 7th game in Houston and perhaps to the same ending that the Blazers had been having in the last their last seven postseasons. A loss.
What could possibly happen in less than a second remaining in a playoff game with a team up two and trying to defend a team led by a 23-year-old? Well, Dame Time.
2014: LILLARD FINISHES ROCKETS
.
.
.
.
.
2019: LILLARD FINISHES THUNDER pic.twitter.com/uctjMjkiJu

— Ballislife.com (@Ballislife) April 24, 2019
Also read: Damian Lillard Surpasses Michael Jordan in Incredible Season Record After 41-Point Explosion vs Pelicans
Damian Lillard cannot understand how was he not worried during the famous 3-point shot
In a recent appearance on The Old Man and The Three podcast, JJ Redick's sidekick, Tommy Alter asked Dame Dolla about his two most famous buzzer-beating shots.
Referring to one against the Thunder in 2019, that sent Russell Westbrook and Paul George to lead the team home, he said that although it is more famous because of its recency and his wave and the memes that followed.
However, thinking of 2014 one, "how I was not worried?" is the question the 7x All-Star still wonders.
Also read: "They Think They're LeBron James After 1 All-Star": Damian Lillard Goes Off On Culture Around Young NBA Players
What followed since that shot?
Without winning any championships, Dame established himself as one of the greatest players to ever play the game with his consistent heroics with a sub-par team and never going down attitude.
Included among one of the game's 75 greatest players of all time by the NBA, Lillard has had several game-clinching shots and is among the only player alongside Michael Jordan to have two playoff-series-clinching game-winners.
Lillard is also the player with 3rd most 60-point games in NBA history after Wilt Chamberlain and Kobe Bryant. There are only a few things better in the world better than watching this 6ft 2' point guard play basketball in his heyday.
Also read: "I Should Have Had 90": Damian Lillard Makes Bold Claim About Wilt Chamberlain's Record
---
Share this article