"Danny Ainge and Brad Stevens gave Trae Young some kind words of encouragement": Hawks star's dad shares throwback picture with Celtics front office members from 8 years back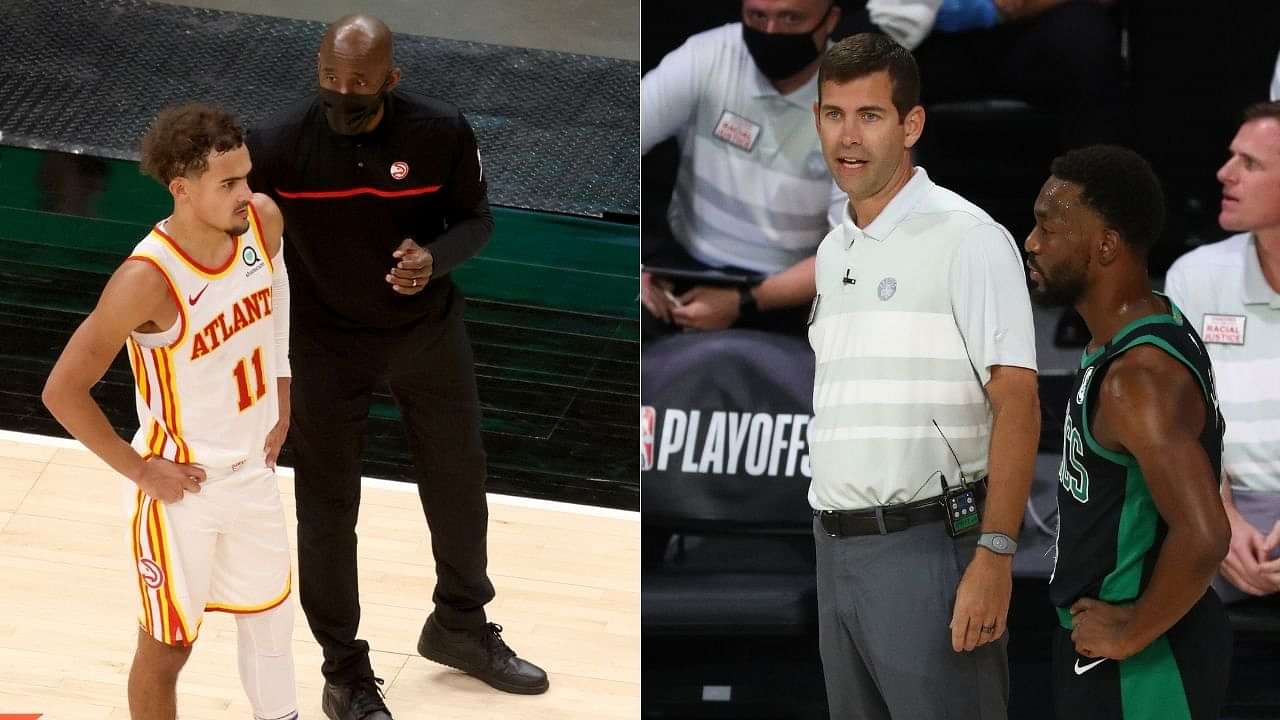 Trae Young is now an NBA All-Star and a Conference Finalist. But he was a far cry from this when he first met Brad Stevens and Danny Ainge.
The Atlanta Hawks took the 2021 NBA playoff stage by storm with their performances. They won 6 games on the road – an incredible feat for a team that has 6 players on rookie-scale contracts in its playoff rotation.
Trae Young, John Collins, Kevin Huerter, DeAndre Hunter, Cam Reddish and Onyeka Okongwu were all instrumental to the Hawks' extended run in this year's playoffs. Ice Trae was obviously the fulcrum of this effort, leading the Hawks' offense to some stupendous outings.
Also Read – "Isiah Thomas' Pistons are unworthy champions": When the G.O.A.T Michael Jordan took shots at the bad boy Pistons before sweeping them in 1991 ECF
Trae has been one of the nation's best talents in his draft class all through his basketball journey. There were people who didn't have faith in his ability to succeed on the big stages. But he succeeded in shutting all the haters up and turning many of them into his fans.
Dad Rayford shares a picture of a 14-year-old Trae Young with Danny Ainge and Brad Stevens
Trae was a mere 14 years of age when his dad Rayford got him to meet Celtics front office members Danny Ainge and Brad Stevens. The former had been team president for 10 years at that point, while Stevens was the incoming head coach.
In Rayford's words, he'd been hyping his own son up to the NBA's brass. Danny, who's played both baseball and basketball professionally, was probably a bit bemused by this.
But according to Ray, the duo still went ahead and wished Trae all the best.
Loading embed tweet https://twitter.com/rayfordyoung/status/1413890977350180866?ref_src=twsrc%5Etfw
Also Read – "Before Magic Johnson, it seemed like basketball was a job": Ice Cube explains how he became a Lakers superfan during the 80s, and how he was 'close to killing somebody' after the 1984 NBA Finals
One wonders how the Celtics' lineup would've looked today if Trader Danny had swung some moves to acquire Trae. Given their dire need for a playmaker now, it seems to be the first and foremost thing on their agenda in this year's free agency window.
---