DeMar DeRozan and Zach LaVine Snatch Michael Jordan's Two Bulls Scoring Records With 88 Points in a Game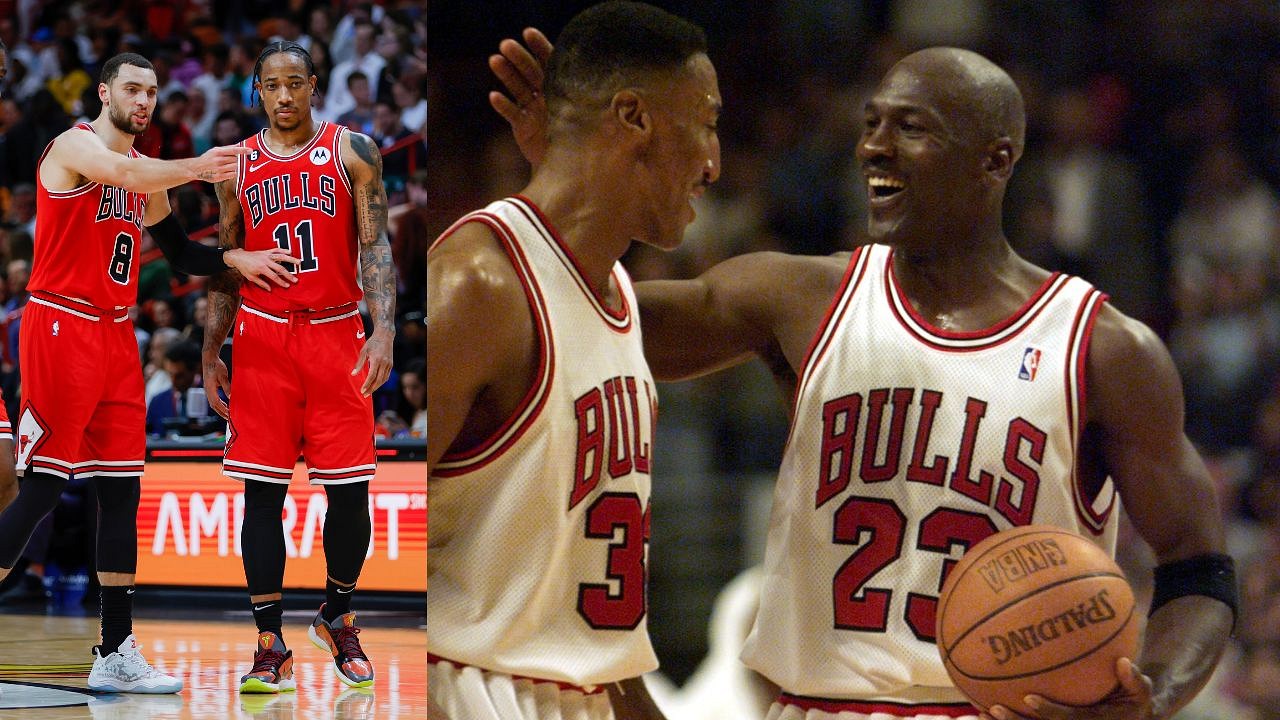 Since the Zach LaVine-led Bulls have got themselves DeMar DeRozan and Nikola Vucevic searching for their first championship since Michael Jordan and Scottie Pippen-led Bulls last did it 25 years ago, nothing has gone their way.
Even this year the Bulls' season has not gone as anyone would have thought of at the beginning of the season but exactly how as their last season ended with a heartbreaking 4-1 gentleman's sweep at the hands of the Bucks.
Their regular season last season, although it had a steep decline towards the end, was on par with the ongoing one where they are struggling to even qualify for the Play-in tournament.
Also read: Michael Jordan is set to bid for $5.6 Billion NFL Franchise With $1.64 Billion Windfall from Charlotte Hornets' Sale
Mind you, they boast three of the league's best scorers at their particular positions, and yet they are the #10 seed currently. However, their late push in the past few games is showing signs of them being capable of reaching somewhere. In their latest outing, they did something which might send some fans back in time.
DeMar DeRozan and Zach LaVine take over two scoring records from Michael Jordan
Friday night must have been mesmerizing for the old-school fans in Chicago. Not only did their team beat the Wolves 139-131 in double OT to keep themselves floating for the Play-in spot, but their sensational duo also went berserk and became the first Bulls pair since Jordan and Pippen to each score 39 points or more.
Chicago Bulls PR:

DeMar DeRozan and Zach LaVine tonight became the second duo in franchise history to ever score 39 or more points in the same game.

Michael Jordan and Scottie Pippen did it first in 1996.

— Daniel Greenberg (@ChiSportUpdates) March 18, 2023
LaVine had 39 points, 4 rebounds, and 5 assists, whereas Debo had his season-high 49 points and 14 rebounds alongside 4 assists and 3 steals.
Their 88 points combined is 4 more than Jordan and Pippen's effort against the Pacers in 1996, making them the highest scoring over Jordan and Horace Grant who combined for 85 in 1990.
DeMar DeRozan (49 PTS) and Zach LaVine (39 PTS) combined for the most points scored by a @chicagobulls duo in a game with 88 PTS.

The previous high was 85 PTS from Michael Jordan (69 PTS) and Horace Grant (16 PTS) on 3/28/1990. pic.twitter.com/4et1SAAuhf

— NBA History (@NBAHistory) March 18, 2023
Can the Bulls keep their season alive?
This year's Play-in tournament might have a few upsets, unlike the previous ones. The Bulls have won three of their last four games and if they keep it up, there can finish the season with good momentum and get themselves a matchup with either the Hawks or the Raptors.
A 5-game differential with the Heat is unlikely to get any closer and that is the only team that looks better than them currently. So, if they can avoid Jimmy Butler and Co. they could make some noise in the East.
Also read: Michael Jordan Nickname: How 'Mr June' Earned a Stationery Brand $100 Million By Just Being Associated to it
---
Share this article