"Dennis Rodman's This, Dennis Rodman's That": How the Worm Once Locked Down Shaquille O'Neal and Gave Iconic Interview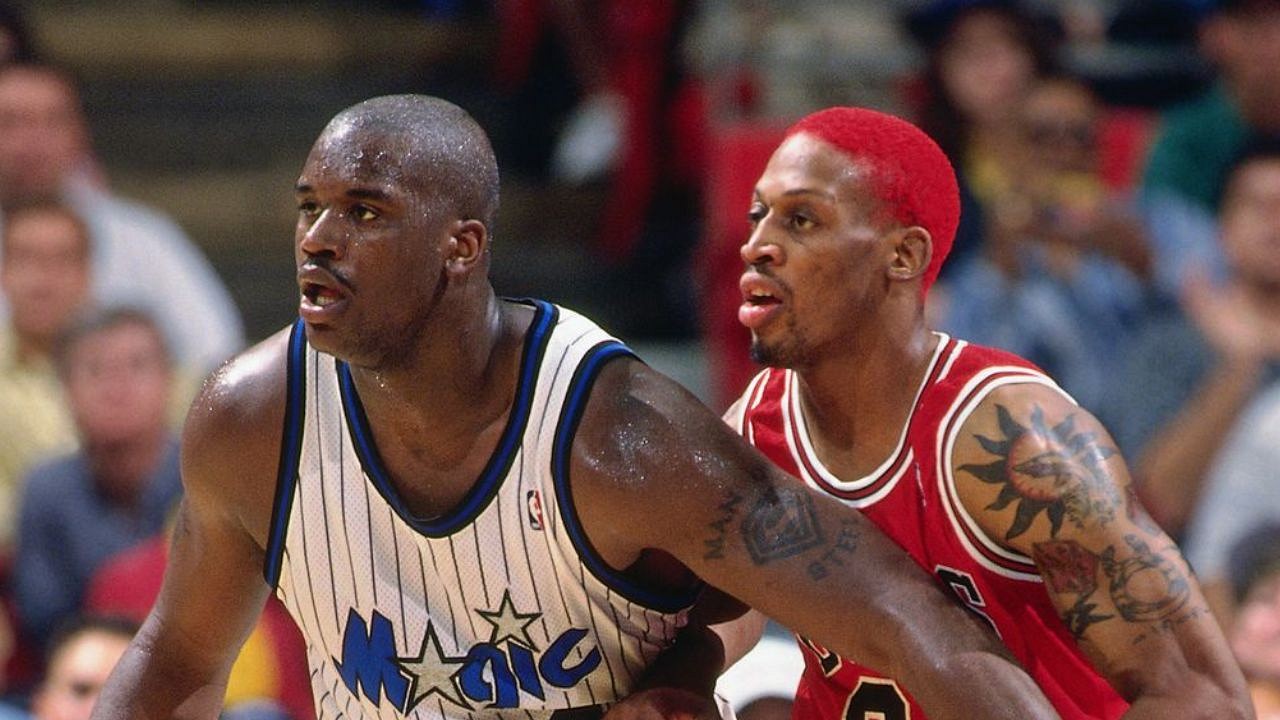 Dennis Rodman might be a lot of things, a charlatan, a menace, and perhaps, one of the best defenders in NBA history. So much so that he was once the Most Dominant Ever (MDE) to just 0 points.
Yes, the Most Dominant Ever, aka Shaquille O'Neal was held to just zero points in a half. And this wasn't just a Shaq that was slow or new to the league. No, this was Shaquille O'Neal on the Los Angeles Lakers.
Inarguably, Shaq in the Lakers was at his most ferocious. He was utterly unstoppable and not ironically, that is where he earned the nickname – Most Dominant Ever (MDE).
So, who could stop him? Well, there was only one player who would be good at it – a rainbow-haired, tattooed mean machine by the name of Dennis Rodman!
Dennis Rodman once stopped Shaquille O'Neal completely, holding him to ZERO points in a half
Yes, that mind-blowing statement is true. Shaq was held to zero points in one half of a basketball game. Ridiculous. And yet Dennis Rodman, one of the greatest defensive stalwarts of the game made it happen. Just take a look at the stops.
From hustle plays to smart footwork to high IQ stops, Dennis did it all. So much so that the Bulls started having fun. Even Michael Jordan and Scottie Pippen joined in on it.
And to top it all off, he gave an iconic interview. A braggadocious Dennis did not hold back. He was utterly proud of his work. "You know people said that Dennis Rodman's this, Dennis Rodman's that, but they came tonight, but he is a hell of a basketball player", Dennis said. Just take a look at the whole clip.
That time Dennis Rodman wanted to guard Shaquille O'Neal 1-on-1 and shut him down.

– 0 pts in 2nd half + OT!

"Dennis Rodman this and Dennis Rodman that.." pic.twitter.com/cTdF4MxDdK

— OLDSKOOLBBALL (@Oldskoolbball1) March 17, 2023
Rodman's legacy as a legend of the 1990s
There is no doubt that he was an NBA legend. From his 5 championships to his 7 rebounding titles, the Worm was one of the best of all time.
But off the court, perhaps his legacy might be even greater. And we're not talking in the saintly sense. In fact, he was a mean machine.
From his stories about flying to Las Vegas during an NBA game to dating pop icons like Madonna and TV bombshells like Carmen Electra, Dennis was different. Has there ever been a more polarizing player in the NBA? We don't think so.
---
Share this article