"Duncan Robinson sh*tted in the Playoffs last year": NBA fans hilariously roast the Miami Heat sharpshooter's $90 million contract while he hides behind a car to surprise them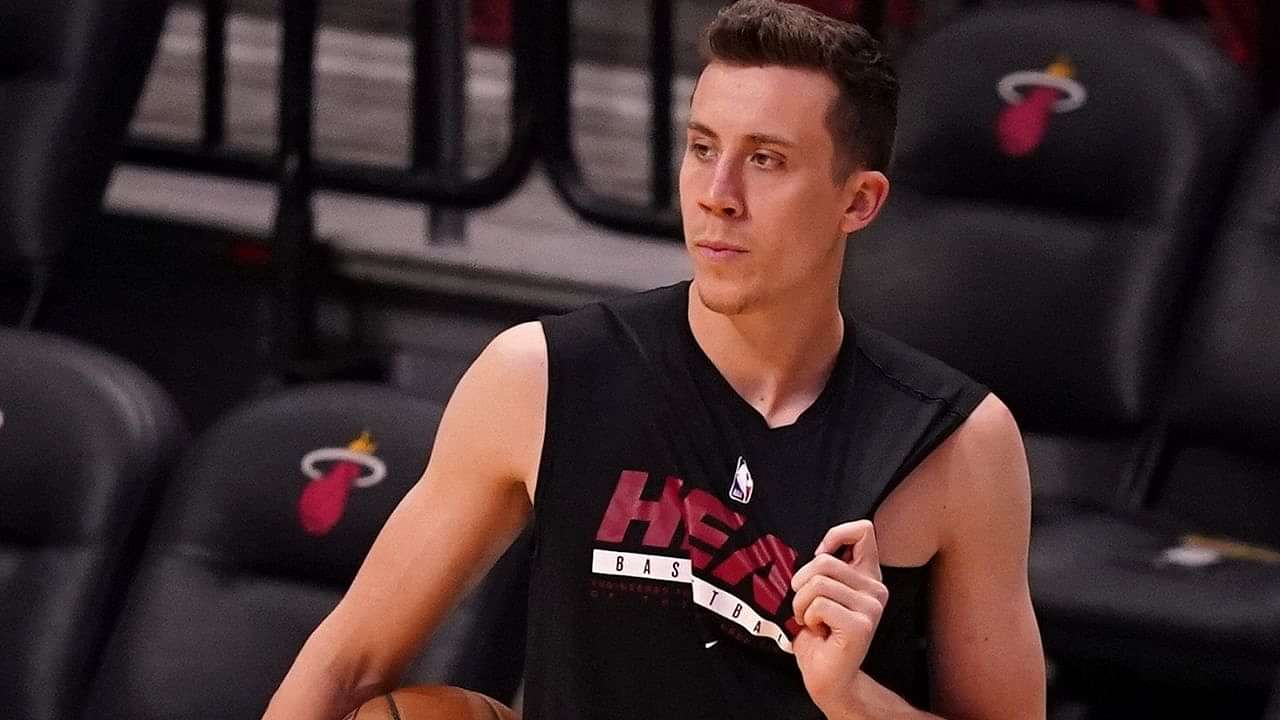 Miami Heat fans roast Duncan Robinson for getting his 5 year contract as he looks on from behind a car, waiting to surprise them.
The Miami Heat went from taking the LeBron James led Los Angeles Lakers to 6 games in the NBA Finals to being swept in the first round of the Playoffs in a matter of 7 months. The Heat, as a whole, underperformed severely as Duncan Robinson in particular, made merely 10 shots from beyond the arc throughout the Bucks series in 2021. 
Despite his subpar performance in the postseason against the Bucks, the Miami Heat did sign him to a 5 year/ $90 million contract this offseason. In all fairness to Duncan Robinson, not one player on Miami roster played even slightly above their capabilities in the 2021 Playoffs.
Also read: "Tristan Thompson is cheating on Khloe Kardashian yet again?!": Sacramento Kings star linked to Iggy Azalea amidst rumors of getting back together with Khloe
Besides, four games is an extremely small sample size to base an entire contract after. He has proven over two full seasons that he is a sniper from long range. He shot 44% from three-point land in the 2020 seasons and 41% the previous one. The Bubble postseason also saw him knock down 40% of his shots from beyond the arc. 
Duncan Robinson surprises fans who roast him about his contract.
Duncan Robinson has delved into the podcast realm, following in the footsteps of another Caucasian NBA player who's also a sharpshooter from beyond. 'The Long Shot' has had several guests on their show and have now taken to the streets of Miami to get a fair idea on where they stand on the Duncan contract.
Loading embed tweet https://twitter.com/TheNBACentral/status/1427633433921064973?ref_src=twsrc%5Etfw
Also read: "I'm way better than Lonzo Ball, it's not even a competition!": LaMelo Ball talks some serious trash to his older brother during a hilarious interview with GQ Sports
One fan, as shown in the video, was not too pleased with the signing as he claimed the 27 year old "Sh*tted in the Playoffs." Upon hearing this, Robinson himself jumped up from behind the car he hiding and surprised the two Miami Heat fans. 
As expected, the fan folded instantly and took back everything he said, eventually dapping up Duncan Robinson. It's safe to say that the public sentiment around the Robinson contract isn't as high as expected but knowing the former Michigan athlete, he'll probably prove them wrong. 
---