"We Ain't Taking No S*** From Nobody": Giannis Antetokounmpo Irks De'Aaron Fox & Kings' Coach Into Blasting Him in Post-game Conference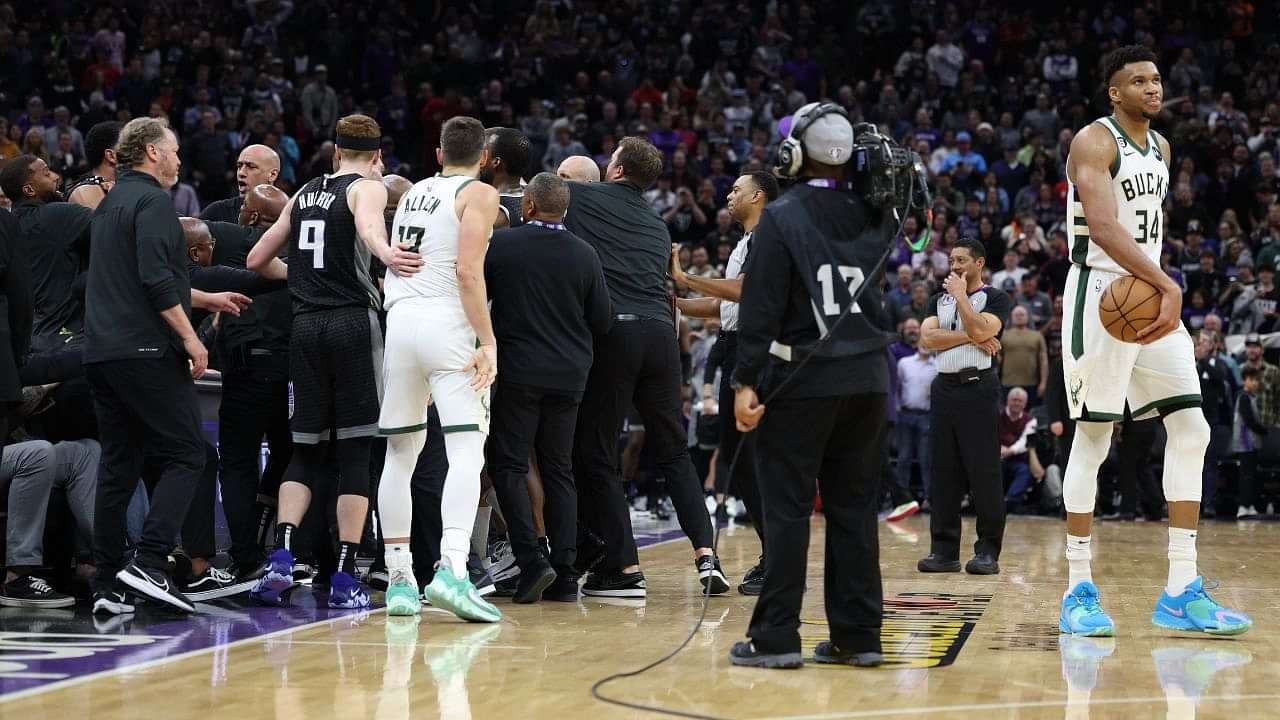 Giannis Antetokounmpo is doing some things of late which do not blend with how great of a person he has been in his close-to-10 years in the NBA. In the Bucks' 133-124 comeback win against the Kings, he again ticked some people off with his actions.
It was Trey Lyles whom the Greek Freak bullied alongside other Kings' front-court players after having a mammoth 46 points, 12 rebounds, and 4 assists game.
Maybe it still wasn't enough because when the 2x MVP just had to dribble the ball out as the Bucks were winning the game, he danced around the Sacramento forward and probably even chirruped something in his ears which led to this brawl.
Also read: Giannis Antetokounmpo's Unique Brand of "Drama Free" Leadership is Milwaukee's Glue, Says Bobby Portis 
De'Aaron Fox has some advice for Giannis Antetokounmpo
De'Aaron Fox, who himself had a terrific game with 35 points, 8 rebounds, 3 assists, 2 steals, and a block, criticized the Greek international in the post-game interview and suggested he could have just dribbled the ball out, away from the face of a Kings players.
Loading embed tweet https://twitter.com/FCartoscelli3/status/1635501795001925633?ref_src=twsrc%5Etfw
Coach Mike Brown was angry as well.
Loading embed tweet https://twitter.com/ActionNetworkHQ/status/1635515206561562625?ref_src=twsrc%5Etfw
This is not the first time the 2021 NBA champ, who is also having a career year, has attempted something of this sort this season.
There have been at least three games where he pulled such an antic. And Math says more than twice is a pattern. But where is this coming from exactly?
Also read: Kendrick Perkins Hypocrisy Exposed: Despite Blasting Nikola Jokic For 'Statpadding', Perk Defends Giannis Antetokounmpo For The Same
Giannis surely has some frustrations to deal with
In the game against the Lakers a month back, he did this to Dennis Schroder instead of quietly dribbling the ball out after a win.
Loading embed tweet https://twitter.com/TonyCMKE/status/1623919266084065281?ref_src=twsrc%5Etfw
Last week, when the Bucks were winning the game 117-111 against the Wizards in the closing minutes, he attempted a rebound to himself. Again, instead of taking a dribble out silently.
Loading embed tweet https://twitter.com/WorldWideWob/status/1632575577772404737?ref_src=twsrc%5Etfw
It can not be for nothing. Either he is angry because the MVP race is narrowing down to Nikola Jokic and Joel Embiid leaving him behind, or he is done with his good-guy image.
It must be frustrating leading the number 1 team in the NBA in scoring and rebounds in your career year and still being behind two guys in the NBA MVP race. Let's hope he gets through it without any more such antics.
Also read: "Michael Jordan and Kobe Bryant Never Had NBA Friends": Giannis Antetokounmpo Revealed His Strategy To Maintain His Edge
---