WATCH: 6ft 6″ Zion Williamson Once Bullied 'Ripped' Giannis Antetokounmpo Under the Paint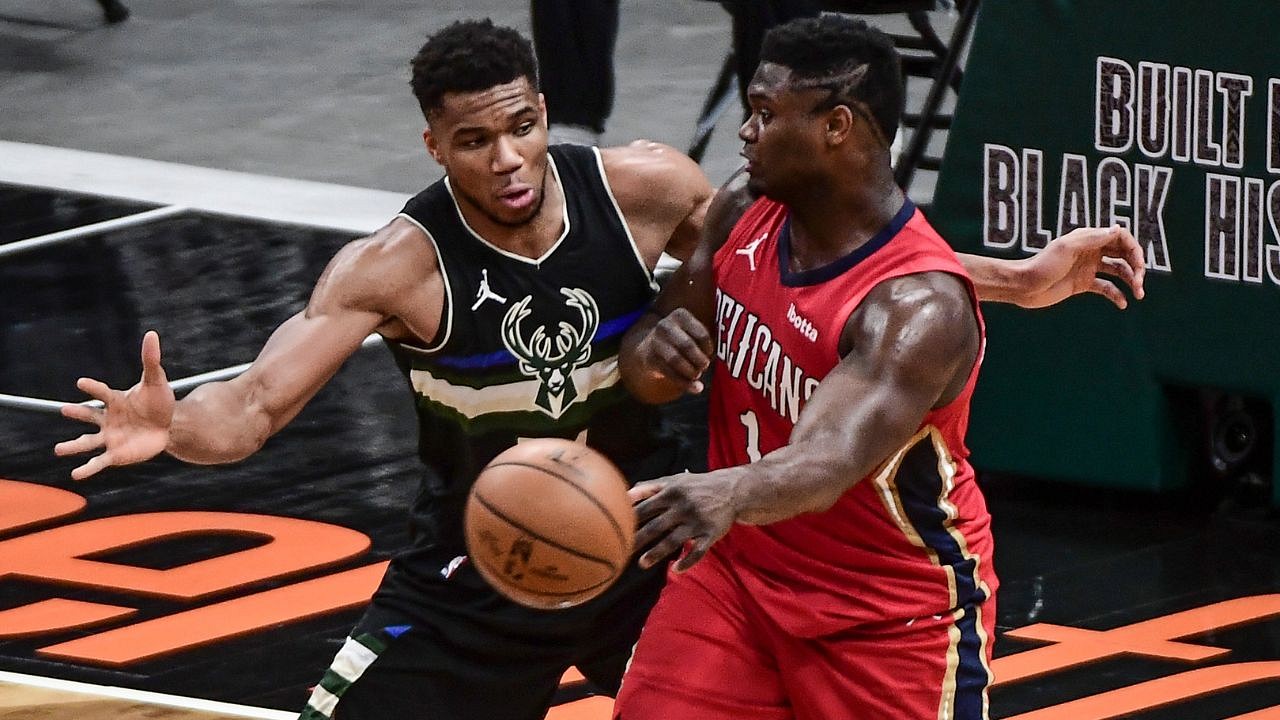 Zion Williamson is one of the best young players in the NBA right now, perhaps the best. And he's doing it as someone with little to no production from beyond the arc. Heck, that lack of floor spacing ability was even the reason some thought the man would be a bust in today's NBA.
But for the 22-year-old, that has turned out to be no problem at all. Sure, the man has tried to improve that part of his game, even succeeding to a certain degree. However, he hasn't looked to force shots from there whatsoever.
In that sense, many would call him similar to Giannis Antetokounmpo. Still, not many expected the young man to dominate the Greek Freak in his rookie season.
And then it happened. A moment that will be remembered by NBA fans for a long, long time.
Also Read: "Light the Beam Some Other Day": 76ers Broadcast Trolls Kings After Joel Embiid-less Team Grabs 129-127 Win
Zion Williamson once completely dominated Giannis Antetokounmpo while trying to get the ball
Giannis Antetokounmpo's body transformation is well-documented by now.
The Greek Freak came into the NBA as a skinny kid from Greece. And then, through extreme work and perseverance, he became an, All-Star, then a 2-time MVP, and then, of course, an NBA champion.
That's a very touching story of a real-life underdog. But it appears that Zion Williamson had no regard for any of that during this little moment from his rookie season.
Brutal doesn't begin to define what took place here.
Giannis Antetokounmpo's whole game surrounds his strength. So, for the 6'6″ Pelicans man to do that in his rookie season?
Absolutely disgusting.
Giannis Antetokounmpo was once honored by Shaquille O'Neal
On the topic of strength, there is a good chance Shaquille O'Neal is the strongest player of all time.
Because of everything he was able to do, the man once dubbed himself to be Superman. And there wasn't an NBA fan on the planet who believed it should be argued with.
However, it has been a long time since Shaquille O'Neal was in the NBA. So, who should be the next to hold this title?
A few years ago, Shaquille O'Neal decided to reveal it for himself.
Of course, it was always going to Giannis Antetokounmpo. And aside from the little mishap with Zion Williamson, the Greek Freak has continued to do justice to it.
Also Read: Is Anthony Davis Playing Tonight vs Trail Blazers? Lakers Release Promising Update on 8x All-Star
---
Share this article