Warriors' superstar Stephen Curry showers a kid with praises on his Instagram story, as the young baller impresses with Steph-esque moves
Basketball, as a sport, has changed a lot over the course of the last decade or decade and a half. A game that was dominated by tall, athletic players, is now being owned by smaller players as well. A person who had a major contribution in the change was Stephen Curry.
The 6'3 guard from Davidson college has totally changed the way basketball is played, and for the better. He proved that one does not need to have the typical basketball player build, to be able to play basketball and excel at it. So many kids nowadays follow his examples. One such video was recently circulating on Instagram.
View this post on Instagram
Also Read: "Kevin Garnett headbutted the wall in his house while watching a reality tv show": The Big Ticket's excessive competitive drive extended beyond the NBA hardwood
Stephen Curry compliments the kid on his baller moves
The video above caught the Warriors' superstar's eye late yesterday, and he could not believe how good the little kid was. The kid had all of Steph's flashy ball-handling cues down to the last bit. He even was driving to the hoop and finishing the same way. When one inspects his shot, it is the same motion as Stephen Curry's.
Curry took the post to his story, and captioned, "He took the whole 👝(bag) and then some 🌶️🌶️🌶️."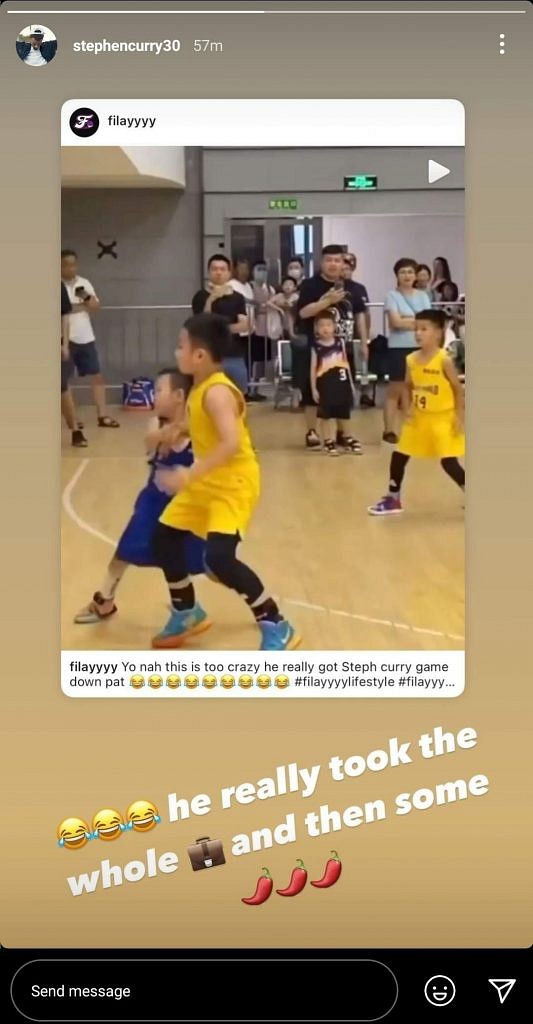 Also Read: "Donovan Mitchell still has a long way to go": Shaquille O'Neal defends his decision of critiquing the Jazz superstar's potential
To get a shoutout from Stephen Curry is a big deal. To get one at such a tender age, the kid must be ecstatic. Steph always recognizes game and gives shoutouts to talented people. Recently, he praised a 10-year-old for balling out in summer camp.
Seeing the trend, one thing is for sure. Stephen Curry's impact on the game is global, and that just goes to show how good the Warriors' sharpshooter is. Curry and the Warriors would try to make it to the promised land once again in the coming years, with Klay Thompson returning soon.