In Michael Jordan's Last All-Star Game, Pop Icon Mariah Carey Wore the Most Bizarre Dress for her Performance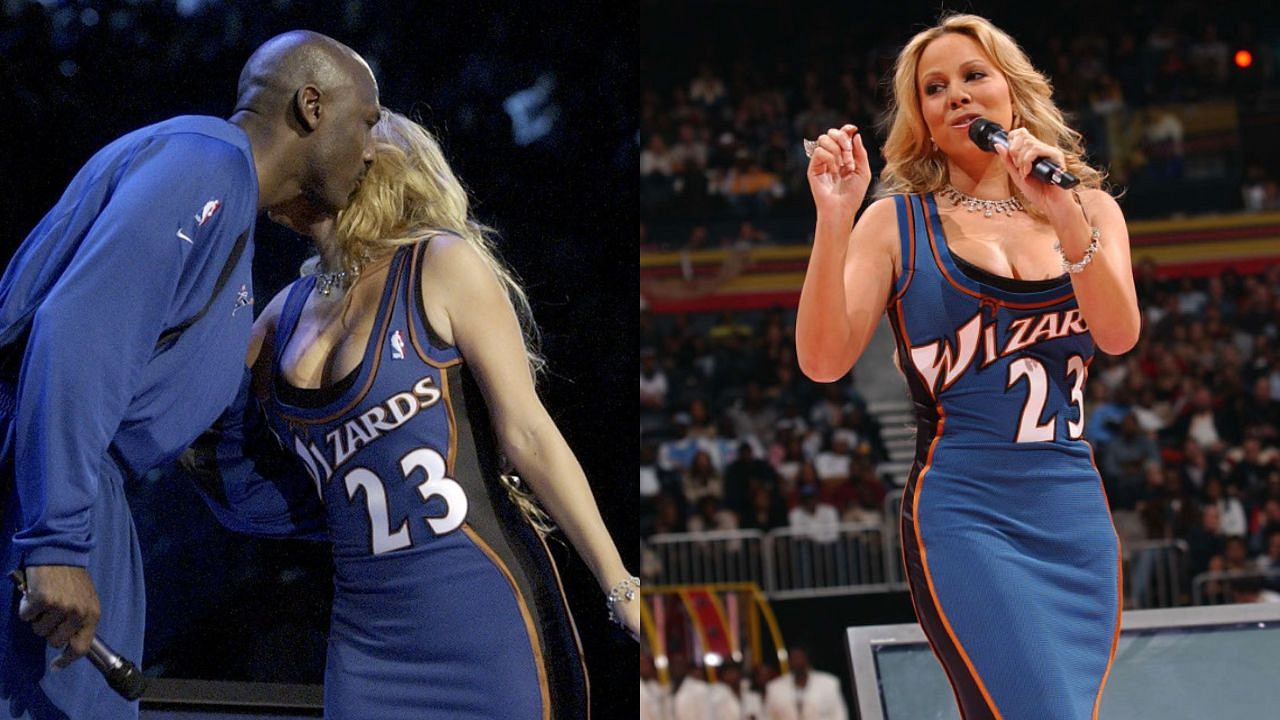 Michael Jordan's career was legendary, we all know that. And while a lot of anecdotes and stories about his life are great, this one is straight out of a movie. This incident involves Mariah Carey and it is hilarious, to say the least.
Michael Jordan's last all-star game was a memorable affair for the NBA. Its brightest star, perhaps, was about to fade away from the bright lights of an NBA court.
As ceremonious as the occasion was, there was also an element of fanfare about it. The NBA wanted to make it a spectacle and at the time, there was no better pop star than Mariah Carey.
Also read: Is Anthony Davis Playing Tonight vs Trail Blazers? Lakers Release Promising Update on 8x All-Star
Mariah Carey wore the most bizarre dress at Michael Jordan's final All-star game
The game itself had an iconic moment, before Mariah's dress. Starter Vince Carter was forced by fans and media to let Michael start at his steed. And he humbly obliged.
But the one moment that people have erased from their memories is of Mariah being, well Mariah.
Michael Jordan's last #NBAAllStar Game was 20 years ago
A moment for that @MariahCarey dress … pic.twitter.com/TC74RiR0dc

— No Dunks (@NoDunksInc) January 20, 2023
As a tribute to Jordan, she wore a dress that looked like Jordan's Wizards jersey. And safe to say she got a bad rap over it.
Also read: Is Zion Williamson Playing Today vs Heat? Pelicans' Star's Injury Update Remains Disheartening Ahead of Big Match vs Jimmy Butler
Jordan's performance was equally iconic.
Jordan started the game cold. He missed a few shots and even bricked a dunk. And then, he started heating up. He finished with 20 points for the night. And at the time, he broke Kareem's all-time record for most points scored in all-star history.
It was a great way for a legend of his status to go out. To break an all-time record and to do it with such flair. There will only be one MJ.
Also read: Shaquille O'Neal or Charles Barkley? NHL Stars Picked Which NBA Legend Could Dominate in Hockey
---
Share this article