Is Zion Williamson Playing Tonight vs Magic? Pelicans Star's Return Timeline Provides Some Hope to New Orleans Fans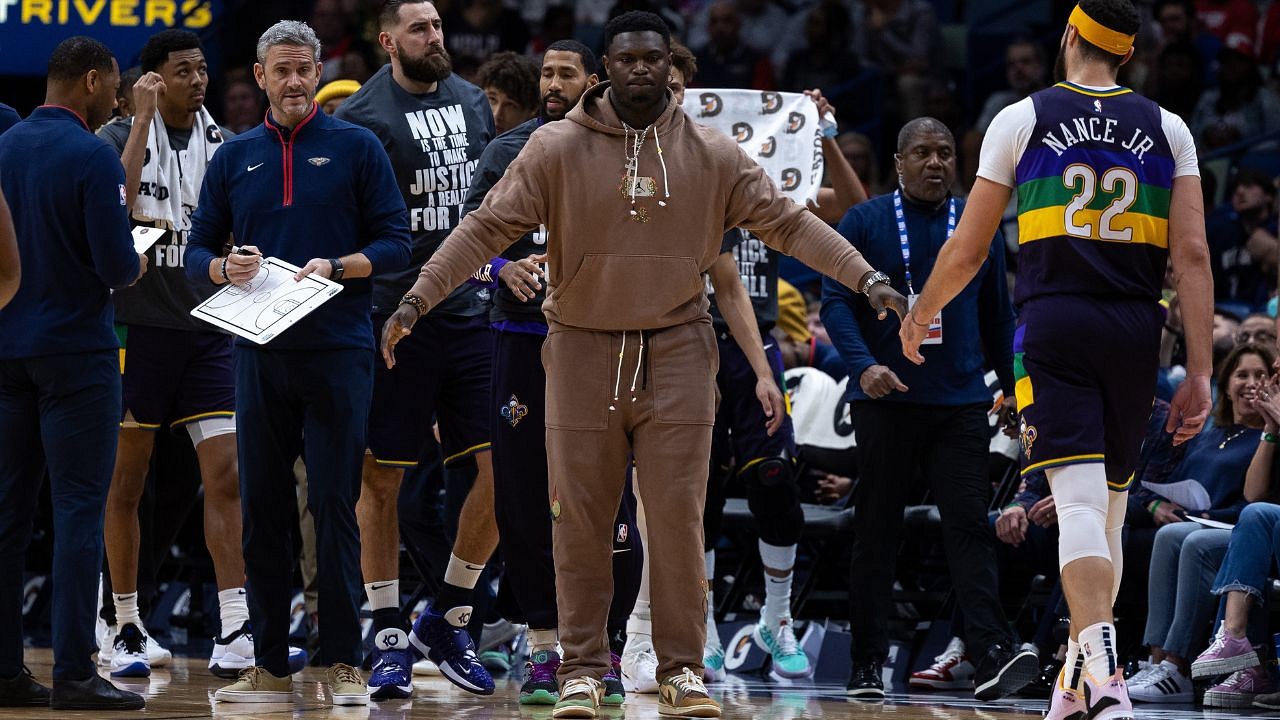 The New Orleans Pelicans need Zion Williamson back, and they need him back right now. The franchise has won just 3 of its last 10 games. Frankly, with their current run of form, they are in danger of dropping below the 5th-seeded Dallas Mavericks.
During this stretch, the franchise has dropped games against some of the best in the league, including the Nets, Celtics, Mavericks, and Cavaliers.
This makes one thing very clear. Without their main man, this franchise can't compete against the top of either conference.
The situation is dire in New Orleans right now, making this question of tantamount importance.
Will Zion Williamson be able to return in time for the game tonight?
Also Read: Despite $100 Million Pledge, Michael Jordan 'Staying Away From Black People' Leads Druski To Put LeBron James Over Him
ESPN reveals the status of Zion Williamson's health
Zion Williamson is currently out due to a hamstring injury.
The good news here is that this is not a knee injury, something that would have been far worse considering his history. Further, this current injury of his doesn't seem to be too serious, meaning he should be back before long.
he was zion williamson before zion williamson@LaJethroJenkins is back with a reminder about how good larry johnson was pic.twitter.com/GaGzVg2SKG

— buckets (@buckets) January 19, 2023
However, the game tonight will be a bit too soon for Williamson. As per ESPN, the man will be re-evaluated in about a week's time.
So, while he is slated to be back soon, featuring tonight just won't be possible for the Pelicans' star man.
However, this is the Orlando Magic, a team that sits just 13th in the East. Further, they've also just won 3 of their last 10.
If New Orleans wanted an easy ticket back to winning ways, this is about the easiest they will get.
What is Zion Williamson averaging this season?
After 29 games played, Zion Williamson is averaging 26 points, 7 rebounds, 4.6 assists, 1.1 steals, and 0.6 blocks per game.
He is also shooting 60.8% from the field, 36.8% from deep, and 71.4% from the charity stripe.
Also Read: "The Nets Won't Win Another Game Without Kevin Durant": Charles Barkley believes Kyrie Irving and Co. are Incapable of Winning with KD Absent
---
Share this article