"I've Tried To Steal Some Of Carmelo Anthony's Techniques": Kevin Durant Reveals His Inspiration In Becoming US men's all-time Olуmpic scorer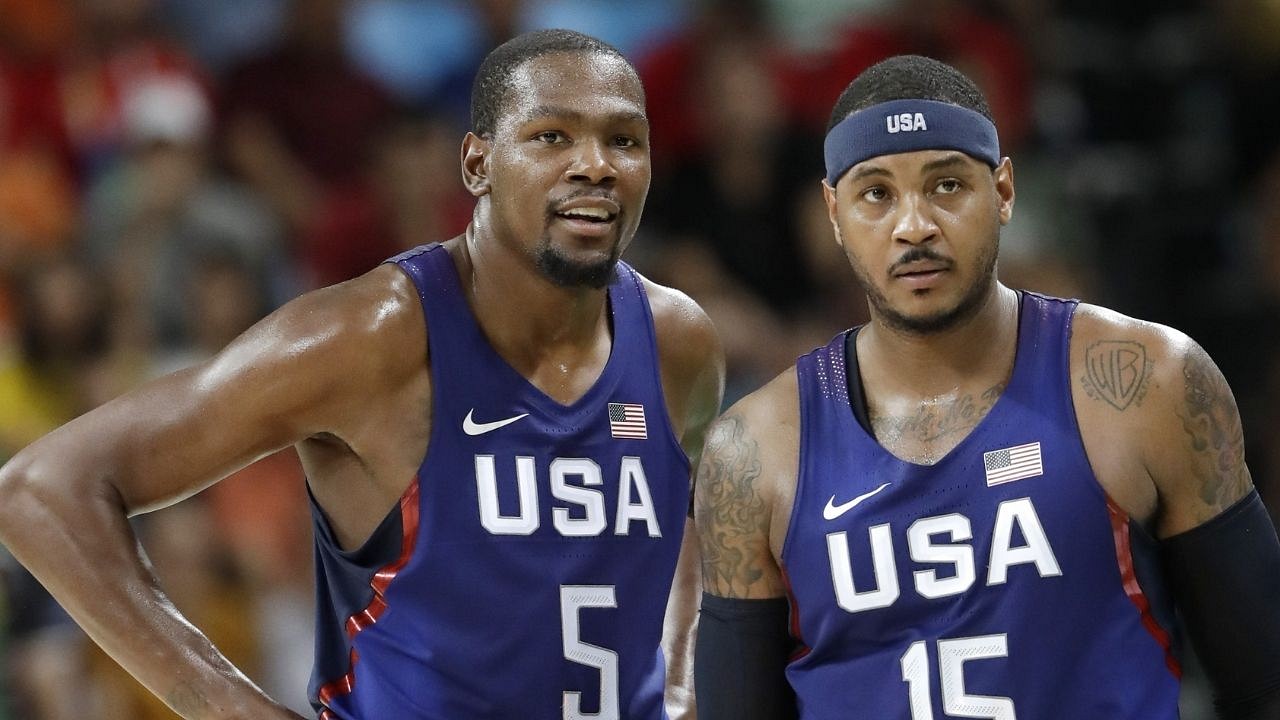 Kevin Durant is now the US men's basketball team's all team leading scorer, using tricks he picked from the person he passed, Carmelo Anthony.
Olympics basketball is a vastly different game than the NBA, but it was something that Carmelo Anthony managed to perfect and fine tune over his years of competing internationally.
Now, the mantle has finally passed to Kevin Durant. During USA's game against the Czech Republic, Durant went ahead of Melo on this shot:
Kevin Durant pulls up from deep to become the U.S. Olympic Men's Basketball Team's all-time leading scorer! #USABMNT #Tokyo2020 #Basketball

🎥: @NBCOlympicspic.twitter.com/gISymaseHQ

— NBA (@NBA) July 31, 2021
Durant now has 339 points for Team USA compared to Melo's 336. Durant is the only active player on the all-time scoring list for Olympic games.
Also Read: "Stephen Curry, making $50 million+ a year, will be NBA's highest-paid player": NBA Twitter reacts to news of unanimous 2016 MVP's 4-year, $215 million contract extension
Kevin Durant Speaks Up About What It Meant To Pass Carmelo Anthony On All-Time Olympic Scoring List
Passing Melo up on the Olympic stage wasn't something Durant took lightly. He knows that Anthony has been one of the most prolific players for Team USA, and so when he took the number one spot above him, KD only had respect for the international star.
Durant would say:
"You just think about all the players that have played in this program. It's pretty cool to be amongst names like that. Carmelo is a guy that I played on two Olympic teams with, and I've seen his approach to these games and I've tried to steal some of his techniques."
Kevin Durant had 23 points to pass Carmelo Anthony as the US men's all-time Olympic scorer: "It's pretty cool to be amongst names like that. Carmelo's a guy I played on two Olympic teams with. Ive seen his approach to these games & Ive tried to steal some of his techniques" #nets

— Brian Lewis (@NYPost_Lewis) July 31, 2021
---
Share this article