"Ja Morant is the Meal Ticket": Stephen A Smith Claims How Grizzlies Star's $80 Million Net Worth is Being Leeched on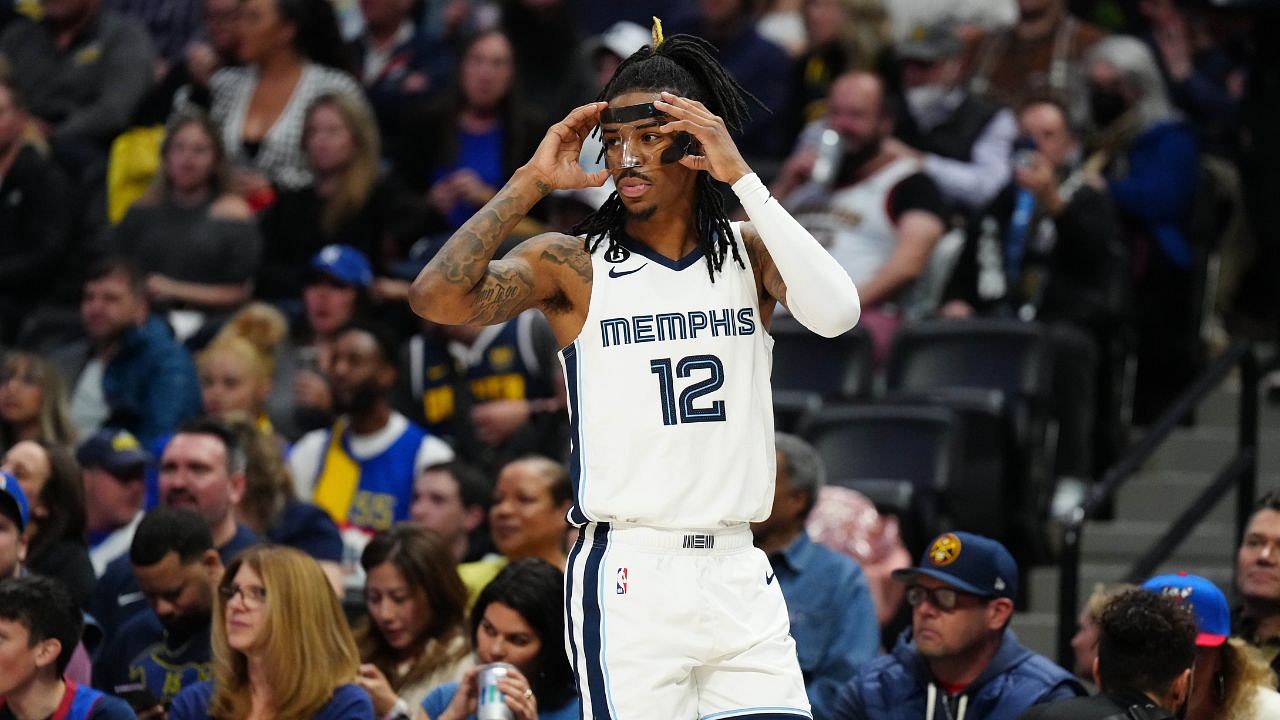 Ja Morant has finally broken the silence on the whirlwind of controversies in the past two weeks. The 23-year-old was at first accused of assaulting a minor and getting into a scuffle with a Mall's security. Even as the news was still making waves around the NBA community, Morant ended up in an even bigger problem.
The Grizzlies star, after losing to the Denver Nuggets, went to Shotgun Willie's. While at the gentlemen's club, he went live on Instagram and flashed a gun. Morant was quickly suspended from the league indefinitely and sent to counseling. Last night, Morant gave his first interview since the first report by Washington Post.
Stephen A Smith, while on the NBA Countdown, praised Ja Morant for how he handled the situation after the IG Live leak. However, he also launched a scathing attack on the 6′ 3″ point guard's entourage.
Also read: "Learn From Me": Former NFL Receiver Pleads With Ja Morant to Learn From the Mistakes He Made That Ruined His Career
Stephen A Smith takes a dig at the people around Ja Morant
While reacting to Ja Morant's interview, Stephen A Smith had a few important things to say. Firstly, he praised the young star for showing humility. He defended Morant's actions by arguing he was 'just feeling' good about his money. But Stephen A also warned Ja to be aware of those around him who feel that Ja's success is also their success. Smith claimed these are dangerous people one should always check.
"Humility is a very very powerful thing. And clearly, he has been humbled. I think we have to walk away thinking about the level of contrition he showed. While we appreciate it and we should, he's 23 years old, he is a young man but he's still a man. And the reality is that one could easily argue that he along with the cadre of individuals in his life were feeling themselves."

Stephen A Continued, "A lot of times, when you are successful, first of all, you are going to feel yourself to some degree when you are that young. What makes it worse is when you're surrounded by people who are feeling themselves, acting as if they are you. That they have the same perks and the same luxuries and that they have earned it themselves. And when you have those folks in your life, everybody has to check themselves. And not just for yourself but also for Ja Morant because for all intended purposes, he is the meal ticket."
Stephen A made a lot of sense. His arguments were respectful and his warnings were necessary. Ja is, undoubtedly, one of the future superstars. He is going to be at the same level as Kevin Durant and Stephen Curry if he can follow the current path. But if he is surrounded by people who aren't afraid of ruining what's in store for him then it's time he discards them from his close group.
Smith is not the first to warn Ja against his entourage
Before Stephen A Smith, Shannon Sharpe had warned Ja Morant about his entourage in an episode of Undisputed. Sharpe had warned the Grizzlies star to not act recklessly. He also warned him to mind the kind of people he was surrounding himself with.
Sharpe: "I wish Ja [Morant] would realize he's not a thug. Ja is a really good basketball player. Ja did everything he could to lift himself and his family out of this environment and to get away from this. And for some reason, he wants to surround himself with these types of people. Why? Bruh, you not hard. That's not your life. People that are in that life would give anything to be in your life."
Hopefully, Morant is far more careful going forward. It's understandable that he is young and cannot be expected to act like a seasoned vet. That being said, he is at a level where he can't be defended by his age. Age doesn't wash away all the implications of his actions.
Where the NBA community needs role models like LeBron James, Stephen Curry, and Michael Jordan, Ja Morant is standing out by trying to act dangerous and tough. Hopefully, these past few weeks were enough to open his eyes to what stands in store for him if continues down this path.
Also read: "People Have Done Dumb Sh*t Before": NFL Veteran reckons people are unjustly tarnishing Ja Morant's character
---
Share this article