"Ja Morant Wants to Be a SHOOTING GUARD": Charlemagne tha God & Andrew Schulz Mock Grizzlies Point Guard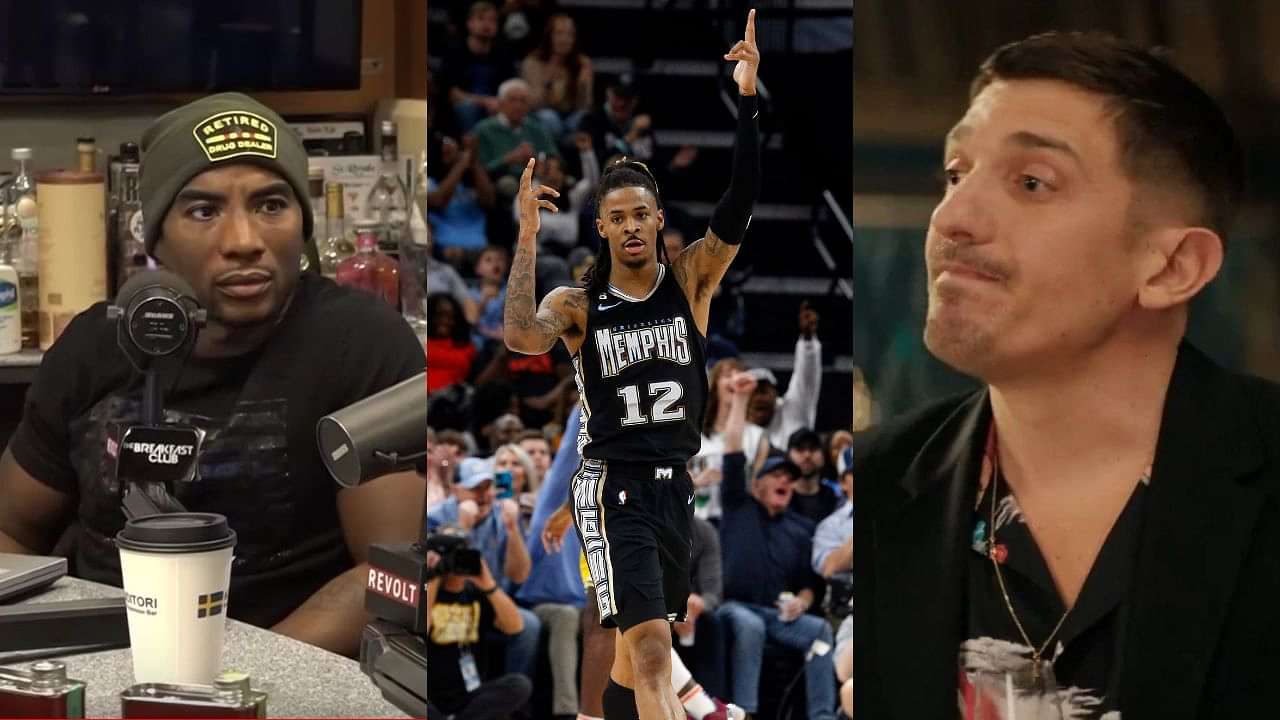 Ja Morant has had a rough few weeks since the beginning of March. First, he streamed his own video while flaunting a gun at a strip club to probably cut himself off from most of the fans that loved and admired him for his basketball skills and friendly nature.
Later on, the strip club, where he spent around $50,000 to 100,000 leaked his picture in which he was not wearing anything on his upper body with a lap dancer on top of him. He did all that without being under the influence of any drugs or alcohol.
There is some struggle going on in his head, which is why the Grizzlies star has attempted such things which he thinks might make him look like a thug and that he belongs to the hood.
Also read: "Someday Ja Morant Will Have a Eureka Moment": Skip Bayless Hopes For Grizzlies Guard to Grow Up Soon
Recently, comedian Andrew Schulz and celebrity talk show(s) host, Charlemagne tha God, discussed the 2x All-Star on their show.
Charlemagne tha God mocks Ja Morant saying he wants to be a Shooting Guard
Bringing up the subject of how this NBA star who is one of the most exciting players on the basketball court in the last year or two is also becoming the most notorious off the court, Charlemagne opened up with a hilarious line that he might have read out of a Tweet about the Grizzlies point guard.
"Ja Morant wants to be a shooting guard," Charlemagne tha God said on The Brilliant Idiots leaving his co-host and rest of the crew in splits. Watch it in the following embed.
Also read: "I Applaud the Grizzlies": Charles Barkley Praises Memphis For Suspending Ja Morant Despite Adam Silver's Delay
Ja has left his fans confused!
Maybe he is just a young guy who is going through a phase in his life because of the early success, but Morant has hurt many of his fans since he started with these antics. NBA fans get enough drama from Kyrie Irving to see another sensational player take a worse path.
In the end, it's his personal choice to deal with his problems the way he wants to. However, it will be a huge loss to the basketball community to see him go downhill from where he has reached at 23 years of age.
Allen Iverson, be it a bit late, did something similar, but his mischievous acts didn't include guns of any sort. Let's hope Ja gets his help and what we have seen in the past two weeks, would be the end of it.
Also read: "Ja Morant Gonna Have to Cut His Hair": Gilbert Arenas Gives an Absurd Advice For Grizzlies Star's Image Cleansing
---